Alexei Terentyev, a member of the "Russian Photo" club, can rightfully be called a true adventurer and an avid travel photographer. Why? Here's your answer: Alexey always makes his dreams of traveling to distant and unfamiliar places on our planet come true. And today the photographer will tell about his adventure in northern India, where he was lucky enough to become a resident of the real Buddhist monastery of Tilopa.
The covenant familiar from childhood turned out to be relevant not only for us. If we translate it into the language of Tibetan Buddhism, then in the mouth of the XIV Dalai Lama it will sound like this: "First Sutra, then Tantra," which means first teaching, and only then practice. This principle now underlies the teaching of monks in most monasteries adhering to one of the schools of Tibetan Buddhism. But first things first.
25 Photos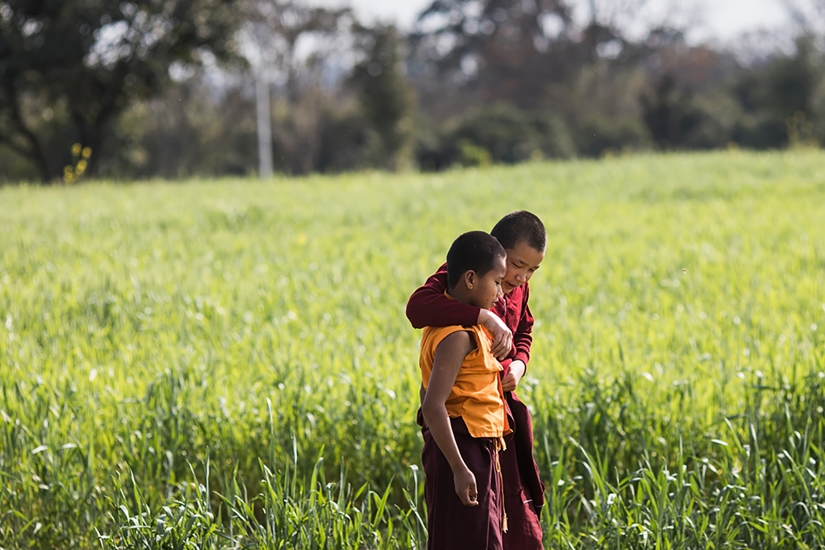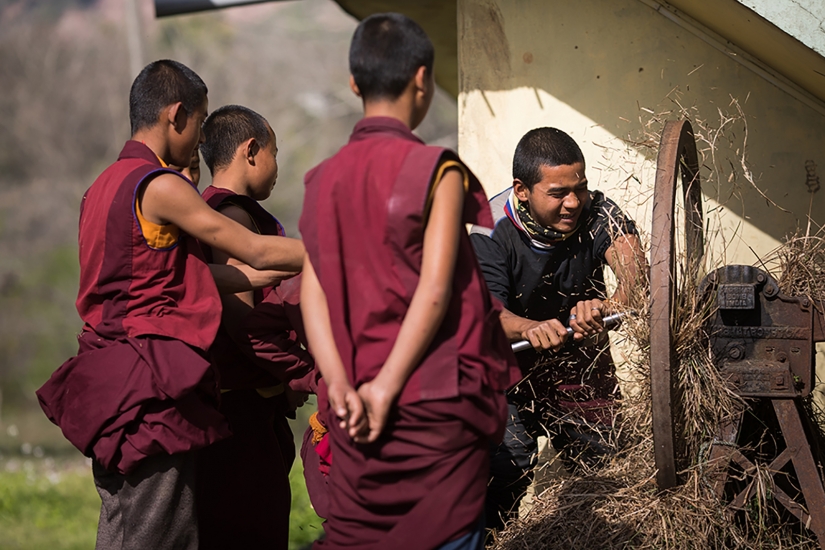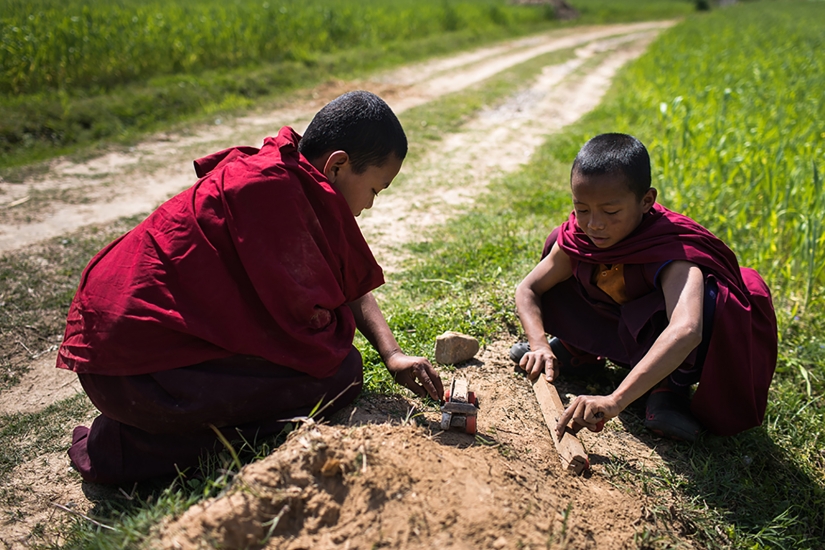 The road winds through the rice fields. We are in the north of India. I am a little worried: now my old dream will come true - to live in a real Buddhist monastery. Since Buddhism is not only a religion but also a philosophy, the path to enlightenment always begins with learning. According to this principle, monasteries are divided into institutes in which primary education is given, mainly young monks who live here, many of whom have not yet taken monastic vows. In others, older children live and study. And there are monasteries where there is no education at all, but only Buddhist practice. To become a monk and start practicing, you first need to go through all the training cycles. One of the highest degrees a monk receives when the graduates are the title of Geshe, which is like an advanced degree that allows other monks to be taught. I, as befits beginners, came to an entry-level monastery, where, in addition to several adult monks, children from 10 to 16 years old live and study.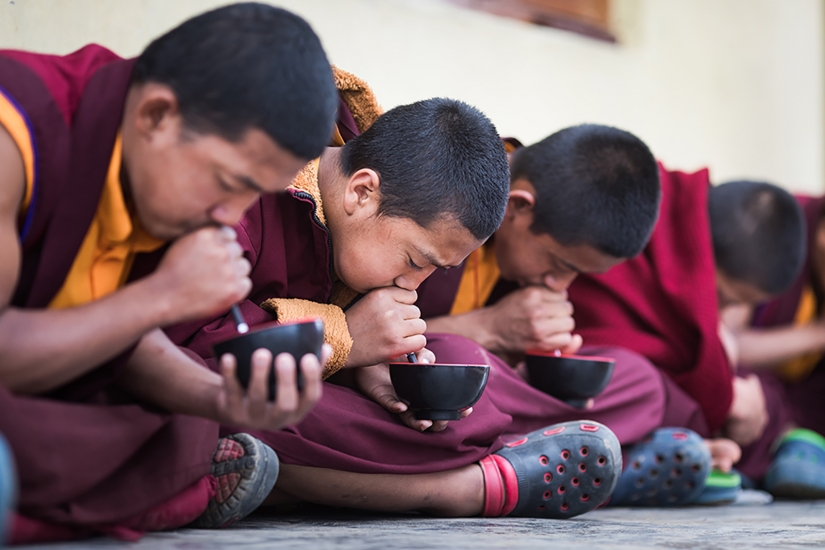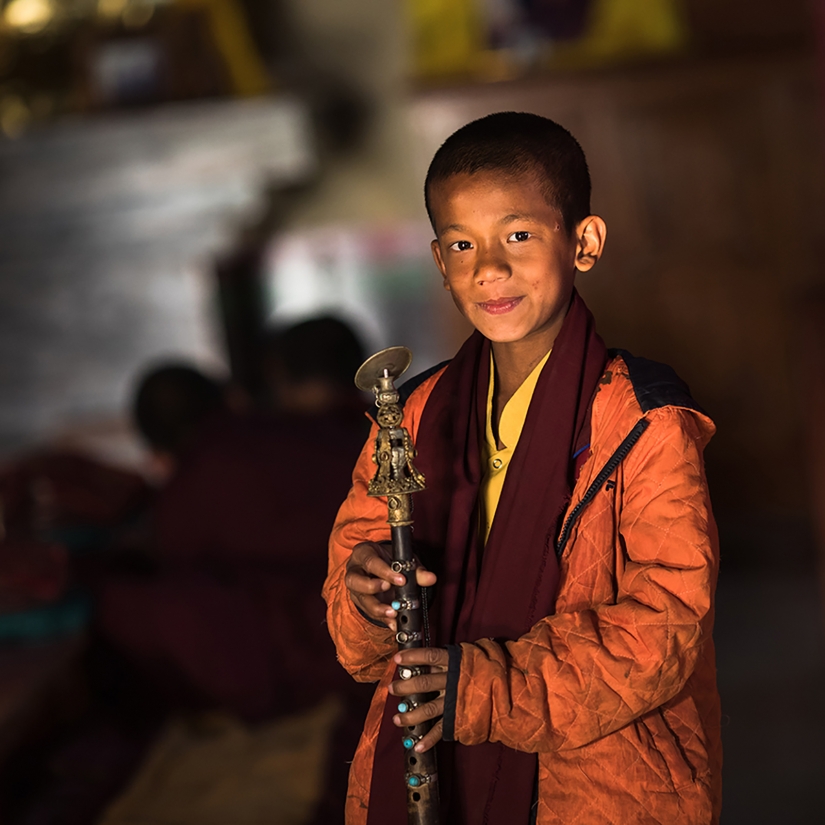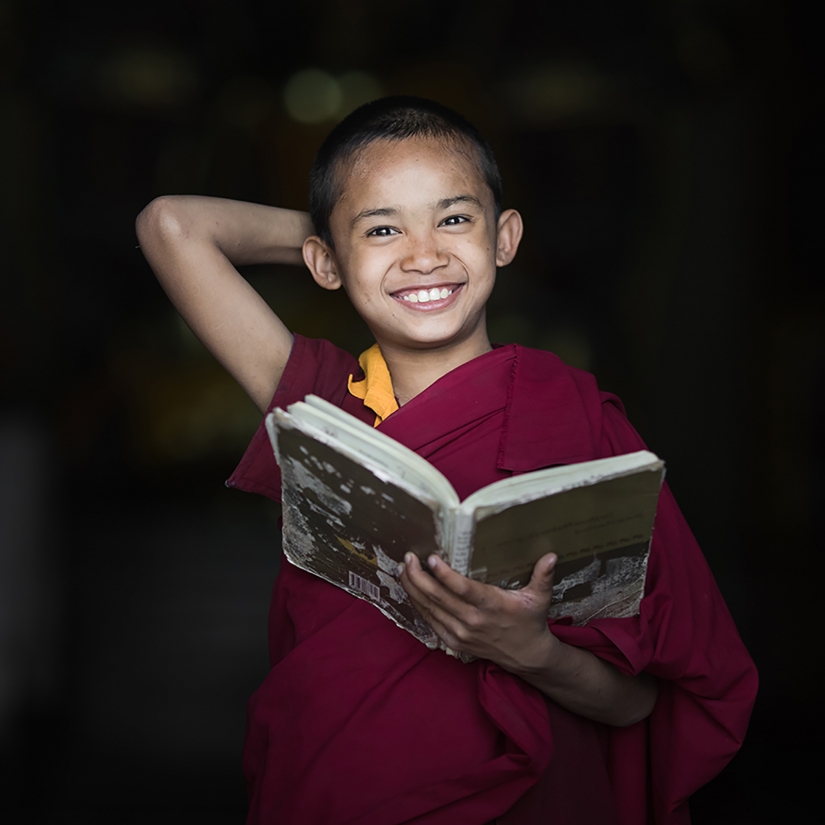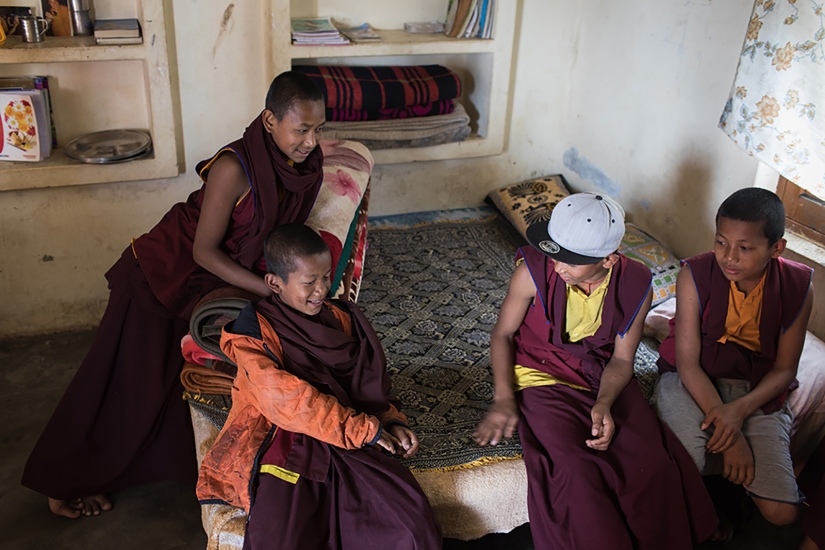 On the way, we stopped at the market and bought a dozen fresh chickens - as I heard, children rarely eat meat, it is quite expensive. So we decided to pamper. When the car drove into the empty courtyard in front of the monastery, my heart skipped a beat: what if there was no one, and you would have to go back. But no, it was just lunchtime. In just a few minutes word of mouth spread the news of our arrival. And a line of young monks is already dragging our things from the car to our cell, and the cook hurries us to a still-hot lunch.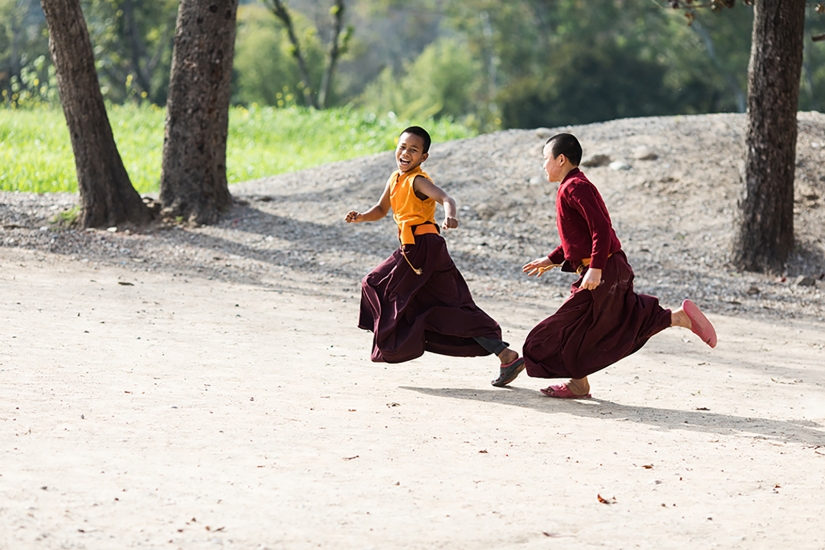 Throwing my things, I hurry to the dining room. The monks have already eaten, and the cook leads me into the kitchen. From three large cauldrons, puts food on plates. Everything is clear. Water for tea from the filter. For lunch, rice with beans - in India this dish is called dal - and potatoes and peppers with a hot sauce. Extremely simple, but so delicious. While eating, we talked with the cook. Lively, perky, constantly laughing eyes look out from under a huge shock of graying hair. In a monastery, where almost everyone has a haircut to zero, long hair looks unusual. But Palu is not a monk, so he can. Originally from Tibet, he has been living in India for a long time, was married, has two grown children, worked as a cook in a large monastery in Delhi, and in the embassy, ​​and with a wealthy Italian family, and six years ago he was invited here. Since then he has lived and worked here. He knows five languages, and now he is thinking of learning Russian as well - sometimes he listens to news from Russia. Boasts that he knows how to cook hundreds of dishes, including European dishes, Indian and Tibetan - that goes without saying. And he is constantly studying and coming up with something new. "Why knowledge is the basis of everything," says Palu, smiling.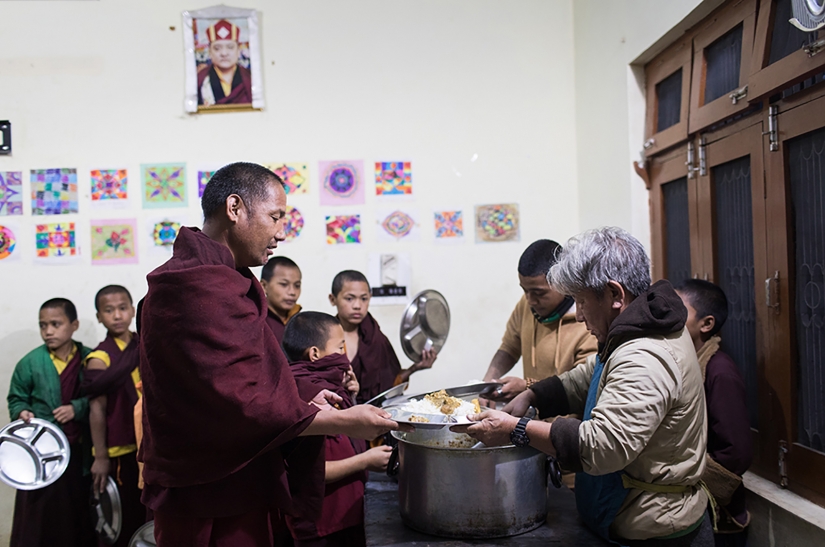 After lunch, the monks have free time. Those who are younger, chase small balls, others just fool around or play with improvised cars made from boards. But there is little free time in the monastery. The gong sounds - it is he who heralds the beginning of any classes - and the guys go to class. The first class I took after lunch was English. And then there is Hindi, Tibetan, history, and philosophy of Buddhism, the study of Buddhist rituals, and a whole host of other subjects. Half monastery - half school. In an English classroom, a table of irregular verbs in Russian hangs on the wall, along with the meanings of words in Tibetan. Table - the legacy of Russian volunteers. It's a little strange to see Russian words when you climb so far. But this once again reminds us that the division into countries and continents is very conditional, and the mutual influence of different cultures is more and more. Now English is taught by a young volunteer girl from Tibet.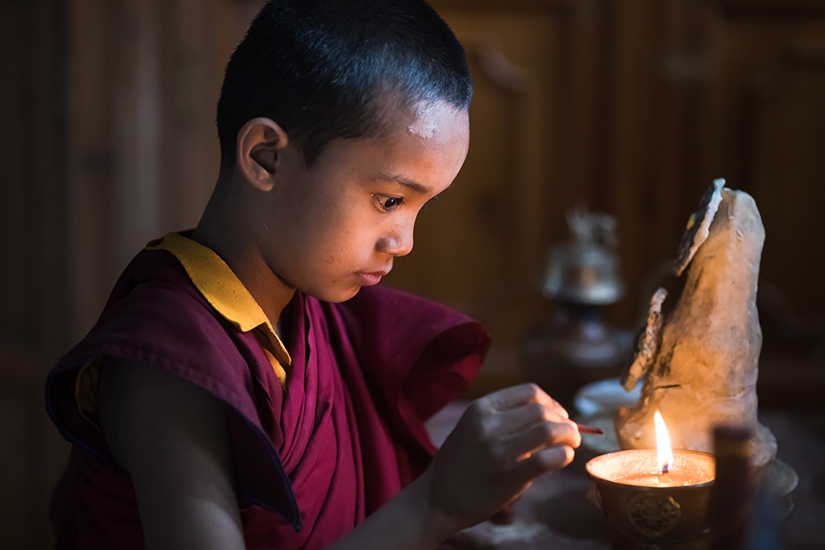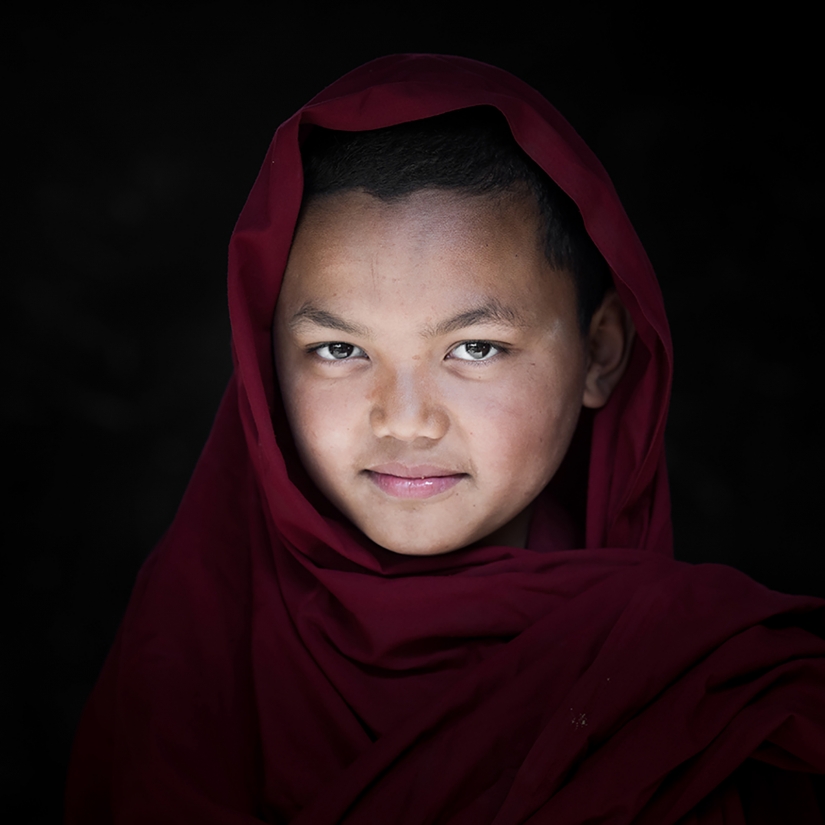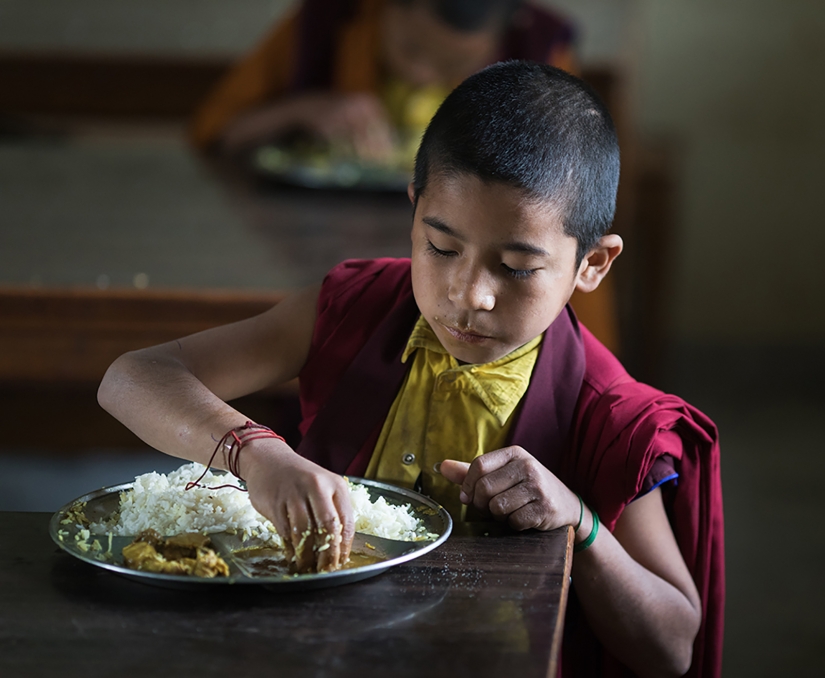 The monks perceive my arrival differently. Someone almost does not notice, someone with great interest asks about life, about where they were and what they saw, talk about themselves. But everyone shows the utmost friendliness and hospitality, a willingness to help in any situation, and forgive any ignorance of customs or rules of behavior. After all, the form is the form, but the main thing is the content, and the content implies love and helps to any person, especially if he does something wrong, not out of malice, but out of ignorance. This is one of the main principles of Tibetan Buddhism. And here it is very well manifested in the little things. In total, about ten adult monks and nuns and about thirty novices live in the monastery. The young monks, at first mistaking me for a new volunteer, after a while realized that I had just come, relaxed, and almost stopped paying attention to me. All this allows me to observe and calmly take pictures.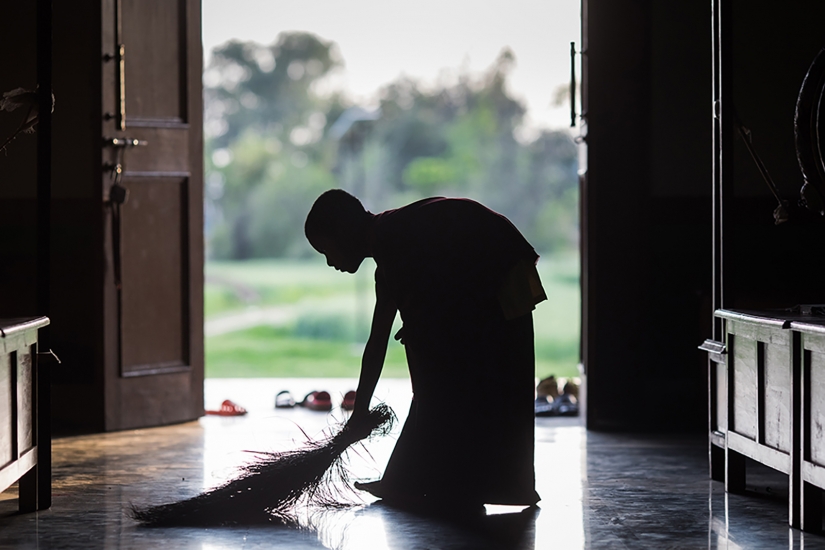 The daily routine in the monastery is as follows. Wake up at 5 am. At 6 in the morning prayer - puja. Breakfast at 8. Then classes, and at 12 - lunch. Then classes until 6 pm, and then evening puja. Dinner at 19:00. In contrast to the southern monasteries, they eat three times a day here, although the food is very simple, this is due to the northern climate. Yes, and also tea with milk from their own cow - children need enhanced nutrition.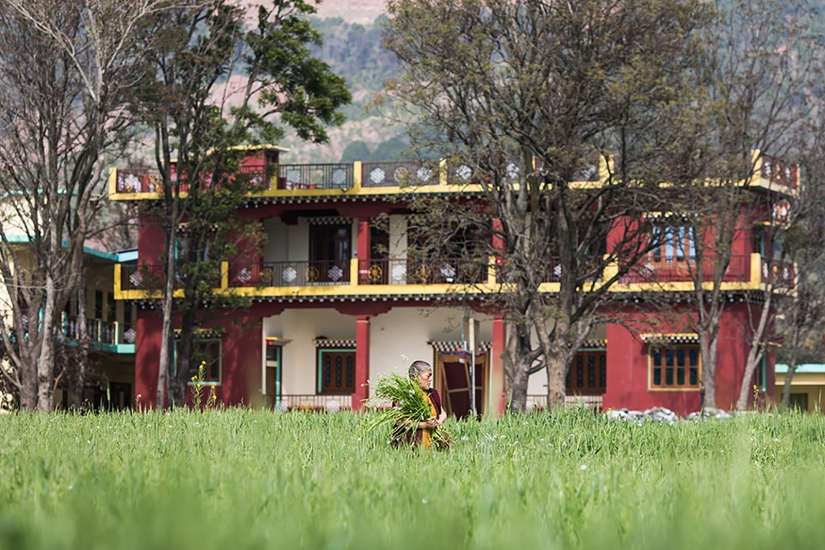 Yes, yes, there is a subsistence economy in the monastery - several cows, one of which should calve in a week, boasts one of the monks. The cows are watched by the Indian Jesi, a silent and kind middle-aged man who lives and works in a monastery. Jessie is very modest, with large, serious features. And the more amazing look on this face is kind, smiling eyes from within. The cows are in a stable, there is no free grazing. Despite a large amount of space, every meter is used. For example, the monastery is surrounded by a large rice field. Therefore, the grass for the cows has to be brought specially. And before it is given to the cows, it is also ground in an old iron mechanical grass cutter. Turning a handle with a large knife requires effort even from a strong man, so young monks always line up to cut the grass to help the farmer. Each one makes several movements, gets tired, and gives way to the next one. Work turns into a fun competition - who can make the most turns. One of the older guys washes his hands with blood on the iron handle and, happy, runs to the tap with water to wash them. Everyone laughs, the grass is cut, the cows have food, the monastic life goes on.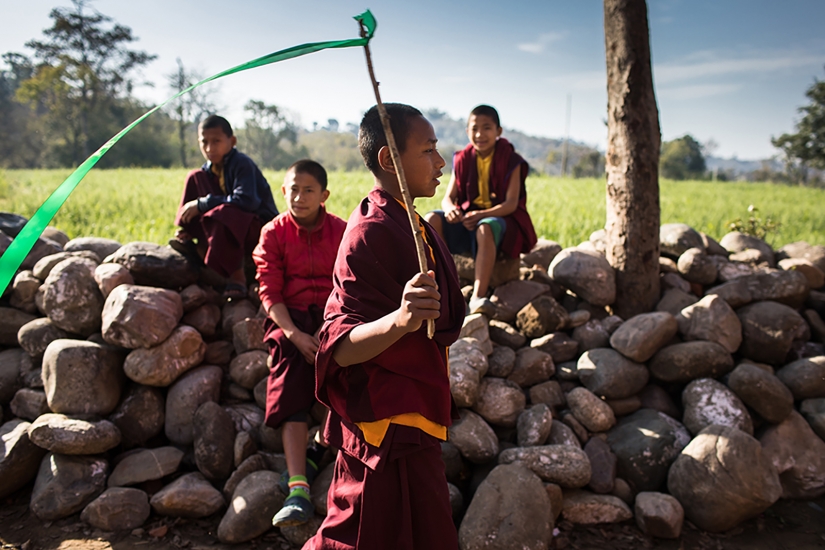 I raise my head and meet the gaze of the nun, she is standing on the roof, smiling and inviting me to come up. All monastic buildings have flat roofs, which are used here for drying clothes and for meditations. The nun smiles and begins to talk about herself, about life, about the monastery. The nun's name is Tashi, her parents are from Tibet, but she was born in India. She slowly tells me about the nun-abbess who founded this monastery. About the fact that Tilopa - this is the name of the monastery - is not one monastery, but a whole network that unites the monasteries of one school. She herself travels a lot, and now she just lives here. In general, seclusion is not characteristic of Buddhist monks. And travel to other monasteries, the constant study is an important part of the life of most monks.
The sound of a gong breaks away from reflections - soon the beginning of puja. Monks gather in a single file in the main temple. Shoes are thrown randomly at the entrance. After the start of the puja, one of the young monks will carefully arrange all the shoes in rows. Each takes its place, according to seniority. The older - the closer to the image of Buddha. For people like me, there are seats at the very entrance. The monks habitually sit in the lotus position, and the senior monk begins the puja. I don't get the lotus position right away, I feel my legs start to swell, but the next moment I forget about my legs. I am fascinated by the action taking place in the temple. The chanting of mantras is accompanied by the beating of huge drums, the low sounds of wind instruments, and the ringing of bells. Sounds seem to materialize into a powerful stream of pure energy that carries away somewhere. I surrender to this flow and lose my sense of time and reality. Adult monks immerse themselves in prayer completely, setting a worthy example for novices. Children behave differently, someone completely surrenders to the action and tries not only to read the words of the sutras written on small tablets but also to feel their meaning. Someone yawns, and someone fidgets and pushes a neighbor, for which they immediately receive a slap in the face from their older comrade.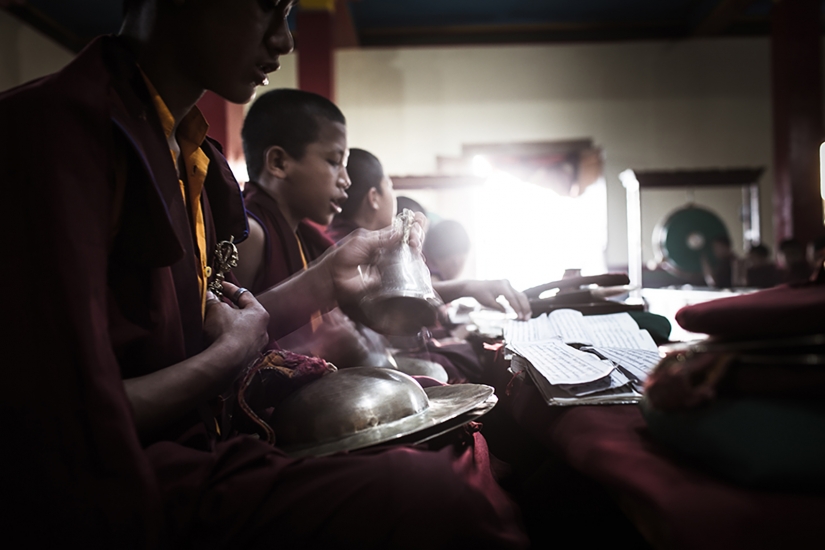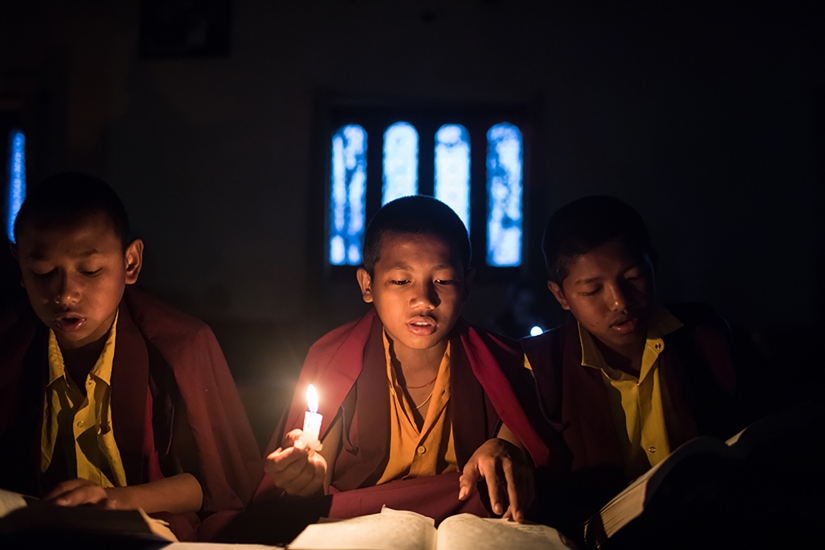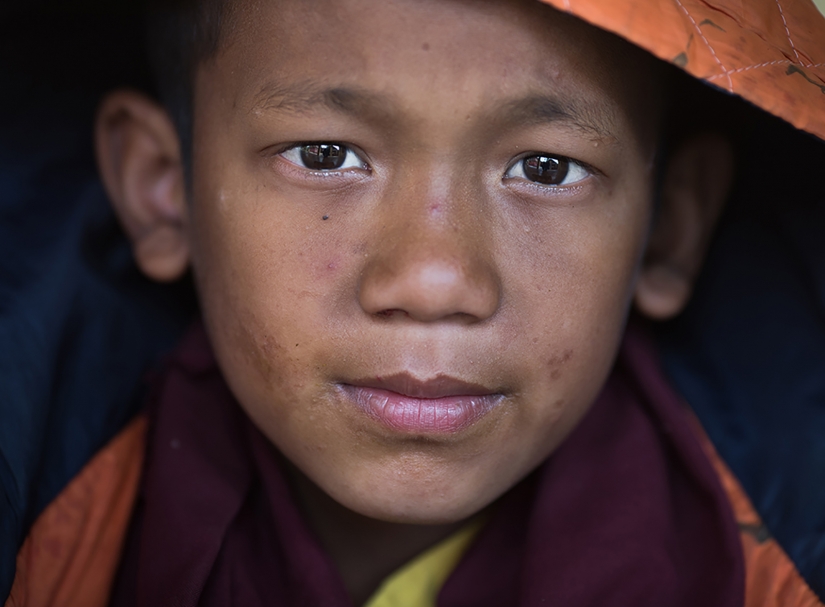 Today, puja is practically the only and main Buddhist practice that young monks carry out in the monastery. But it is a puja that most fully combines all the main religious and philosophical aspects of Buddhism. With many variations and constituent parts, puja includes many rituals and symbols, each of which has a deep philosophical meaning. Water, rice, incense, hand positions called mudras, and more - nothing is just a form of ritual. For example, a lighted candle is both an offering, gratitude to the Buddha for the path shown to us, and a symbol of true knowledge, a symbol of enlightenment, to which we should all strive. By lighting a candle, monks not only perform some external action but cultivate within themselves gratitude and the desire for true knowledge, a willingness to follow the chosen path. For every external action in puja, there is a serious and deep inner work. Therefore, having studied in aggregate all the symbols used in Buddhist puja, one can study all the foundations of Buddhism as a philosophical system.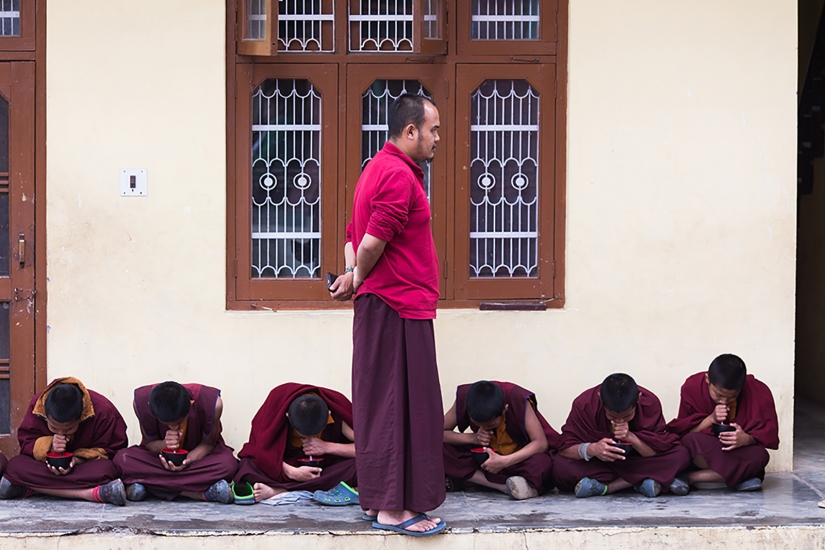 At another breakfast, we talked about a cave for meditation, in which Tilopa himself meditated - an Indian Buddhist practitioner, the founder of one of the schools of Tibetan Buddhism, who lived more than a thousand years ago but is still revered as a great teacher. It turned out that the place for the monastery was not chosen by chance. This is indicated by the name of the monastery, which is also named after the great teacher. And as often happens, the place has become sacred for representatives of several religions at once. Learning that I had never been in the cave, one of the nuns kindly volunteered to accompany me. And I gladly agreed.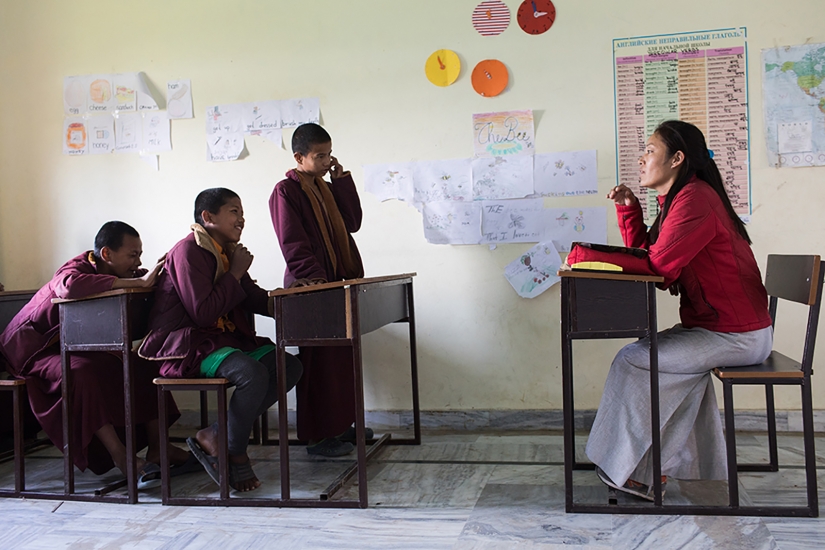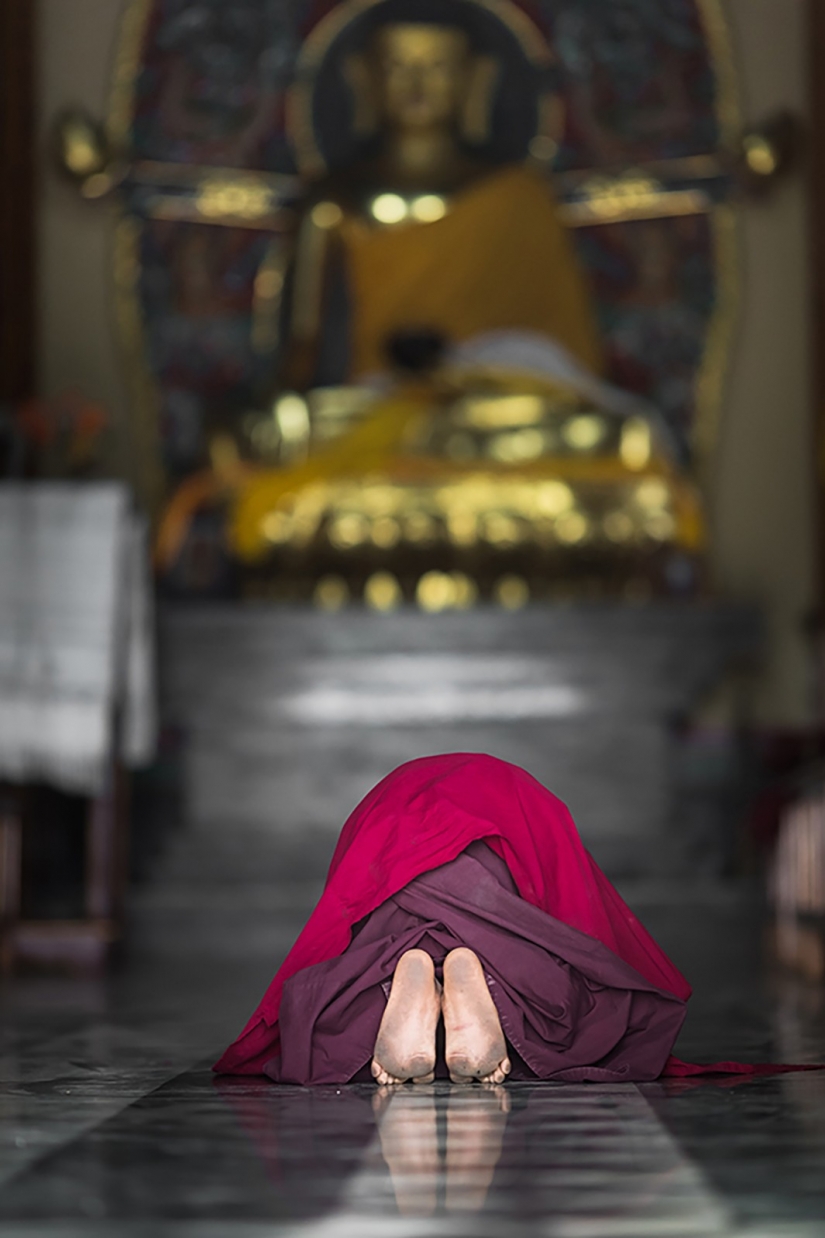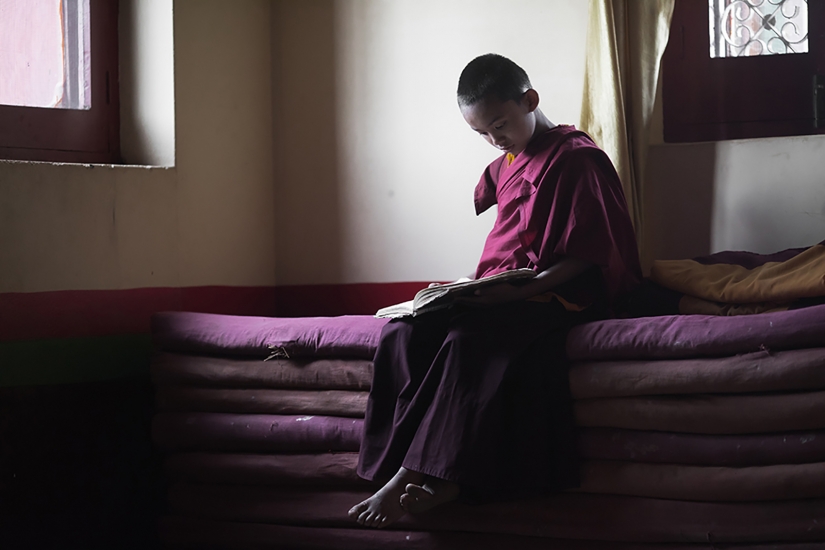 The nun's name is Lobsang, which in Tibetan means "good heart." Lobsang herself was born in India, although her parents are from Tibet. Anila (nun) has become very small, but she does not regret anything. And I would never want to change anything in my life. The road to the cave went through rice fields to a rather steep descent to the river, on the banks of which the famous cave was located. On the way, we got to talking. The nun shared her secret of happiness. Real happiness is inside a person, it is very important to be able to rejoice inside yourself. Happiness cannot depend on external things. While small, we are very attached to things, food, clothes ... And when we grow up, we gradually learn not to depend on external factors, and then happiness settles within us and becomes real and not dependent on external circumstances. The source of happiness is in kindness, love, compassion. And in order to learn not to depend on external factors, you need to learn to control your mind - for this, we meditate. There are many complexities in Buddhism, but the most important thing is simple.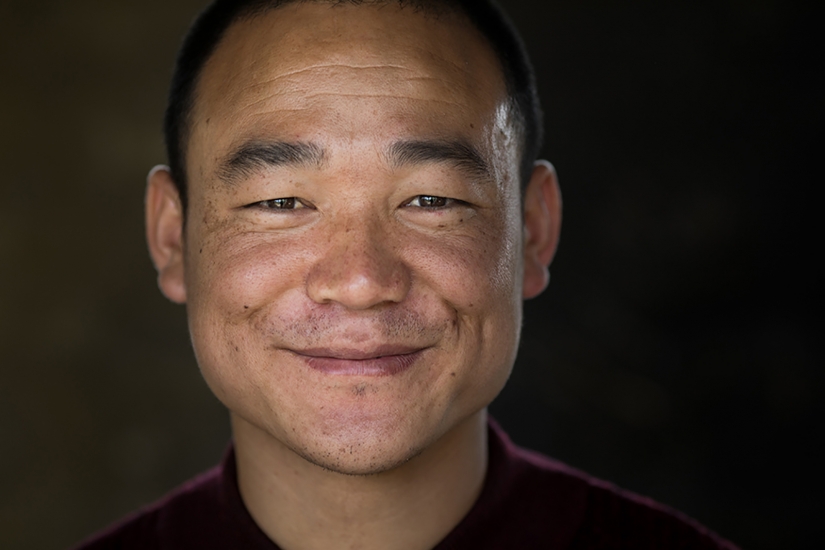 On the way back, I thought about how the fate of Tibetan Buddhism has evolved in recent years. Originated in India, Buddhism split into two directions, one of which went to the countries of Southeast Asia - Myanmar, Cambodia, Sri Lanka, Thailand, and the second to Tibet. After the annexation of Tibet to China, the Dalai Lama left Tibet, and a small town in northern India became the center of Tibetan Buddhism. New monasteries are beginning to develop and build around. According to various sources, following the Dalai Lama, more than 80,000 Tibetans moved from Tibet to northern India. This is how everything returns to its origins, and Buddhism returns to India again.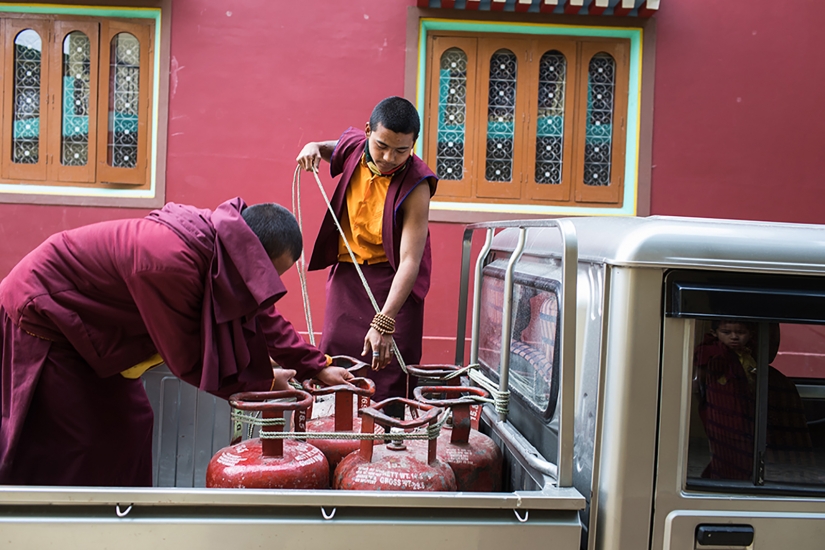 At 19 o'clock the gong sounds for dinner, and we hurry to the dining room. For several days I have already got used to the fact that it is better not to be late for the table. They eat quickly here, and if you gape, you can stay hungry. I take a plate, stand in line, and get the usual portion of rice, and I also gave fried potatoes. And after dinner, the already familiar bark - a ritual meditative walk around the main building of the monastery. In a few days, I was completely involved in the leisurely and uncomplicated life of the monastery. One of the boys takes my hand, and we walk like this together. Then he shows me an almost full moon and stars. That one is white, very bright, this one is red, and that one is orange. I look around and see that the children are divided into piles, someone is walking with a monk, someone is chatting with a new volunteer, a Tibetan girl who came to the monastery two weeks ago to teach the children English, and someone chose me. So I am already mine. And this makes me feel so warm and easy on my soul. And I know that this monastery, these guys, these stars overhead will forever remain a part of me and my life.
Keywords: Life | Buddist | Buddhism | Travel | Adventure | Lifestyle | Photography | India | People