In the United States eight years ago there was a mysterious incident. A woman named Amy fry-Pitzen (Amy Fry-Pitzen) took his son Timmoti (Timmothy) from the school, hidden in an unknown place and 3 days later he committed suicide.
"You'll never find it" — these were the first words in a suicide note Amy. Really, it's been 8 years, and the boy still can't find it. Read more about the history of the family Pitsanu read our material.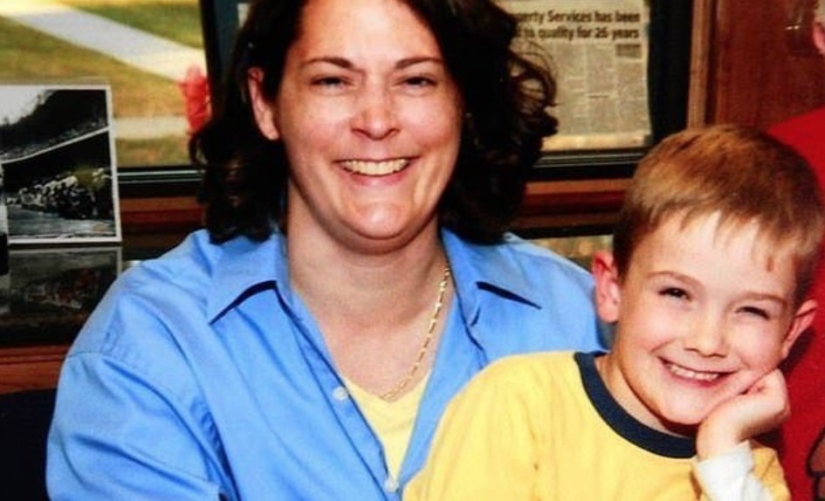 Amy and Jim Pitsani was no different from most other couples. They lived in Aurora, Illinois, went to work and raised her son Timmoti. Like other beloved ones, sometimes they fight, but usually it never came to anything serious. Over time, however, everything changed...
Amy, which already had three divorces, during each of the quarrel was telling her husband that their marriage is coming to an end. But everytime further threats it did not come, after all, before the woman tried to commit suicide and has long been on anti-depressants, so she knew no court in the country will not leave my son with a mentally unstable mother.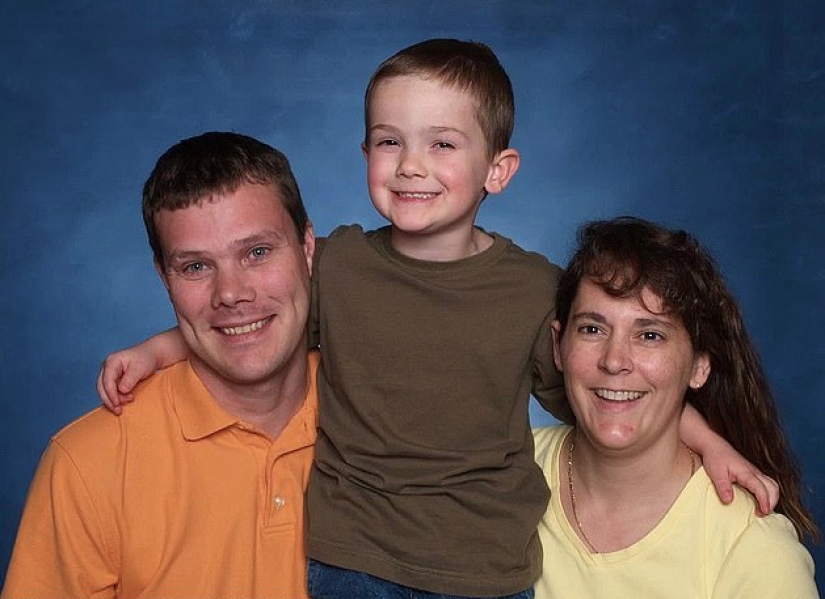 Timmoti was the only reason she continued to live with Jim. But on the morning of 11 may, she firmly decided to change your fate.
On this day, the father took the boy to school. "I love you, behave yourself," said Jim him goodbye. "I love you too, dad," replied Tim.
Half an hour later the child came Amy. She took him from school, citing "unforeseen family circumstances" and taken in an unknown direction. A surveillance camera showed how they sit together in the car and drive off around 8.30 am.
Jim learned about the disappearance of his son, only when I came to pick him up from school. The man called to his wife, but she didn't answer, friends and acquaintances she was not there. As a result, already a day later, Amy and Timmoti was declared missing.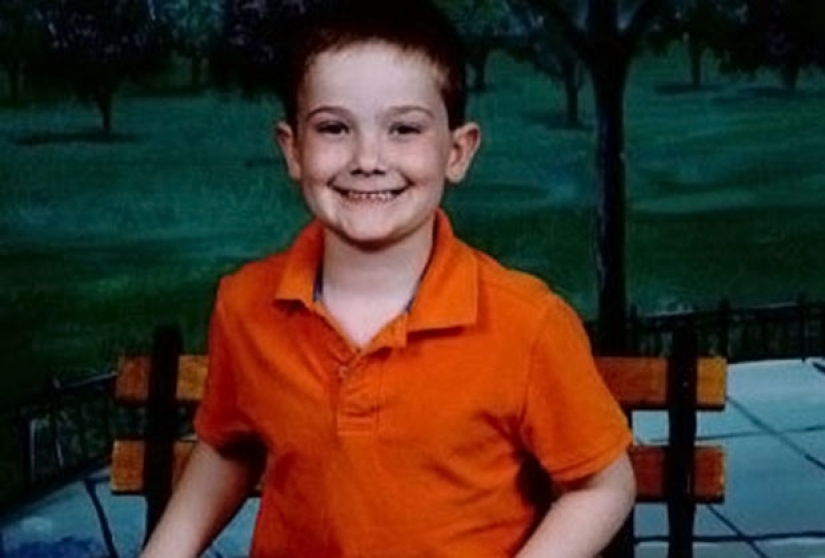 Timmoti of Pilsen, 2011
While family and friends have not found a place and searched for Timmoti, the mother gave him a real vacation: drove to the zoo, near Chicago, to the water Park in GURNEE, together they visited the resort in Wisconsin, ate delicious ice cream and seemed to enjoy life.
Recording from surveillance cameras last recorded Timmoti at 10 am on may 13, 2011, when they went to the resort "Kalahari". On the same day at 8 PM, a woman appeared in the store in Rockford, but the child with her was gone. She checked into a hotel nearby at 23.15, and the next morning the housekeeper found her dead.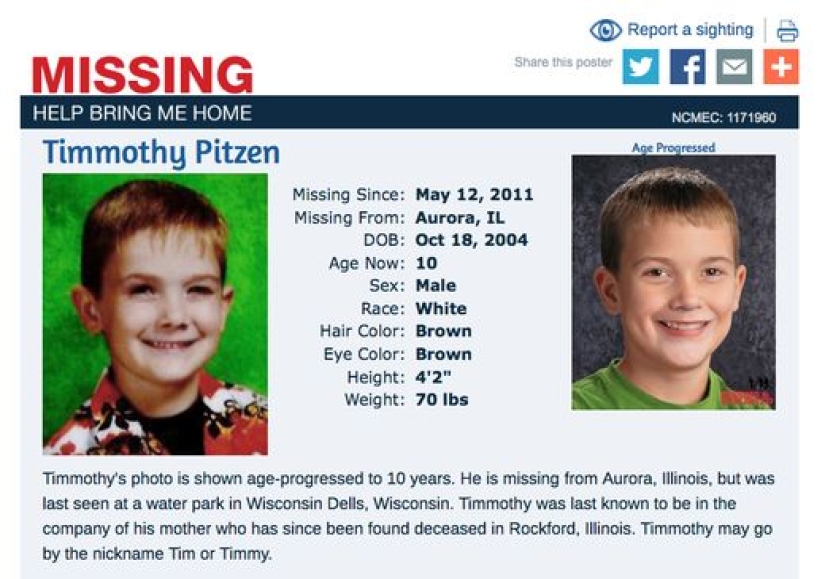 With Amy lay the syringe, razor and a suicide note. In it she wrote that Timmoti is safe with the people, "who will take care of it". A woman said that her husband will never be able to find the child. The reasons for his action Amy pointed out.
Subsequently, the police found out that the kidnapping plan.
The police tried to figure out what was Amy in the last days of his life. A month before the incident, she made several trips to Stirling, and no one can say why.
On the tombstone women wrote: "a Loving mother", because, as asserted by all her friends and acquaintances, she doted on her son.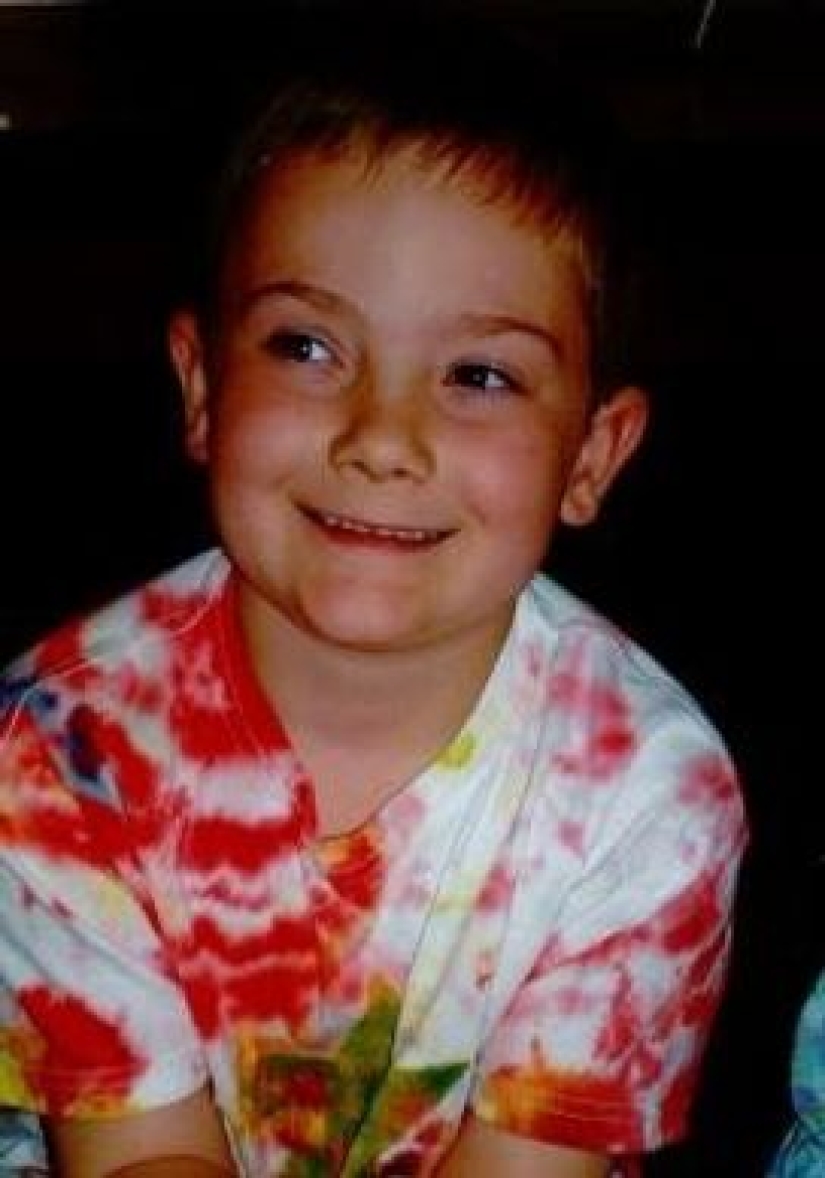 Despite all the efforts of the police and mass media coverage of the case in the media, to find the boy failed. But some times relatives Timmoti it seemed that they were close to a solution. In 2015, the police station called Florida resident, who reported that next door to him lives a boy very similar to Timmoti.
Arrived at the scene, law enforcement officers, but it turned out that this is a completely different child, although the similarities were.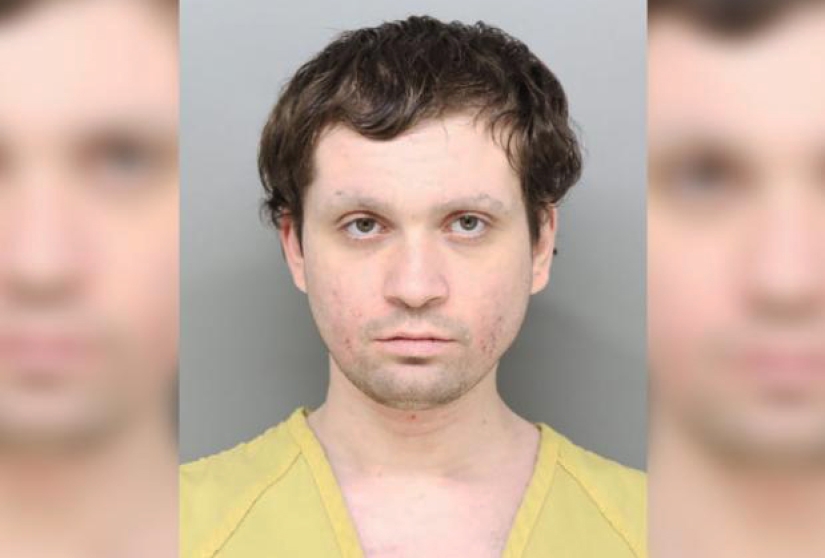 Brian Michael Rini
And again this year there was a case that forced native Timmoti heart beat faster. The woman on the street ran a young man, who said that he was kidnapped seven years locked in the hotel Red Roof. The guy described his kidnappers and asked the woman as quickly as possible to call the police.
The young man said confidently that he is Timmoti of Pilsen, but the coroner has not confirmed his words. It turned out that this guy's name is Brian Michael Rini, he was not 14 years old and 23 years old, and a few months ago he was released from prison.
Brian's brother said that he is not the first time appropriated the identity of other people for personal gain. The young man admitted that he learned the story of Pacenow news and envy as heat to the missing boy are his family. The guy always wanted to run away from his own family, therefore, thought it was a great opportunity. Now, however, for his failed attempt to "reunification with relatives", Rini could face up to 8 years in prison.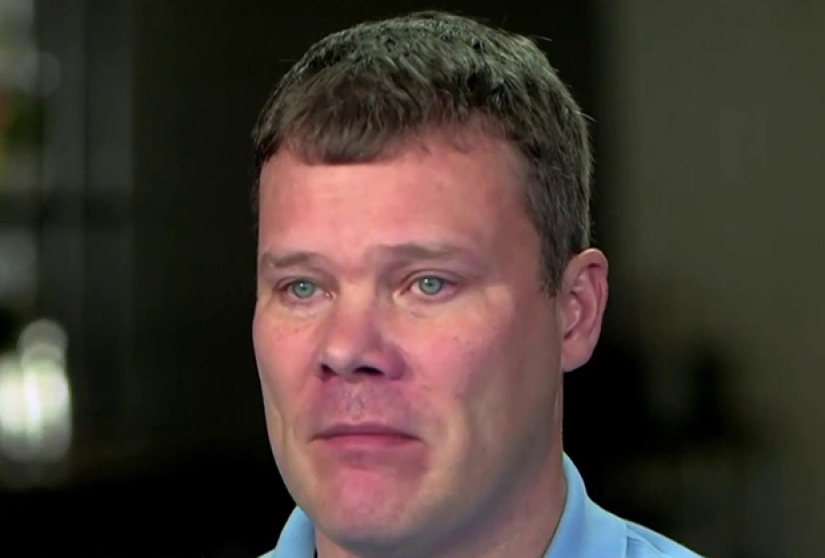 Jim Pitzen
After this incident, the police promised that he will not stop looking Timmoti. Currently they have no leads, but the portraits of the boy, adapted to the present age, continues to appear in all investigative reports.
Dad and grandma Timmoti do not lose hope that someday see him again. Jim even goes on to build a tree house you've always dreamed his son.
Really want to see their hopes dashed! Why do you think mother Timmoti have done so and where might be a boy now?
Keywords: America | The disappearance of the mother | Accident | Suicide | USA | The son of
Post News Article