Has it ever occurred to you what you would look like if you lived in another country? And we are not talking about genetics now, but about choosing a style: how would you dress, what kind of makeup would you prefer (or maybe would not prefer), would you have piercings or tattoos.
Journalists from Groom + Style sent neutral photos of a man and a woman to fashion experts and graphic designers from 27 countries of the world. Look at what happened — it's hard to believe that these are the same photos!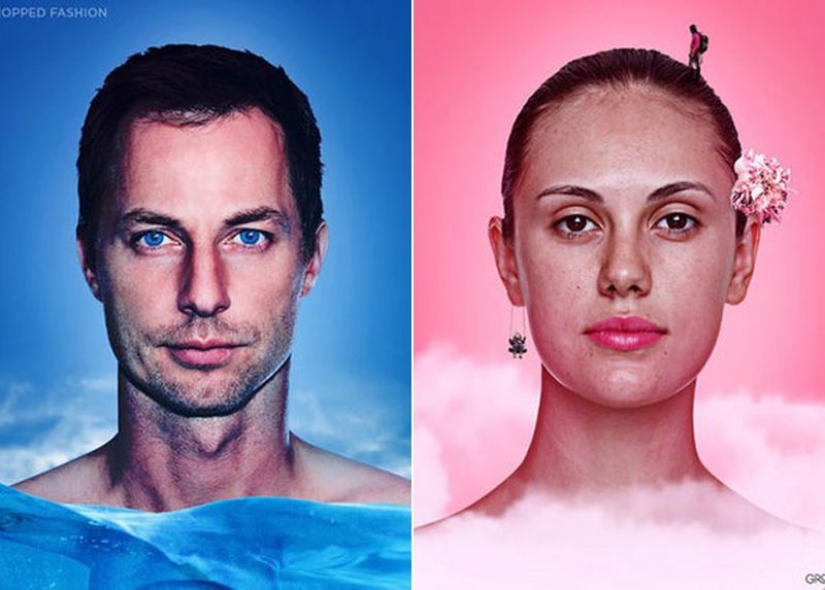 This is how the sources of the photos that needed to be changed looked like: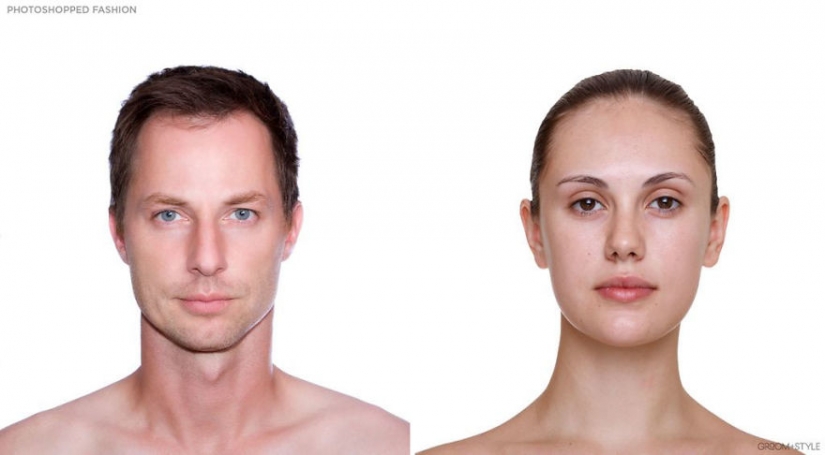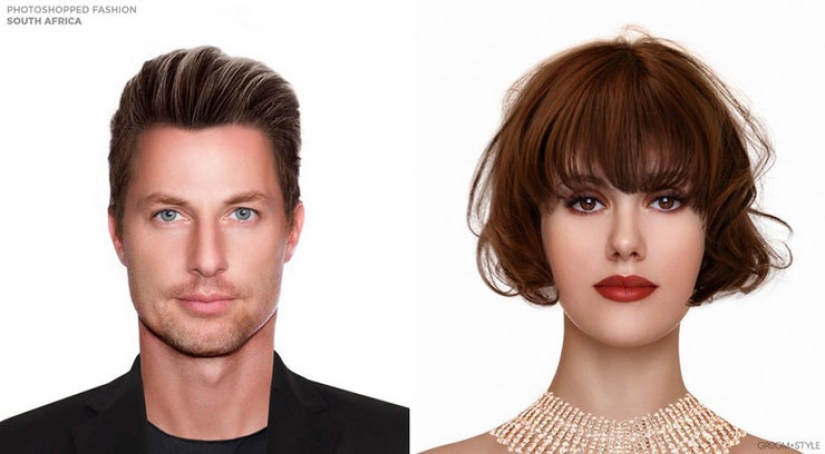 Lucinda from South Africa was inspired by the images from The Great Gatsby. A gold necklace around a woman's neck is a symbol of self-confidence, and a man, she decided, would look more mature with a little stubble. This women's haircut is very fashionable this year in South Africa, it emphasizes the cheekbones.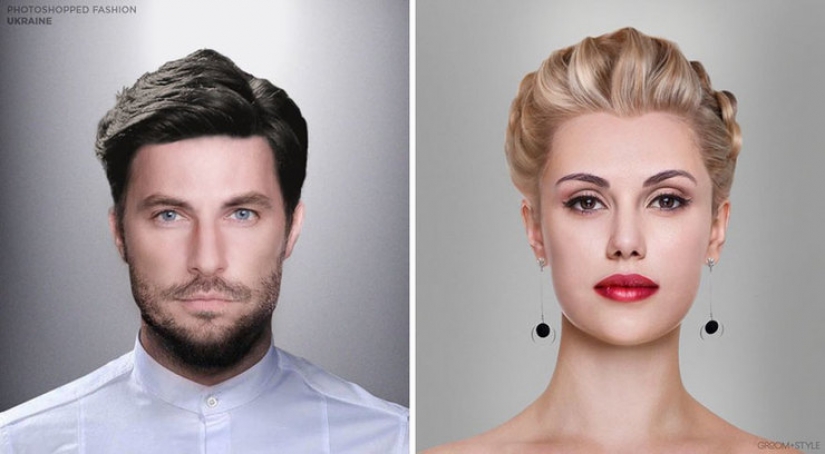 Designer Yana believes that hipster style is on trend today: the woman has short bleached hair and the man has a careless beard. The model's earrings are not so much in trend right now, the fashion for them is rather indefinite. Yana noted that men's accessories are most often located below the collar line, and she would add watches, large rings and tattoos.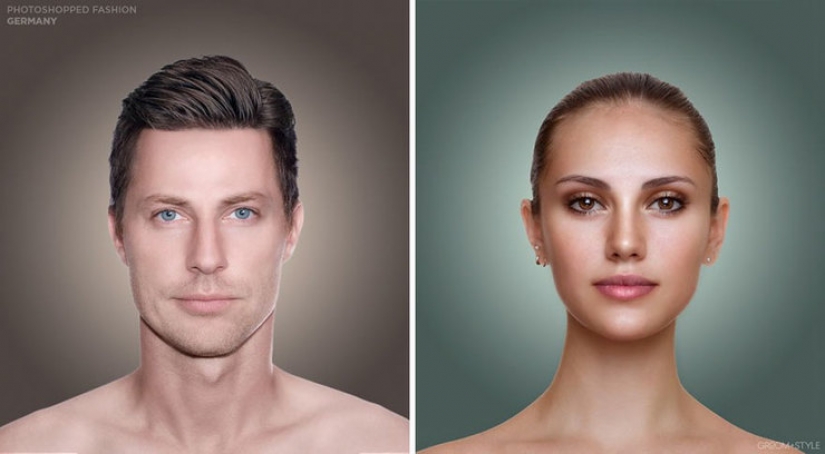 At the peak of popularity in Germany, small earrings — this is why the hair of the female model is pulled back. The designer also wanted both models to look relaxed and friendly.
Designer from Sergey Davorin wanted to create a business image for a man, and for a girl, on the contrary, such as if she was going for a walk or to a cafe with her friends. Davorin stressed that he deliberately made the male model clean-shaven, because beards have become too common in Serbia.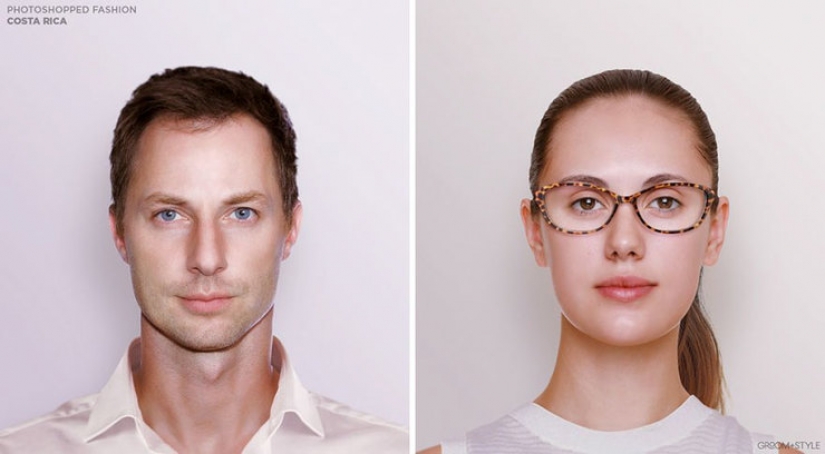 Designer from Costa Rica added a minimum of details to our models, because in Costa Rica, natural beauty is on trend. Clothes and hairstyles are as simple as possible, so that nothing distracts from the faces. The girl is wearing glasses to emphasize her intelligence.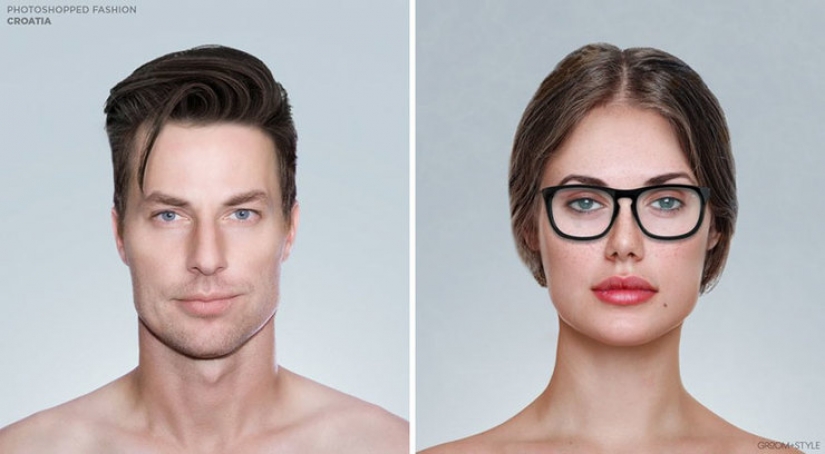 Yakov from Croatia gave the models a classic look. The girl has glasses and a careless tail — so, according to the designer, she looks more confident. Here, of course, the situation is twofold: some Croats adhere to normcore and dress according to the weather, while fashionistas mix neon and vinyl.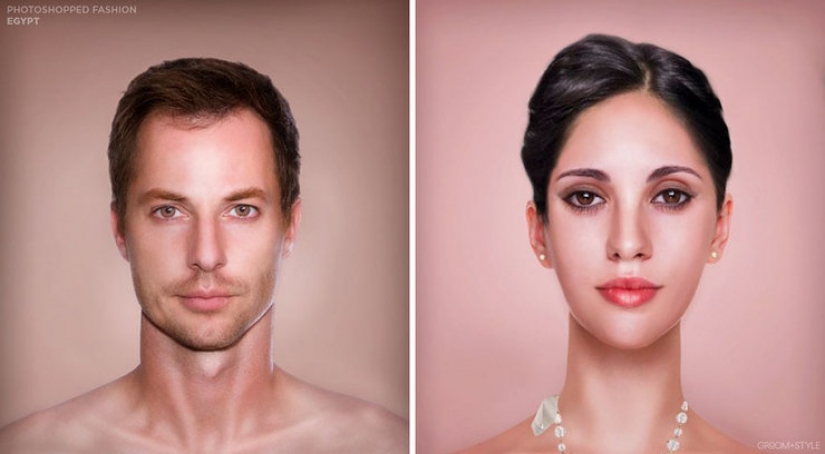 Designer Amal depicted a dreamy classic Egyptian style. Amal added a little hair to the man's face to better outline his structure and emphasize his muscularity.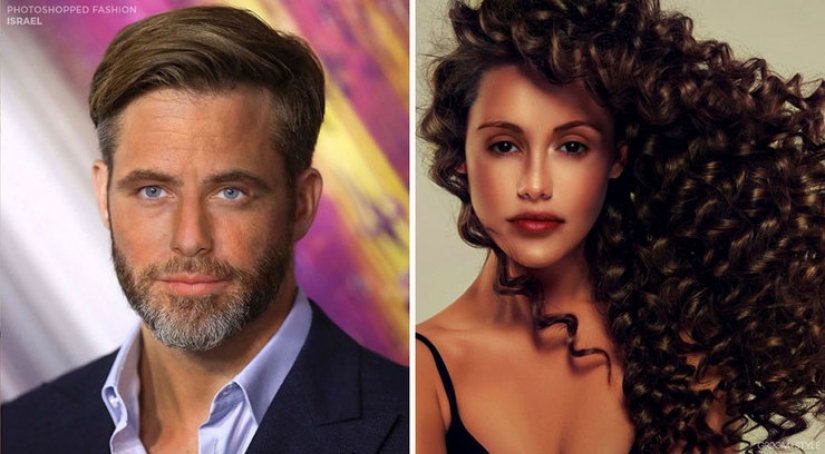 Do you believe that these are the same people? Tanning is now very popular in Israel. Roni believes that big lips and curly hair are also on the very crest of the wave. Men try to be like movie heroes: there is a lot of hair, but no carelessness, everything should be carefully laid.
Justina, our Lithuanian designer, has chosen images that combine traditional and fashionable elements. Along with a military haircut for a man, Justina added traditional Baltic and Prussian details to both models.
Designer Oksana applied glitter to the corners of the model's eyes, and a highlighter on her face to make the skin seem more hydrated and healthy. The Korean style of the eyebrows is in the spirit of Ariana Grande, and the earrings attract attention to the face as a whole.
Brands usually ask the Turkish photoshop expert Mehmet to make the models look natural. Readers of fashion magazines do not trust overly retouched images. He added a light tan to the man and thick eyelashes to the girl.
Our Albanian designer Sokol was influenced by digital fashion magazines. Sokol chose warm, slightly glowing colors for his models, and the girl's curly bob gives her determination.
Australian models are dressed for the most glamorous event in the world of Australian fashion — the Melbourne Cup, this is horse racing. The man's style is simple, but refined, he has a stylish hairstyle and light, "designer" stubble. And a girl should definitely have a hat on!
Practical and casual style, modern jewelry and hairstyle that can be done in 5 minutes. And what can make a man more masculine than a beard?
The Finnish interpretation is natural, stylish and confident. According to the Finnish designer, purple eye makeup and a fashionable scarf are now on trend, and a blue shirt will always suit a guy if his hair is made a little darker.
Eric, a designer from Namibia, claims that traditional elements are now very popular in his country. A woman has a turban and a drawing on her face, a man has a traditional Yoruba headdress and a dashiki shirt. Almost all men in Africa wear a beard.
Clara focused on hairstyles: she gave the girl a fashionable bob, and the man a larger volume.
Belarusian designer Ilya considers a tan a symbol of an active lifestyle. In his opinion, he gave the portraits a more "rich" look. A cigar is an accessory of a modern businessman, and a necklace and earrings from a girl say that she is ready to go to a banquet.
So, what makes our models elegant in Malaysia? Light curls and dark hair.
Designer Ivan called the images he created a fabulous subrealism. He wanted each model to have a character, while he believes that emphasizing skin imperfections is also a kind of fashion technique, a return to natural beauty.
Successful men in Hong Kong do not have any accessories other than watches, and the model girl was supposed to become, according to the designer, more feminine and soft.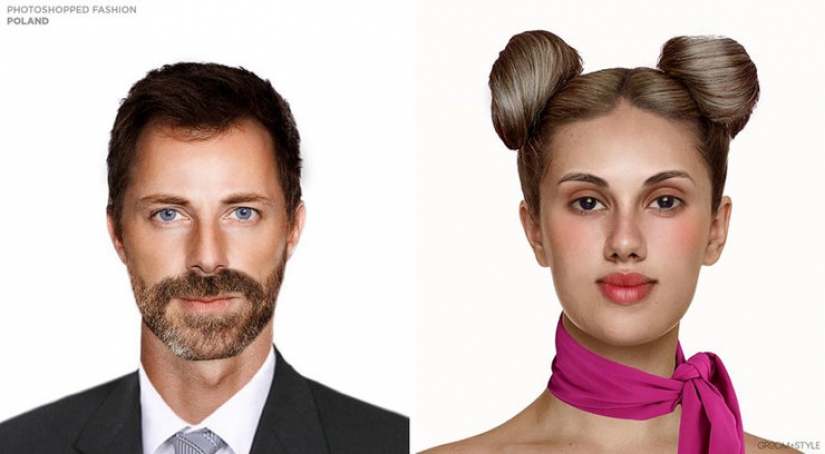 Sarah wanted to make the Polish girl model more youthful, so her face is rounded, there is a blush on her cheeks, and instead of a strict styling, there are two perky bunches. The man, on the contrary, has become more mature.
India has returned to its roots: vintage jewelry, bright makeup and from the "hidden" - a man's pocket watch.
Mexican fashion requires bright images: a geometric beard for him and a careless braid and green shadows for her.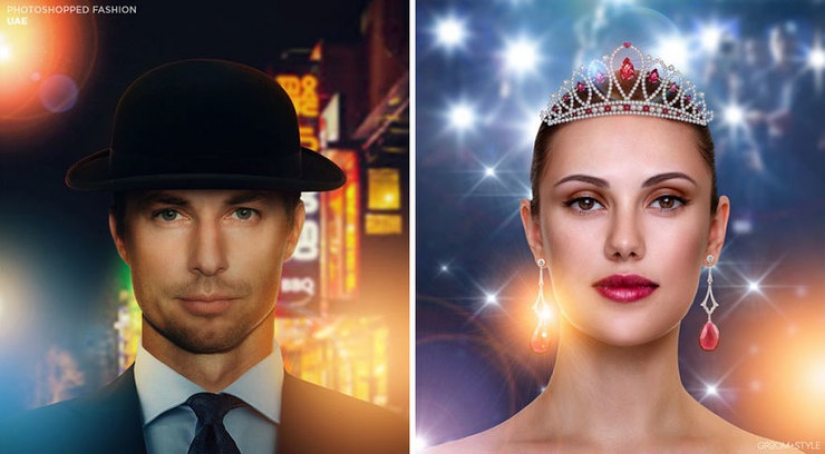 In the view of designer Tetiana, who is closest to fashion trends? That's right, stars on the carpet. She tried to add more shine and gloss to her and him, preserving their natural features.
Nepalis are the second largest number of foreigners in Qatar, and their influence is felt in the developing culture of the country. Therefore, the models have Nepali hats and a tika on their face.
A playful image with freckles and a bright snow-white smile is the key to fashion success in the United States. And the male image, although it seems strict, is not devoid of a certain courage, just look at this wonderful butterfly.
Keywords: Photoshop | Beauty | Stylists | Trends | Photoshop