Derrick Lin having fun at work, using available materials. He creates a fun miniatures when he gets bored, and calls it a "tiny office".
"I work in advertising, my working days are often chaotic and unpredictable. I try not to let stress got the upper hand, so irritation let in a peaceful way and create miniatures," says derrick.
As materials he uses books, notebooks, pens, pencils, paperclips -- all of that can be found on the table of the ordinary office worker. The photographs he makes on the iPhone in desktop lighting.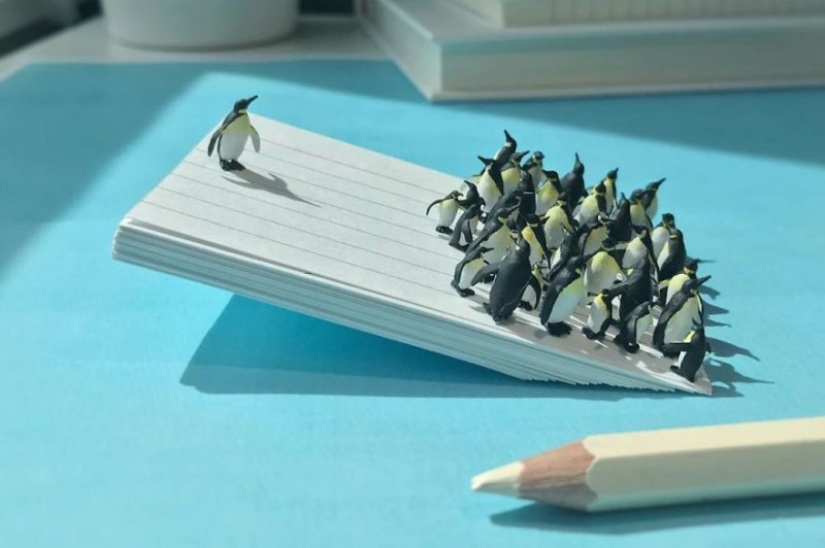 Publication from Derrick Lin (@marsder) Aug 9 2017 7:56 PDT
Publication from Derrick Lin (@marsder) Aug 2 2017 7:54 PDT
Publication from Derrick Lin (@marsder) Jul 26 2017 7:58 PDT
Publication from Derrick Lin (@marsder) Jul 18 2017 7:56 PDT
Publication from Derrick Lin (@marsder) Jul 11 2017 7:56 PDT
Publication from Derrick Lin (@marsder) Jun 28 2017 at 7:58 am PDT
Publication from Derrick Lin (@marsder) Jun 21 2017 at 7:55 PDT
Publication from Derrick Lin (@marsder) May 31 2017 7:56 PDT
Publication from Derrick Lin (@marsder) 2017 May 2 at 8:04 PDT
Publication from Derrick Lin (@marsder) APR 3 2017 8:00 PDT
Publication from Derrick Lin (@marsder) Feb 13 2017 at 11:00 PST
Publication from Derrick Lin (@marsder) Jan 23 2017 10:24 PST
Publication from Derrick Lin (@marsder) Sep 6 2016 8:03 PDT
Publication from Derrick Lin (@marsder) Sep 14 2016 at 7:56 PDT
Publication from Derrick Lin (@marsder) Sep 4 2016 at 9:01 am PDT
Publication from Derrick Lin (@marsder) Aug 12 2016 8:33 PDT
Publication from Derrick Lin (@marsder) Jun 23 2016 4:35 PDT
Publication from Derrick Lin (@marsder) May 31 2016 at 7:53 PDT
Keywords: Miniatures | Office | Work | Photographer | Hobby