Little Bear Schwarz is a 36-year-old circus performer with polycystic ovary syndrome. Because of this disease, the level of male hormones is greatly increased. Therefore, during her school years, Little Bear was very different from her peers, and later the girl began to grow a beard at all.
For a long time she hid her "illness" from friends and acquaintances, naturally, the girl's partners also did not suspect anything about the presence of facial hair on her face. But one day Little decided to open up to the world, and, lo and behold, she met true love, got married and is now absolutely happy!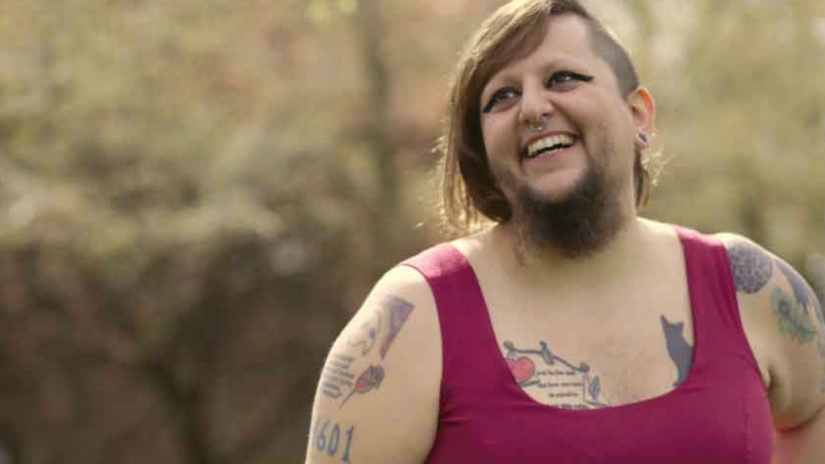 When Little Bear was 14 years old, she was diagnosed with polycystic ovary syndrome. This is a fairly common disease among women: according to statistics, one in ten suffers from it, but the symptoms in all cases manifest themselves differently. These are mainly: irregular menstrual cycle, oily skin, acne, excess weight, high blood pressure.
Most ladies are not even aware of the presence of this problem, but Schwartz has all the signs, as they say, on her face. Since adolescence, the girl had to deal with such a problem as increased vegetation on the body.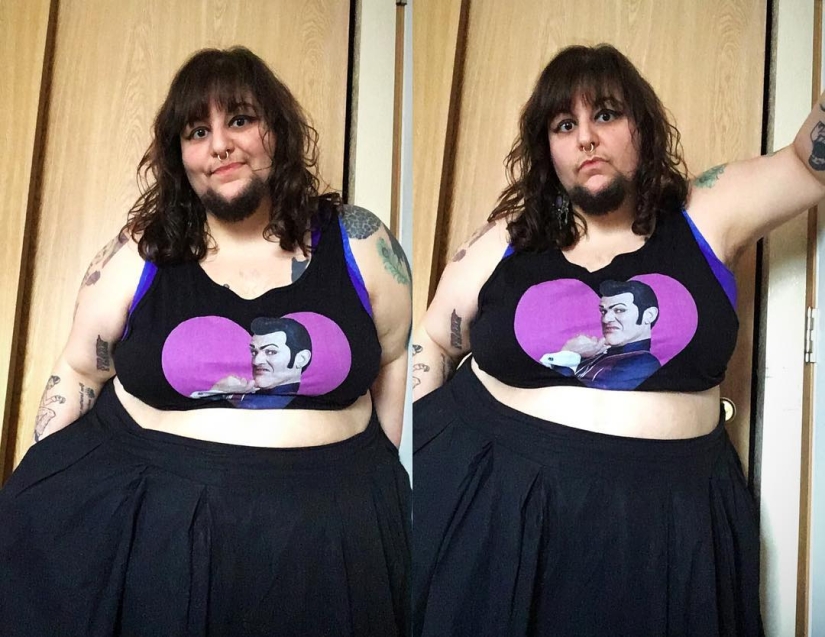 Little Bear was very shy about her illness, she always carefully shaved her beard, applied several layers of makeup to hide the stubble, did hair removal, depilation, but all in vain.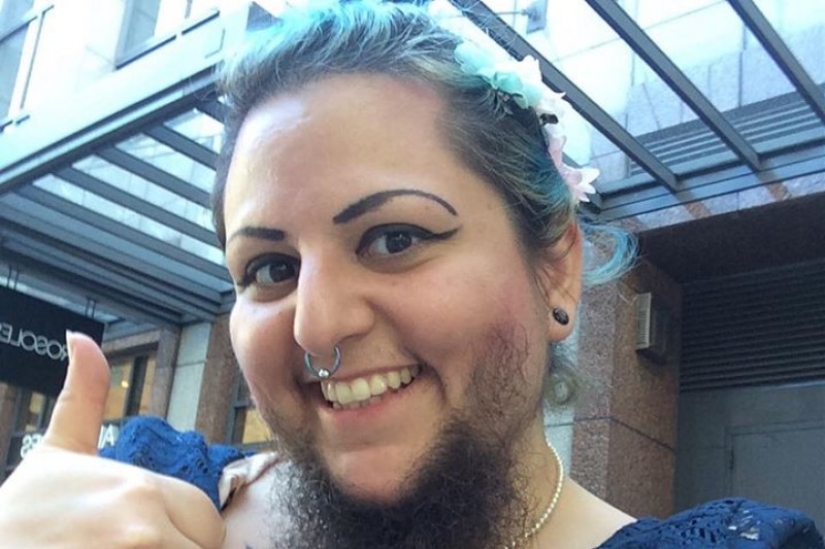 Until the age of 20, Schwartz was introduced by the name Renee and seemed to be living a different life. When a girl was in a relationship, she had to wake up early in the morning to have time to shave off her beard. But the girl never managed to hide it for a long time.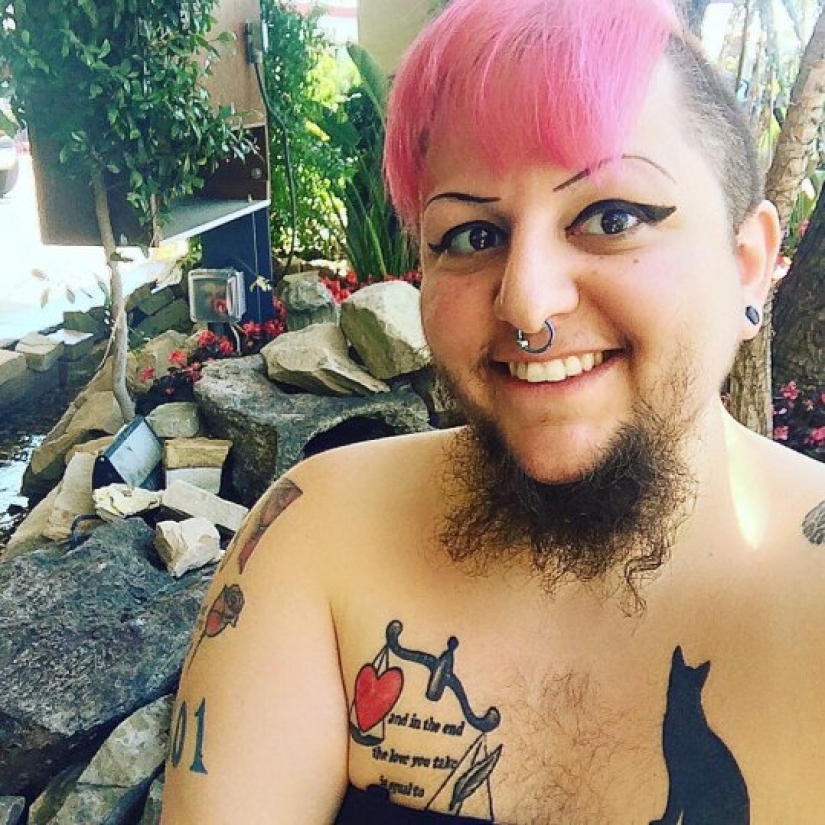 But Schwartz's life completely changed in 2013. Then the girl found out about the Whiskerinas event - a competition for bearded women, which was held in Seattle. Hoping to find friends in misfortune, Little went to the competition. But then a surprise awaited the girl: it turned out that the contest was for women with a fake beard.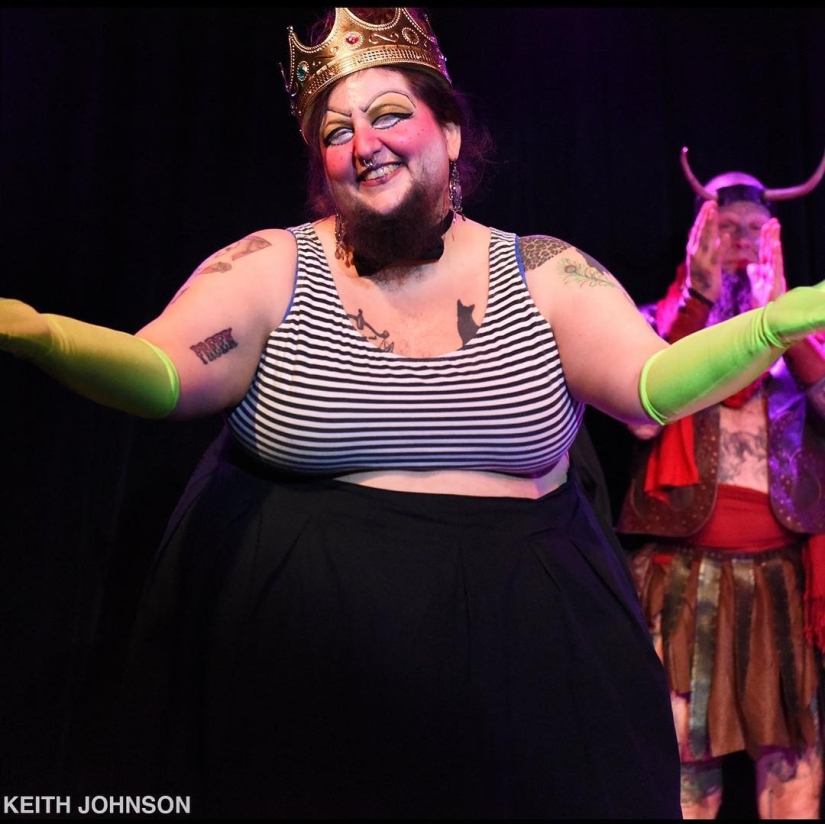 At first, Schwartz was very scared and even wanted to refuse to participate in the competition. But in the end, the girl won! It was her beard that the jury recognized as the best!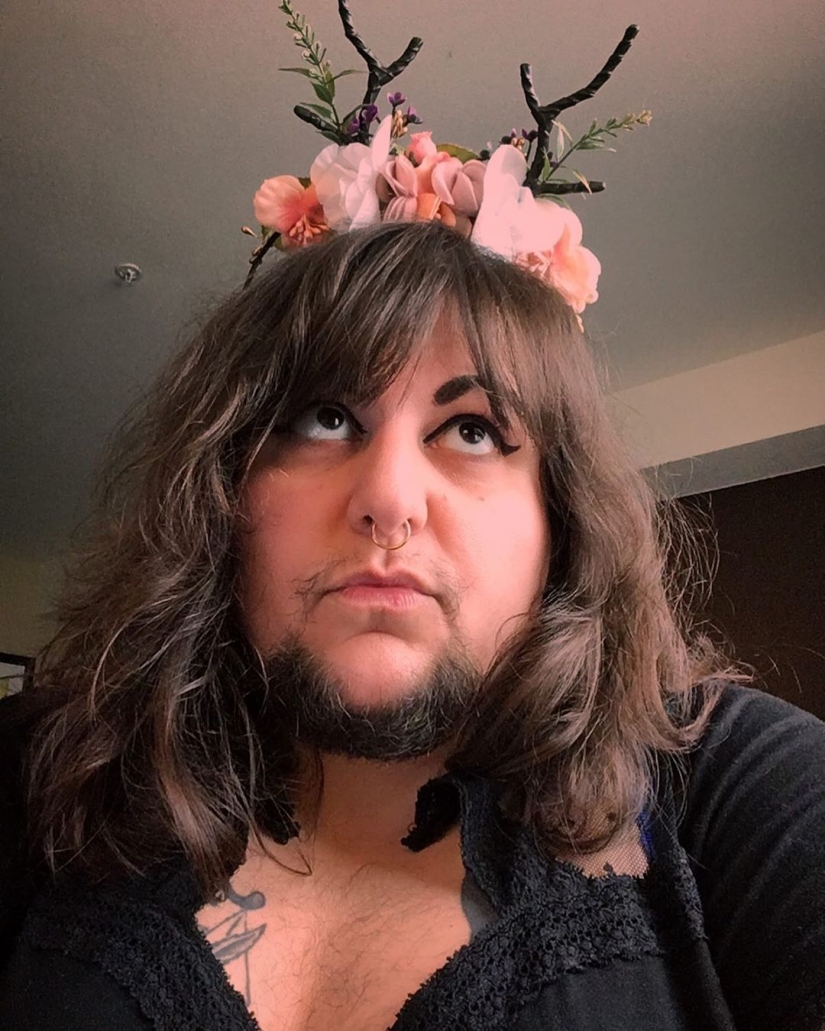 At the same festival, the girl met the circus group Wreckless Freeks. Noticing an unusual girl, the artists immediately invited her to join their team. So Schwartz started working in a circus and gave up shaving her beard forever.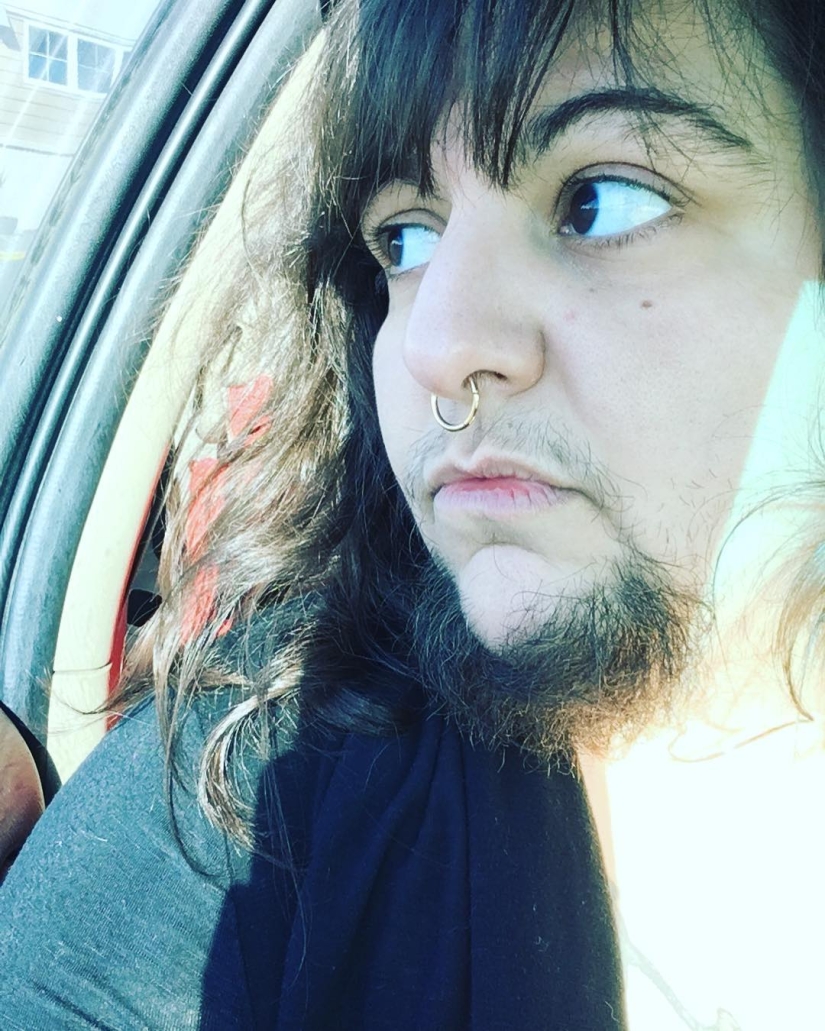 The girl admits that at first she was very confused by the surprised looks of passers-by, but now Schwartz even enjoys the increased attention to his person.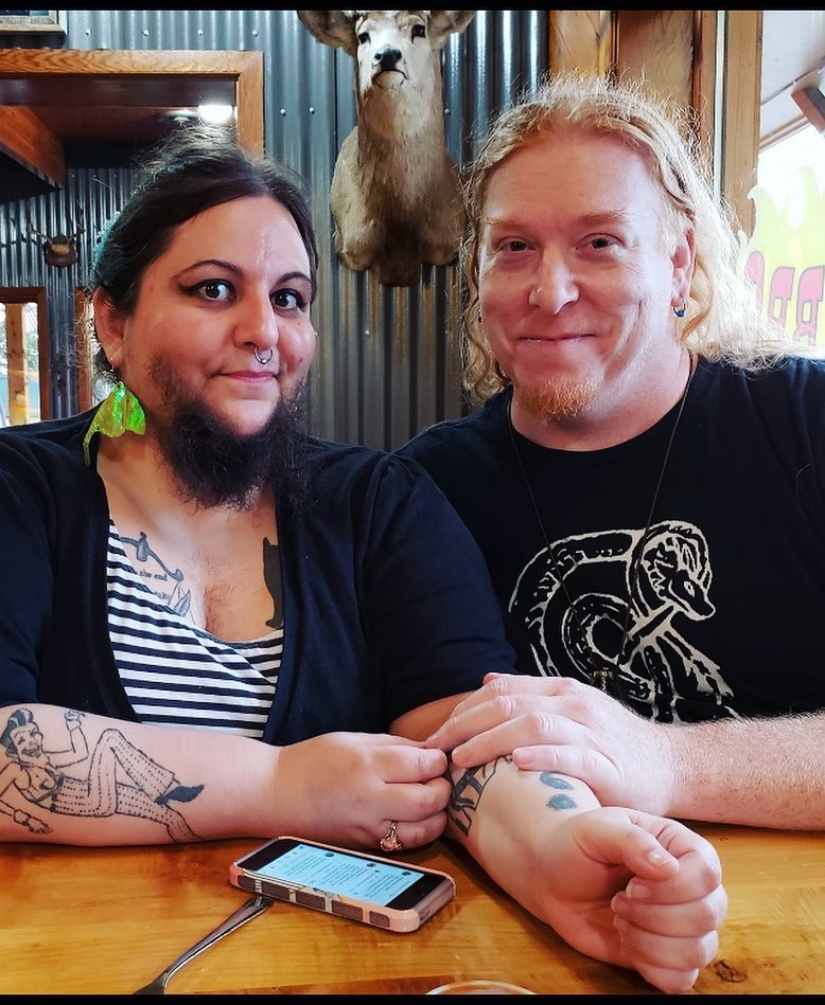 At one job in the circus, the changes in the girl's life did not end. Schwartz complained on her Facebook page that she "probably will never meet a person who could look at her with a beard." And an hour later, to her great surprise, she received a message from Tobias, his future spouse.
In 2017, a 45-year-old Tacoma resident invited Little Bear on a date. There was an immediate liking between them, but there was one small nuance that prevented Tobias and Schwartz from being together with each other. It turned out that the man was a Satanist, while the girl had been brought up in the strict traditions of Christianity since childhood.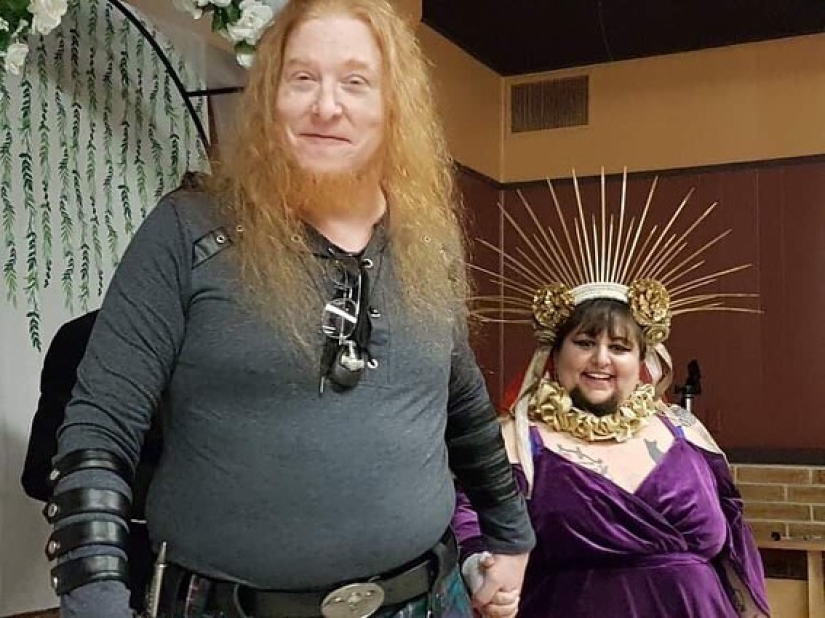 However, love was above all! Even different faiths did not prevent them from reuniting. Since then, Tobias and Little have not parted, and in 2018, a man proposed to her.At the end of February 2019, they got married. The ceremony was attended by all the friends of the couple, as well as their relatives and colleagues of Schwartz on stage.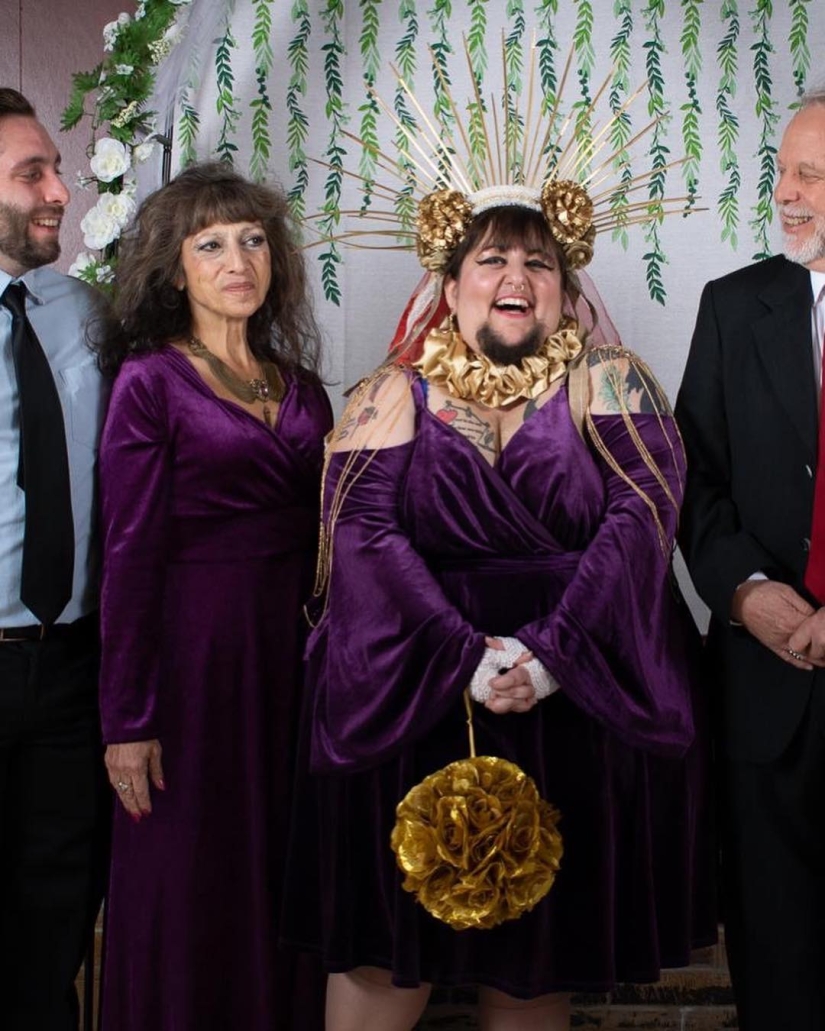 Little Bear admits that Tobias is very different from all her previous partners. According to the girl, he does not consider her beard something ugly. Instead, her husband is proud of her resilience and, despite the facial hair, calls her incredibly beautiful and feminine.
Here is such an unusual and happy family! And what other original couples do you know?
Keywords: Beard | Hair | Hormones | Woman | Marriage | Man | Vegetation | Satanists | Wedding