It turns out that the beloved boy king of Egypt was not so golden. New research has revealed that Pharaoh Tutankhamun was actually a weak teenager with a cleft palate and clubfoot.
"He was a sick child," says Egyptologist Emily Teeter. Based on DNA tests and CT scans, the scientists concluded that Tut had a genetic bone disease and malaria, which, combined with a complex leg fracture, could have caused his death at the age of 19 approximately 3,000 years ago.
The king and his family, despite their status and wealth, were just as susceptible to disease as ordinary peasants – numerous traces of malaria were found on the bodies of members of the royal family found in the tombs. Moreover, the tradition of blood marriages greatly worsened the health of the pharaohs.
New research has proven that Tutankhamun's father was Pharaoh Akhenaten, and his mother was his father's own sister, that is, his aunt. In Egypt, this was not considered incest. The pharaohs were equated with the gods, and therefore it was forbidden to "mix" other people's blood with their own kind. (Attention! Some of the photos presented in the collection may seem unpleasant and frightening.)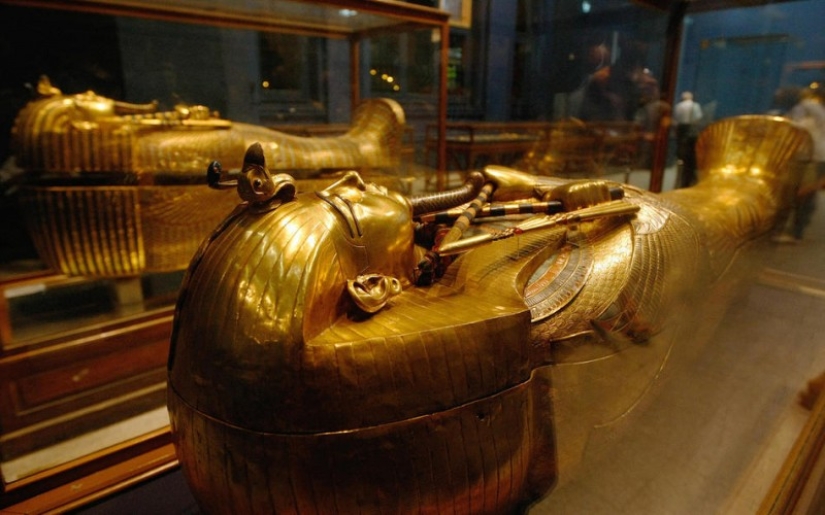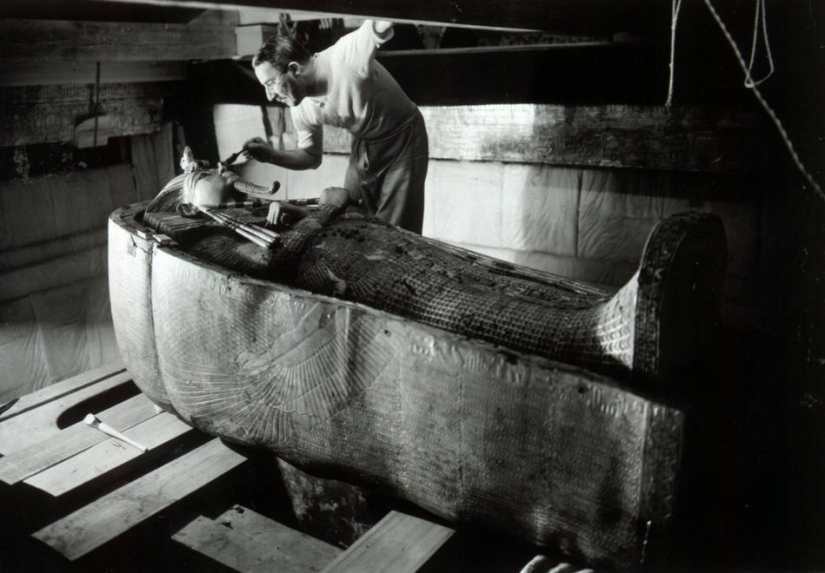 Archaeologist Howard Carter dusts off the sarcophagus with the mummy of Pharaoh Tutankhamun. (Har­ry Burton)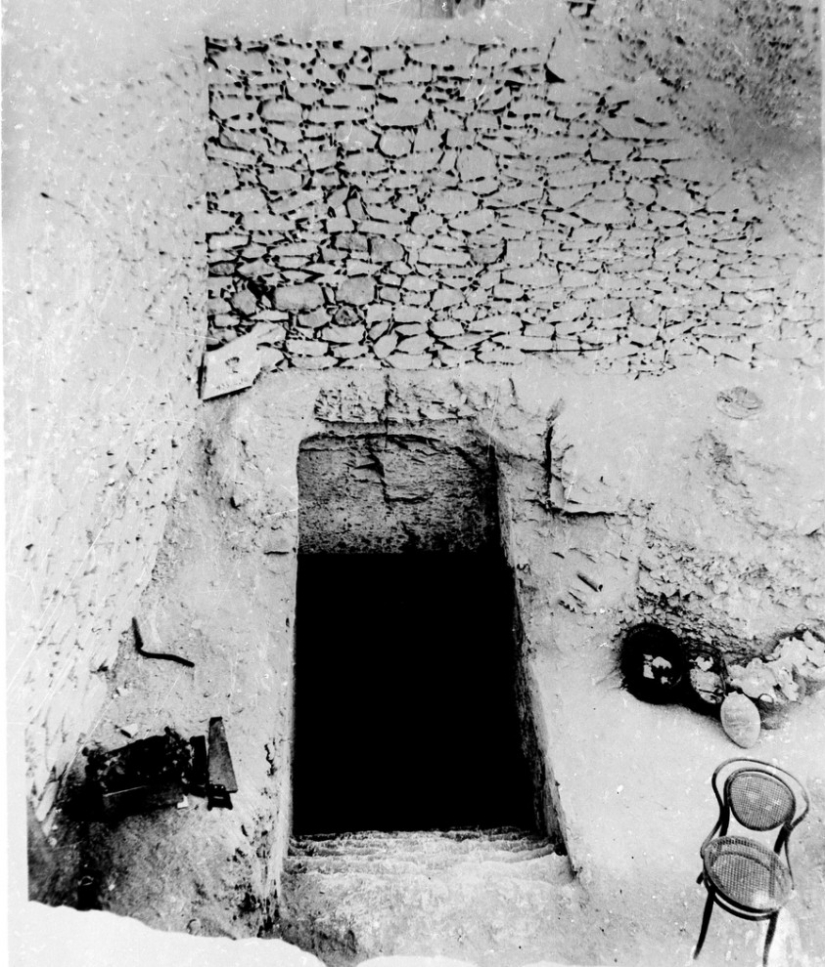 Detailed photo of the tomb of Tutankhamun, who ruled Egypt from 1358 to 1350 BC (AP Photo)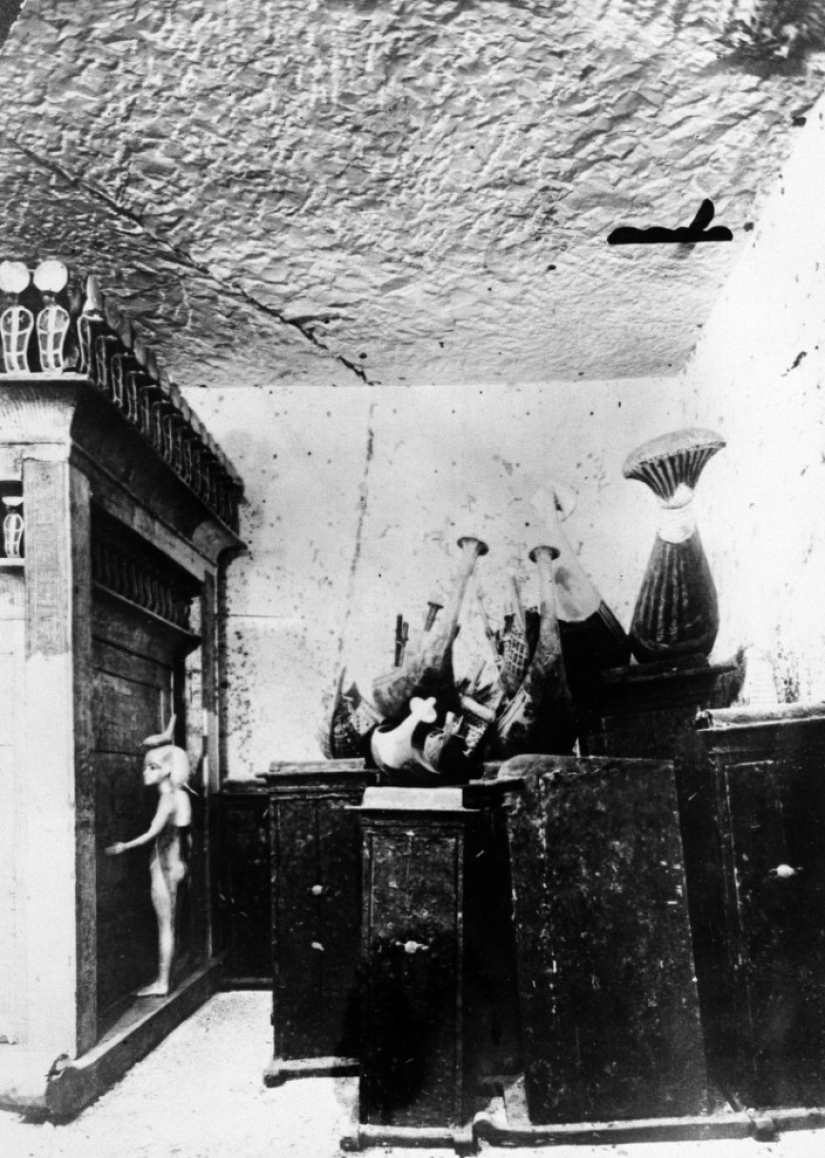 Some of the treasures found in Tutankhamun's tomb in 1923. (AP Photo)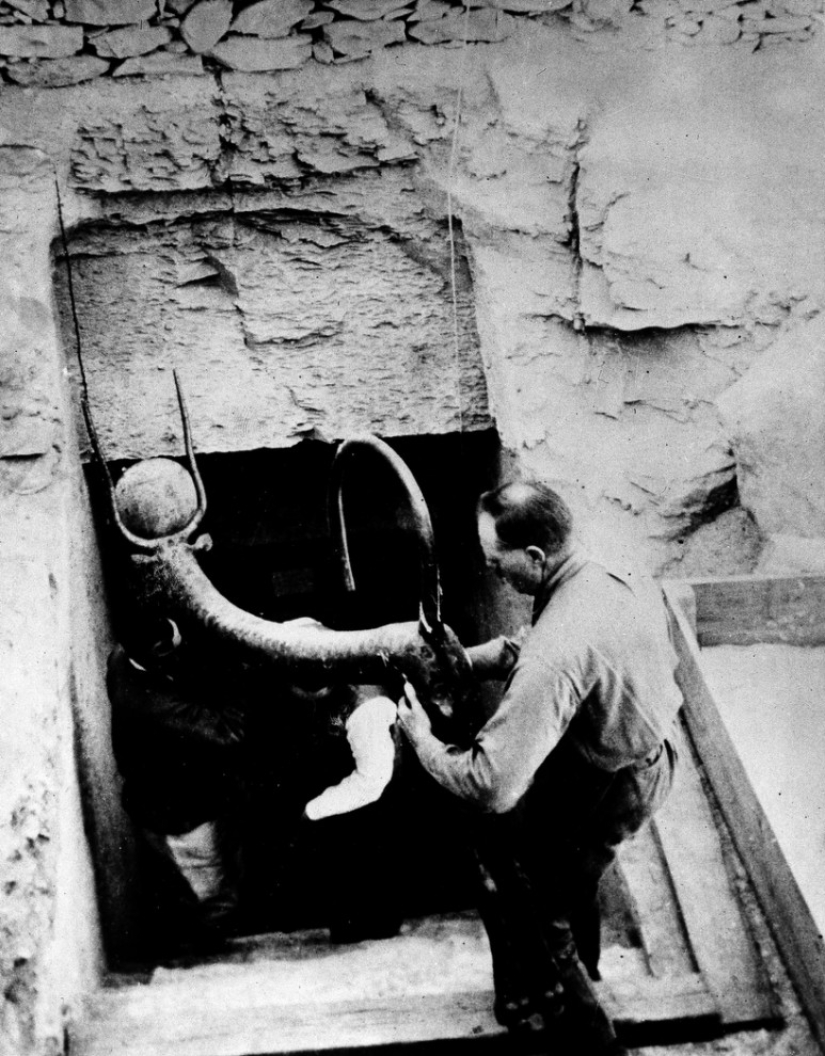 Archaeologists remove an object from the tomb of Pharaoh Tutankhamun in the Valley of the Pharaohs in Luxor, Egypt, 1923. (AP Photo)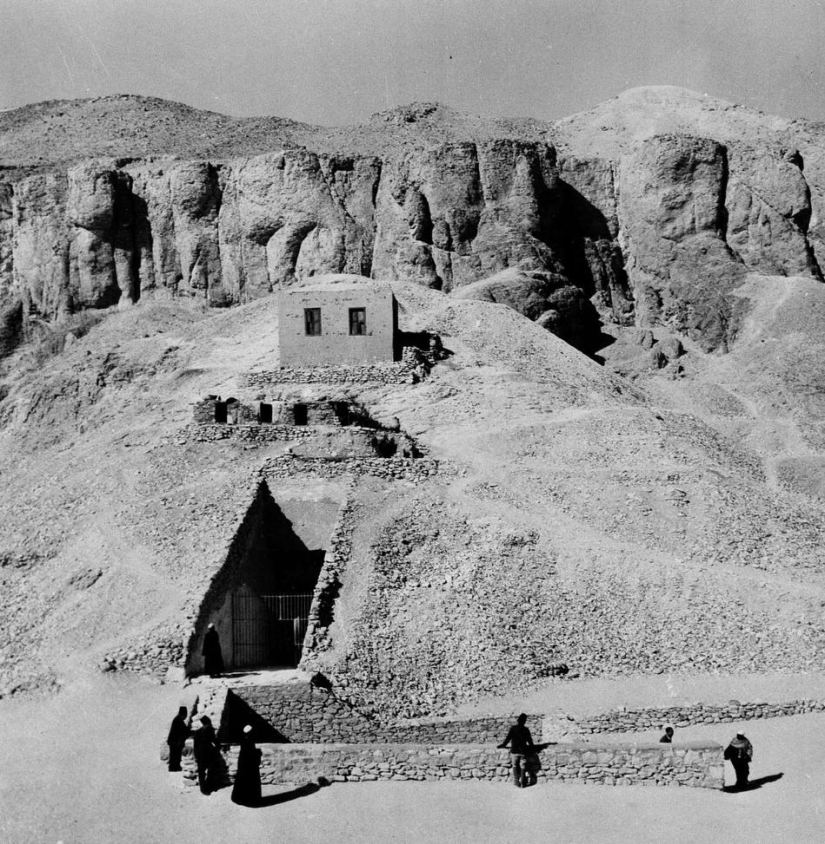 The entrance to the tomb of Tutankhamun. (AP Photo/Ham Wright)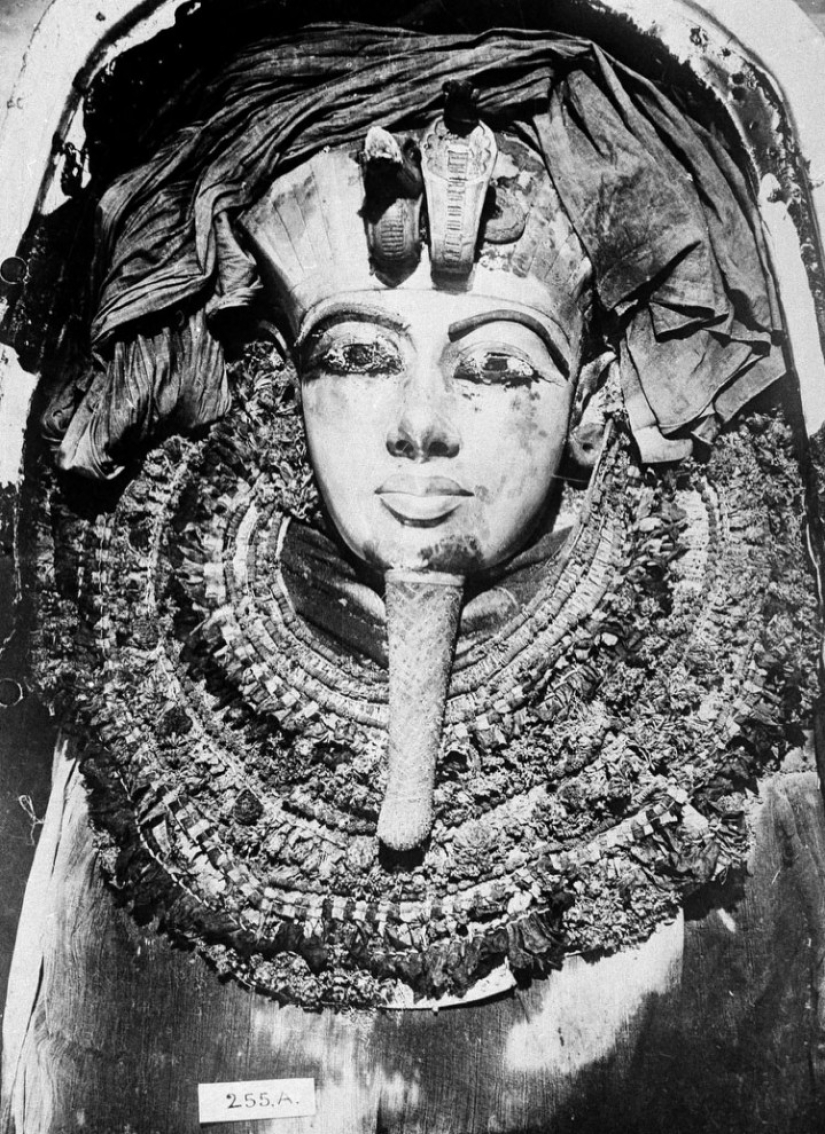 The golden coffin of the Egyptian Pharaoh Tutankhamun. (AP Photo)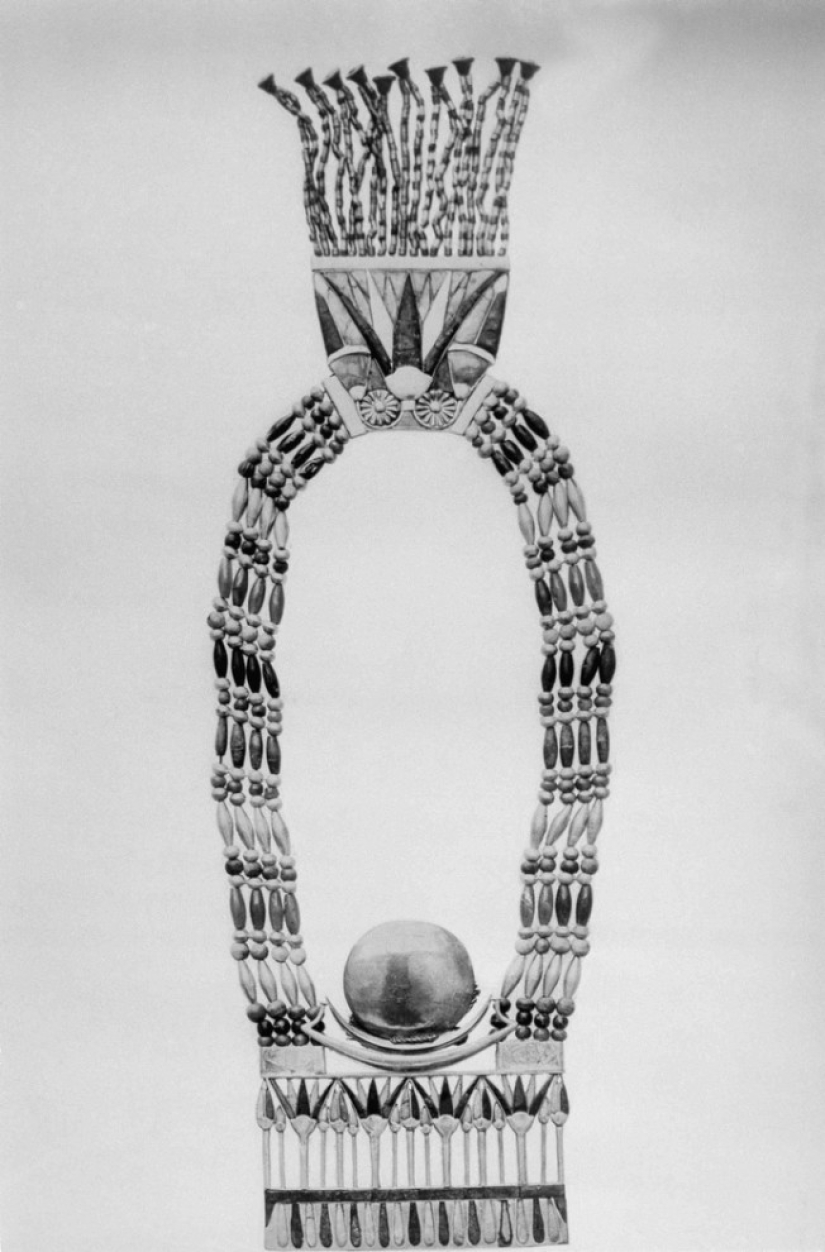 One of the many finds during excavations in Cairo, in the tomb of Tutankhamun. (AP Photo)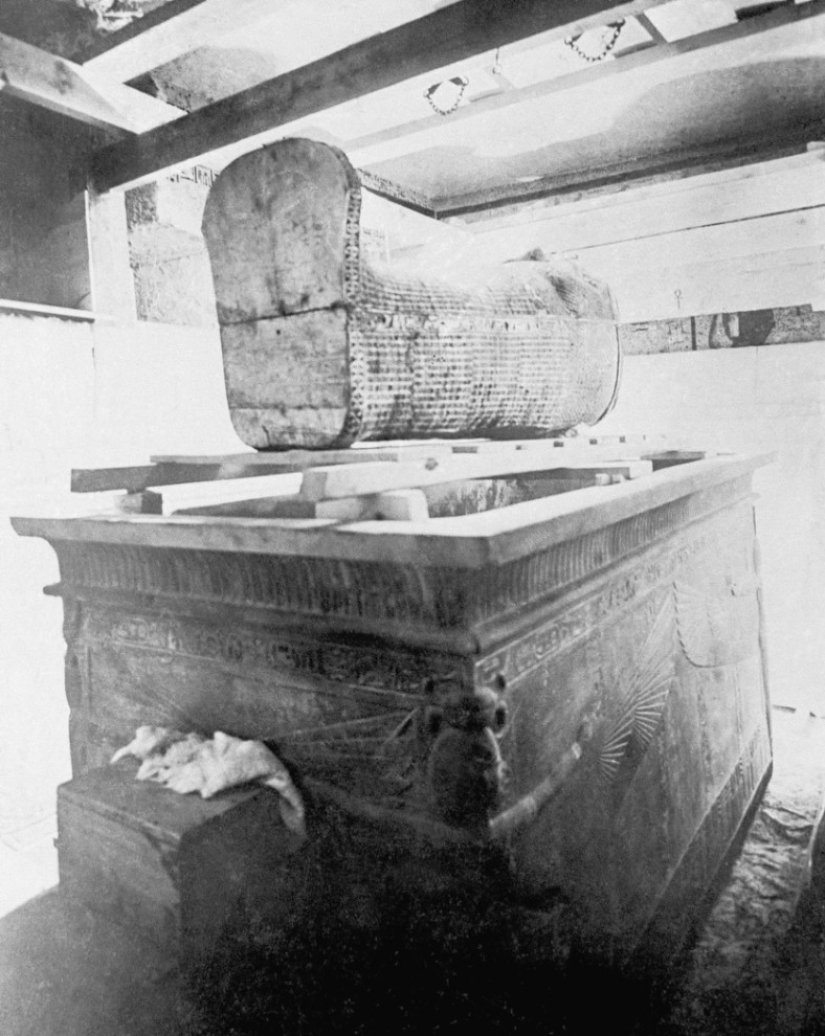 The tomb of Tutankhamun. The picture was taken in the 1920s. (AP Photo)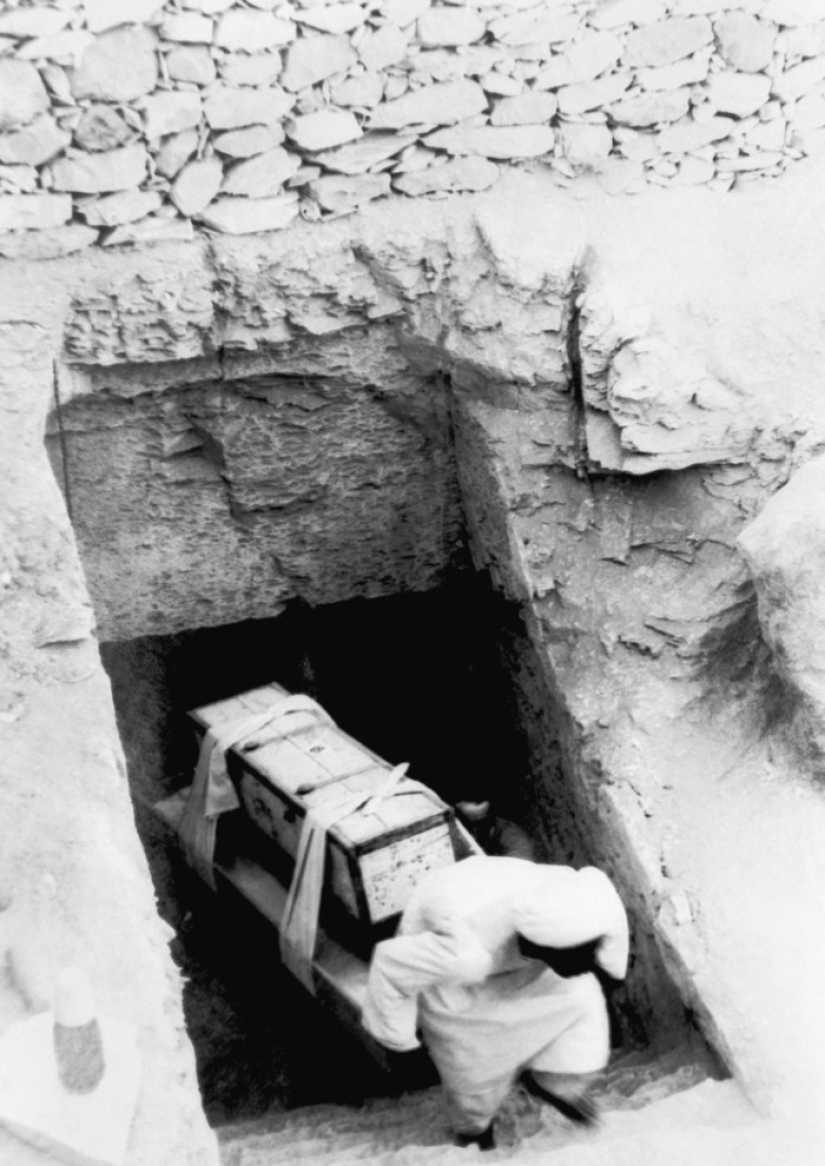 Ancient artifacts are removed from the tomb of the Pharaoh during excavations in Cairo. (AP Photo)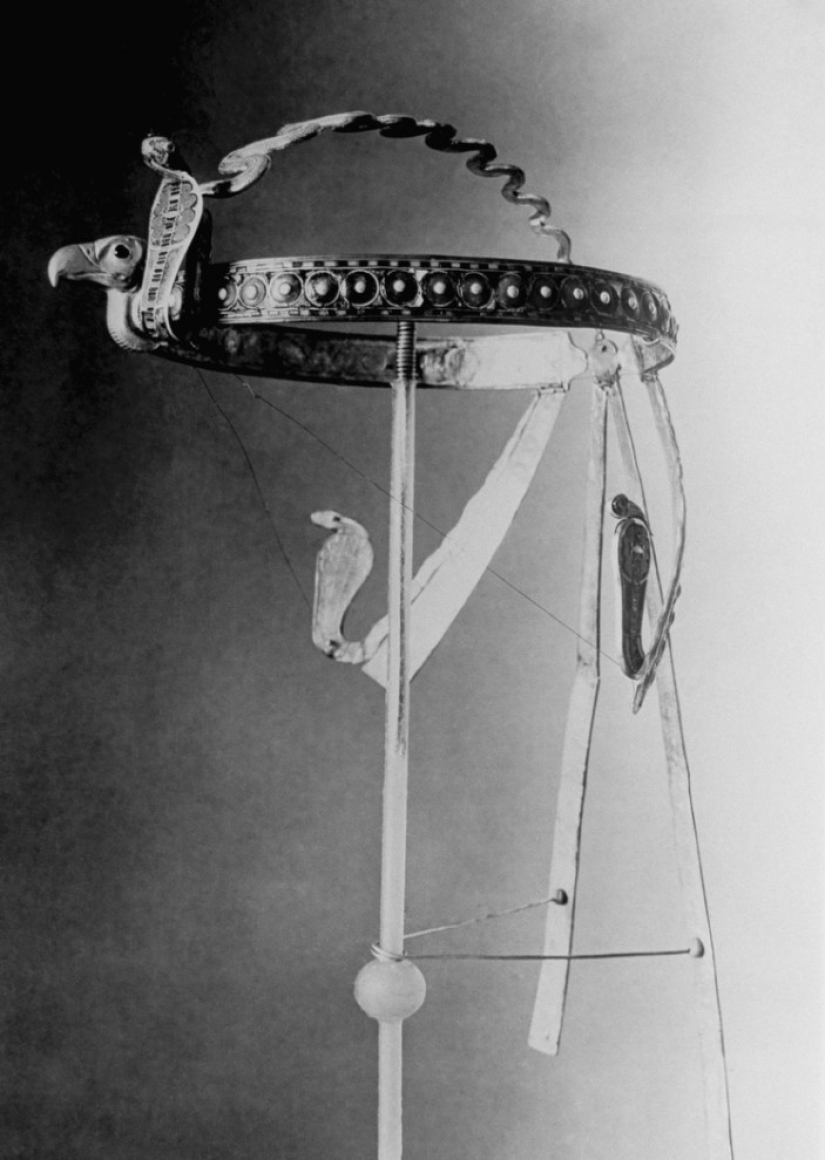 A headdress found during excavations in Cairo in the 1920s. (AP Photo)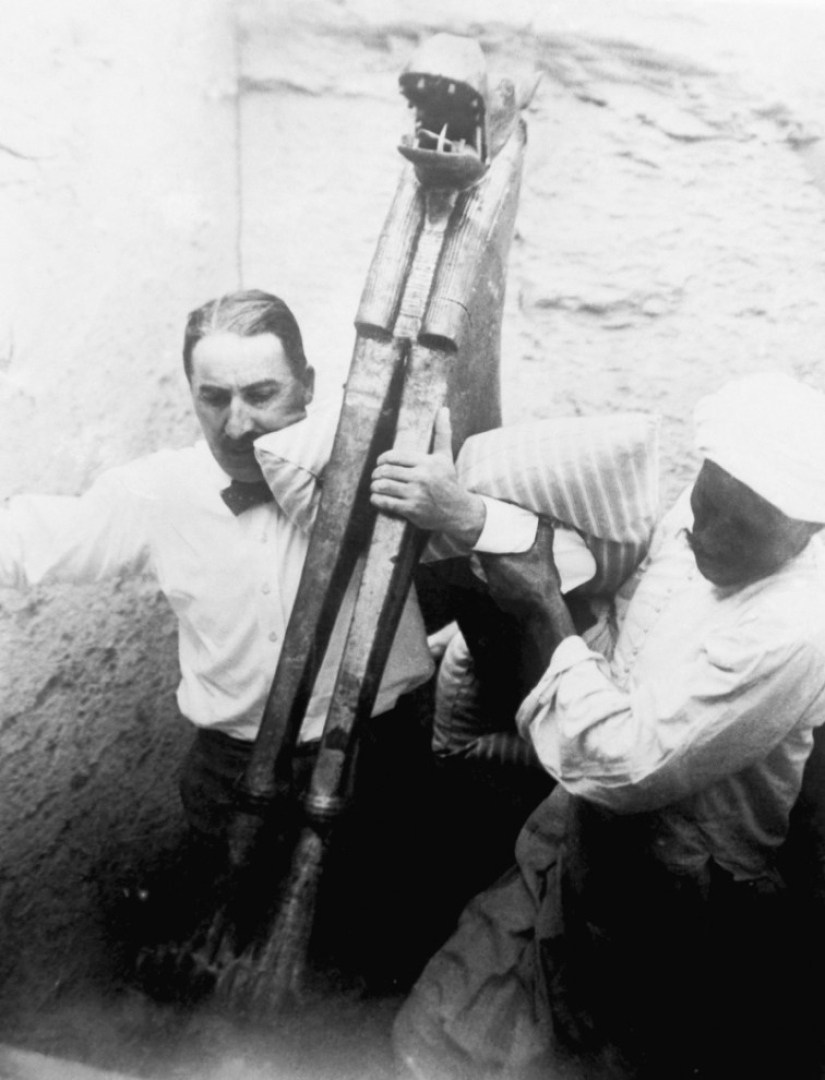 Archaeologists take out ancient artifacts during excavations in Cairo. (AP Photo)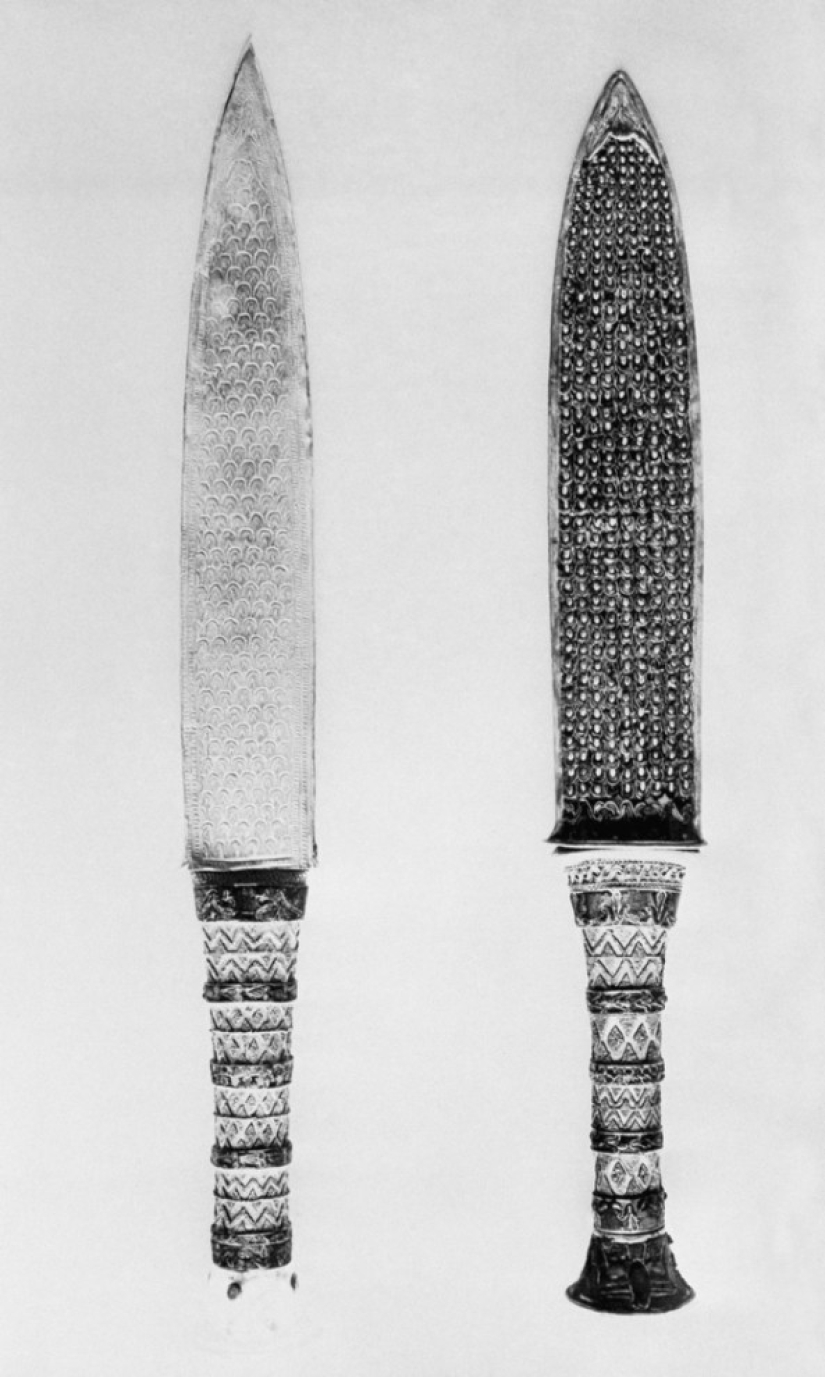 Daggers found during excavations in Luxor. (AP Photo)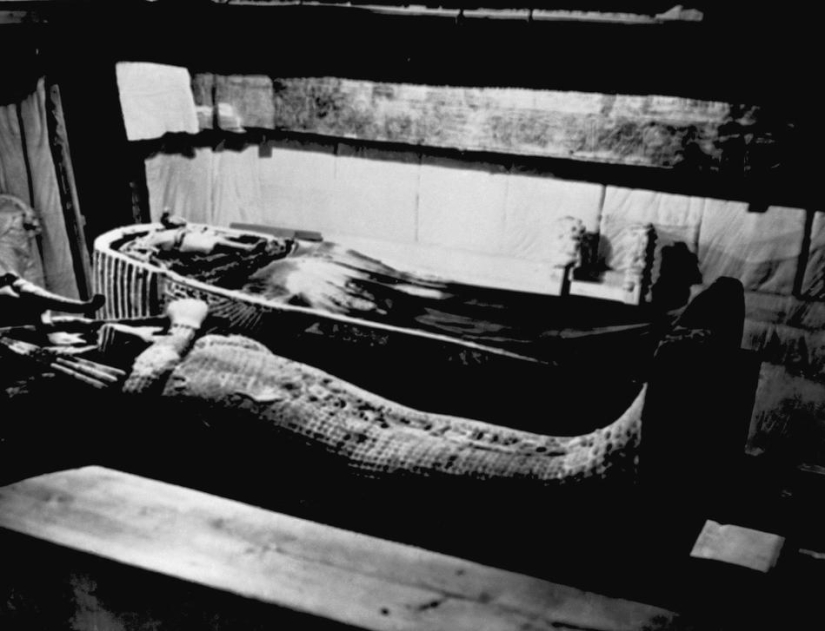 The sarcophagus in the tomb of Tutankhamun. (AP Photo)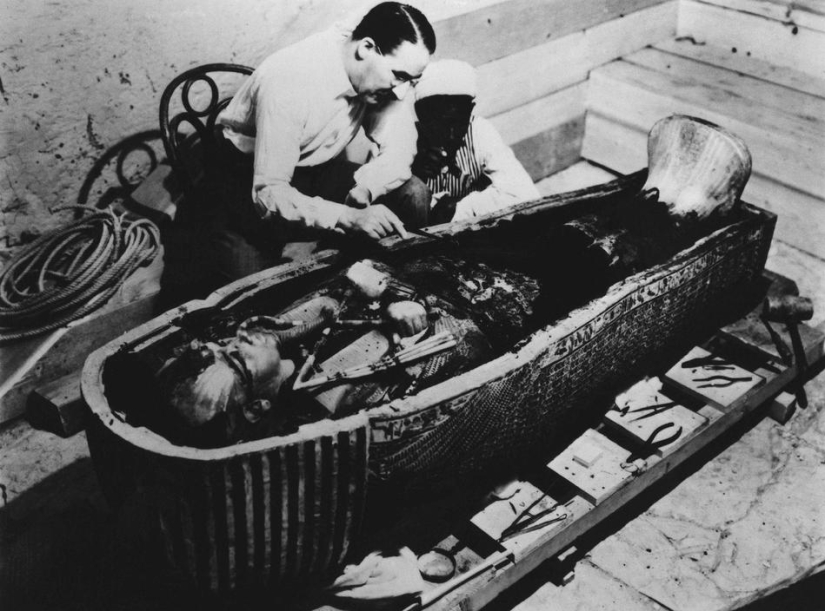 In this undated photo, Howard Carter – the archaeologist who discovered Tutankhamun's tomb-examines his sarcophagus. The famous Egyptian pharaoh suffered from cleft palate and clubfoot, so he most likely walked with a cane. (AP Photo/File)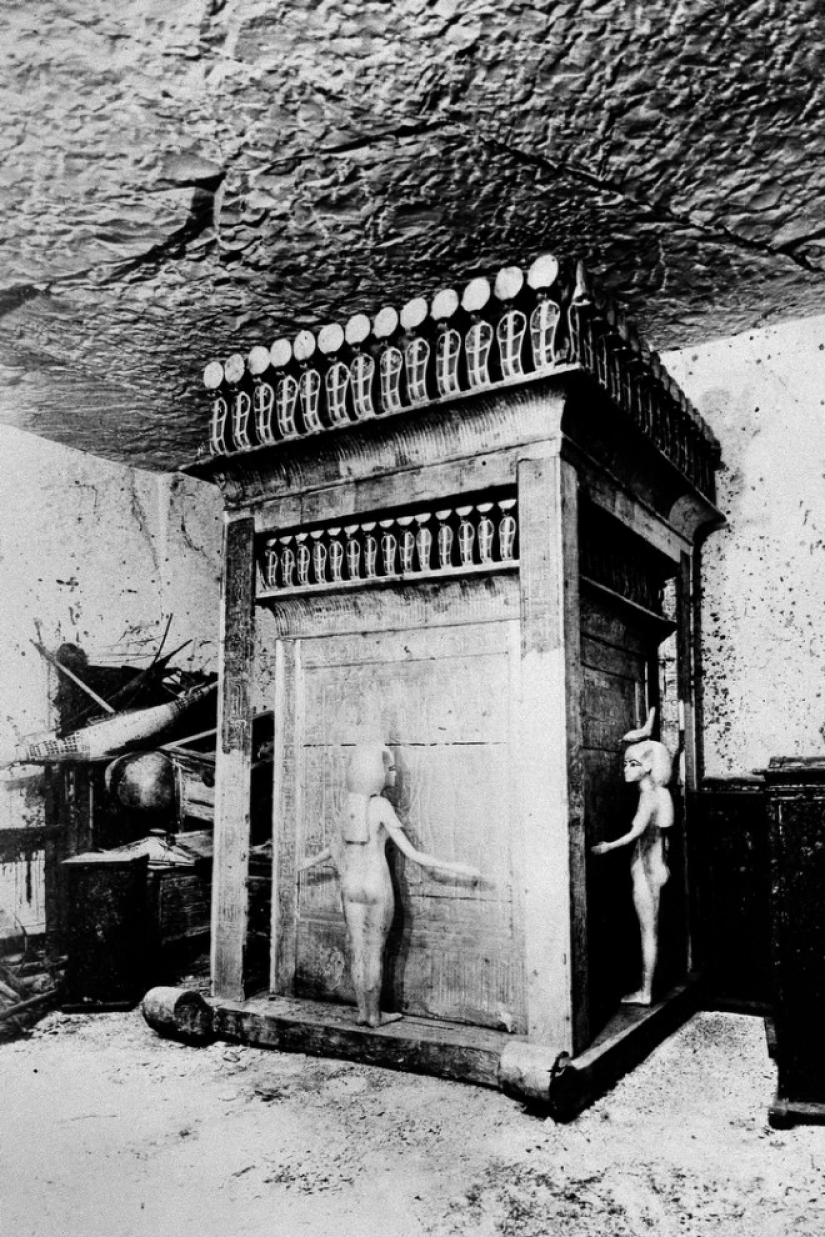 This is the ark of Tutankhamun, where the vessels with his entrails were stored. The vault is decorated with cobras glittering in the sun and free-standing statues of the goddesses Isis, Nephthys, Neith and Selkit. (AP Photo)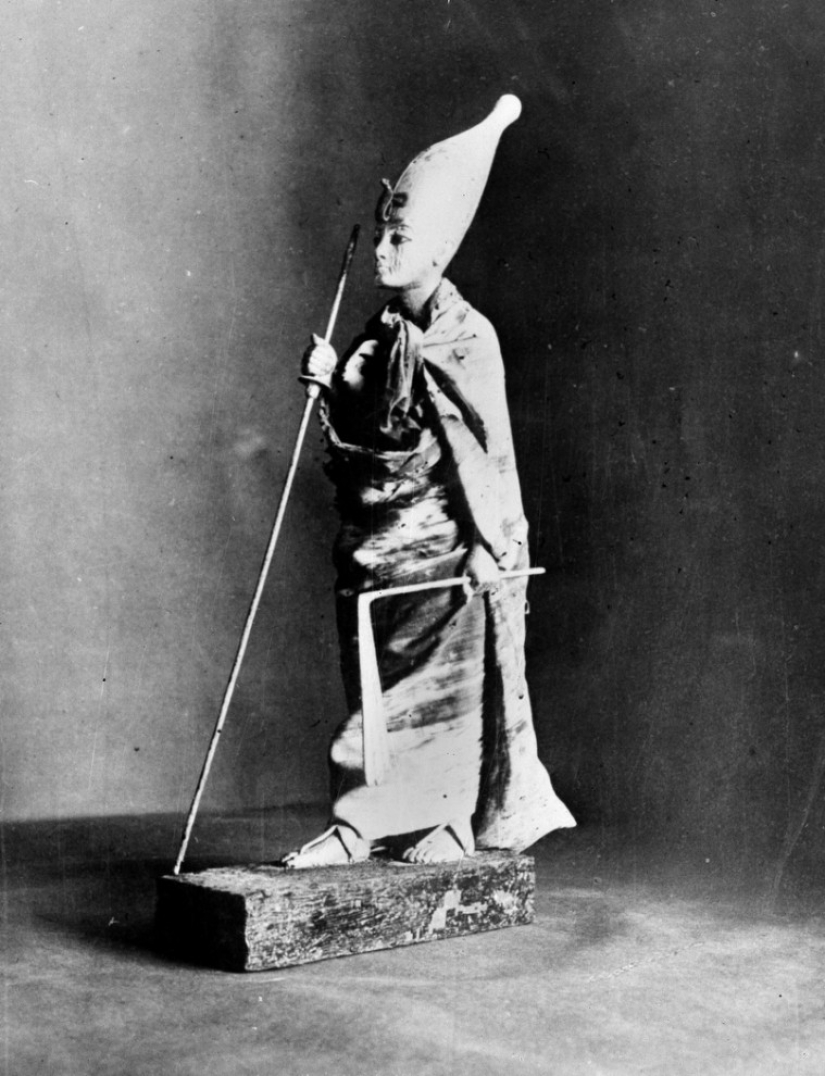 Statue of the young Pharaoh Tutankhamun. The picture was taken in 1927. (AP Photo)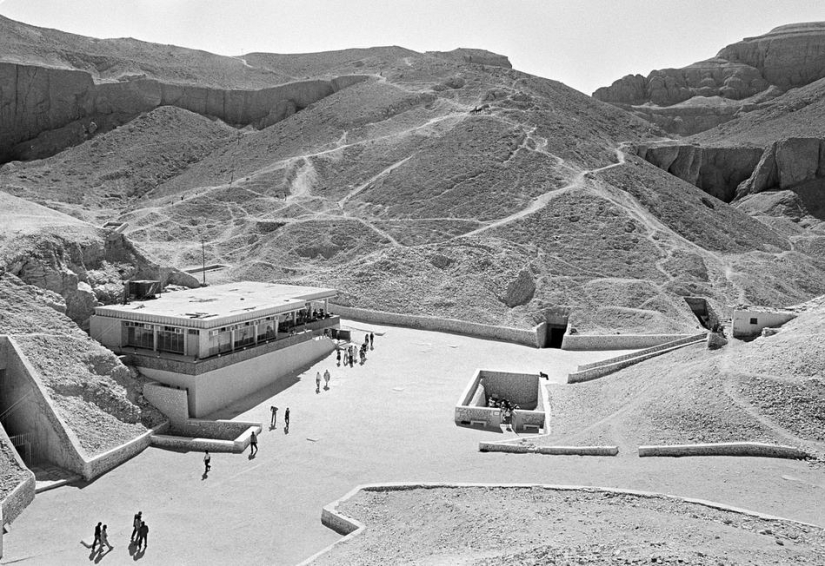 The entrance to Tutankhamun's tomb (center) lies in front of a tourist center in Egypt's Valley of the Pharaohs. Archaeologist John Romer fears that the Nile could flood the valley. (AP Photo/Nicolas B. Tatro)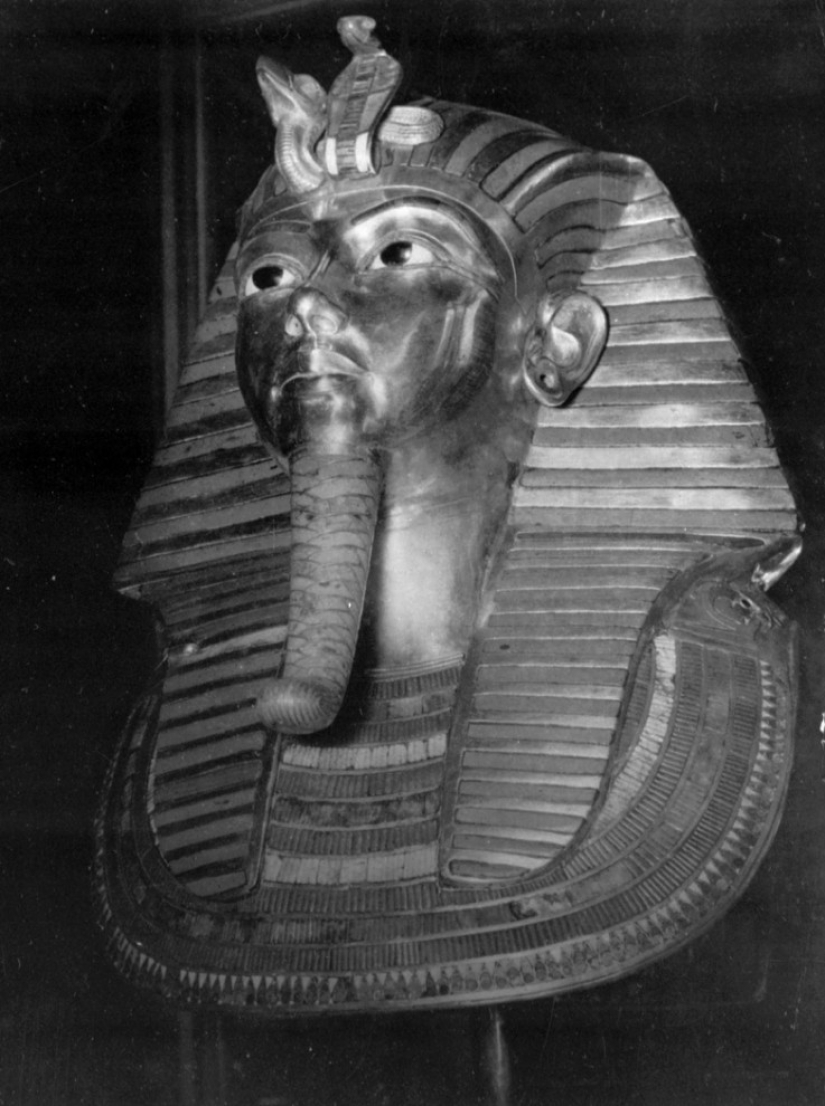 The mask of the golden coffin of King Tut-anah-Aman, who ruled Egypt in about 1350 BC in the Museum of Egyptian Treasures in Cairo. The pure gold mask weighs more than 10.5 kg. On the forehead – the personification of the goddesses of Northern and Southern Egypt. (AP Photo)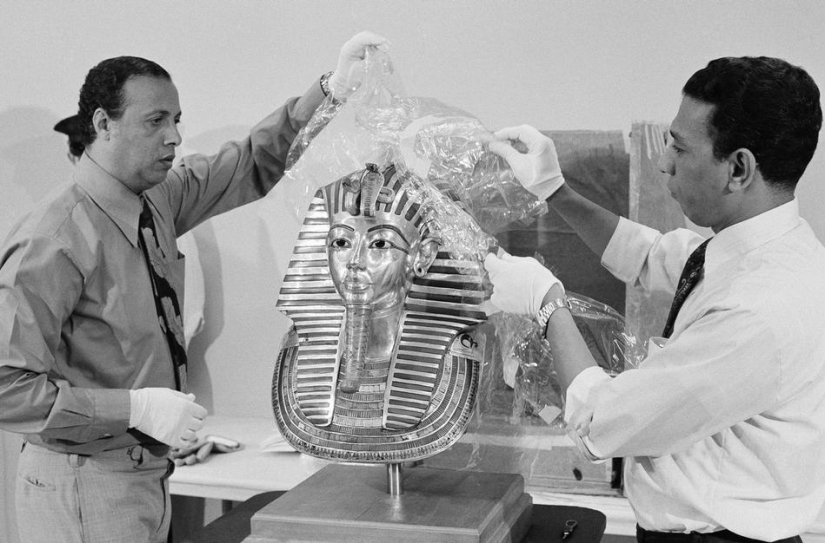 Workers at the National Gallery of Art in Washington remove protective bags from the golden mask of Tutankhamun on September 8, 1976. This mask, along with 55 other treasures from the tomb of Tutankhamun, went on a "tour" of museums around the world. Tutankhamun's mask is decorated with carnelian, lapis lazuli, colored glass and quartz. (AP Photo/Charles Bennett)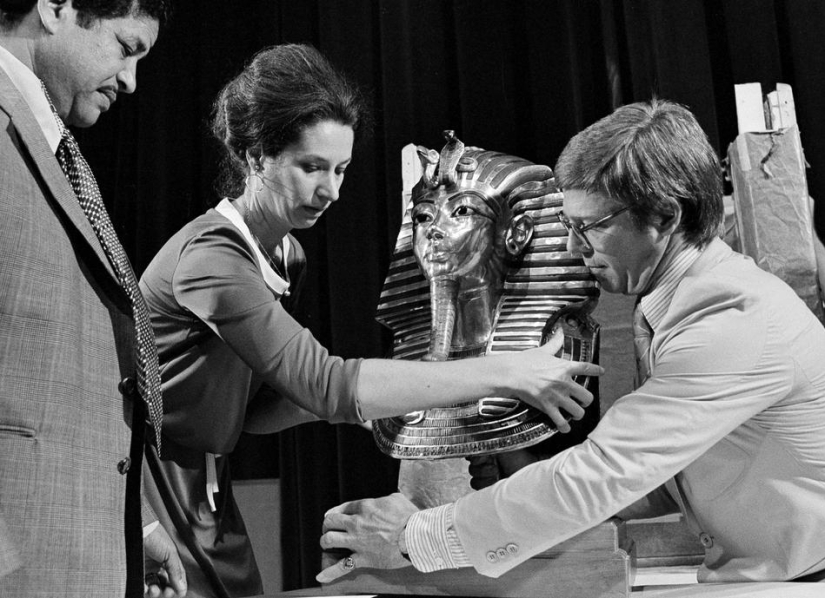 Barbara Hall of the University of Chicago and Yale Neeland retrieve the treasures of Tutankhamun in New Orleans on September 6, 1977. (AP Photo)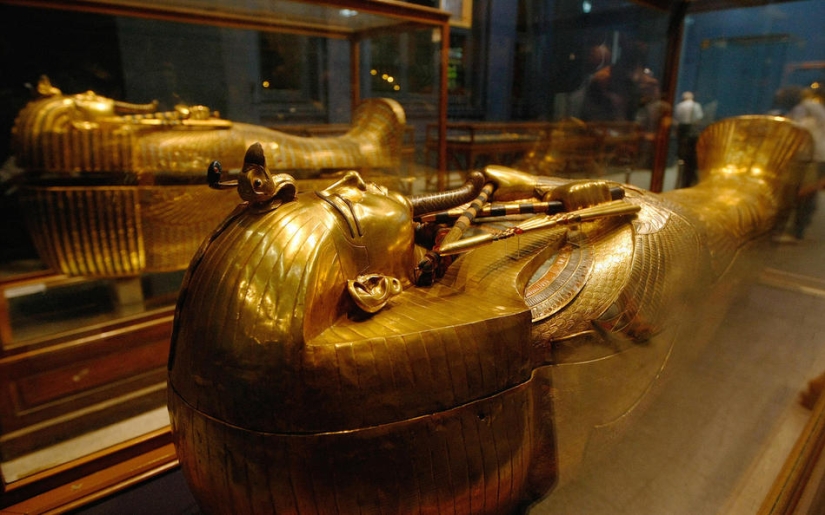 One of the golden sarcophagi of Pharaoh Tutankhamun in the museum in Cairo. This is the third and farthest mummy coffin, made of thick gold. A second golden coffin can be seen in the background. (CRIS BOURONCLE/AFP/Getty Images)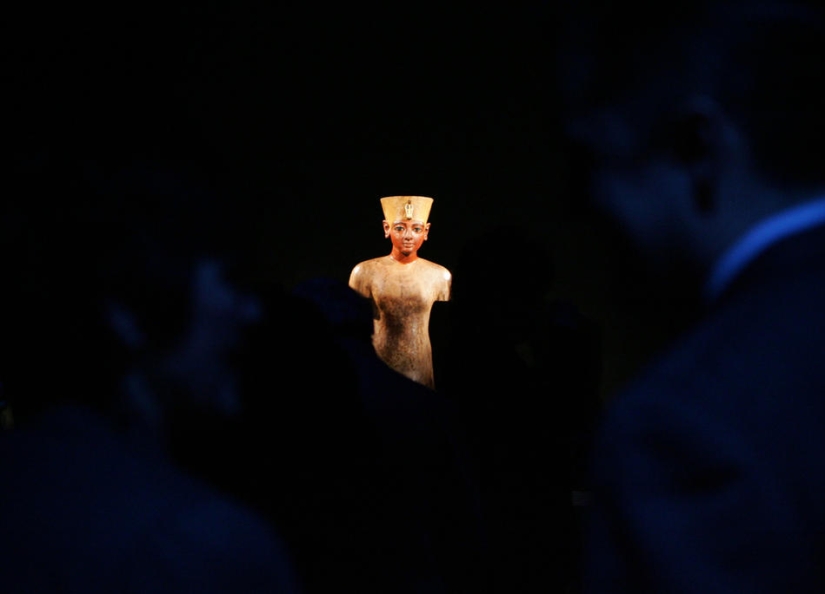 A wooden figure of Tutankhamun at the Franklin Institute in Philadelphia. This 3,000-year-old mannequin was part of an extensive collection of more than 130 items from the Tomb of Tutankhamun and other tombs of the Valley of the Pharaohs, which were on display at the institute from February 3 to September 30, 2007. (AP Photo/Jacqueline Larma)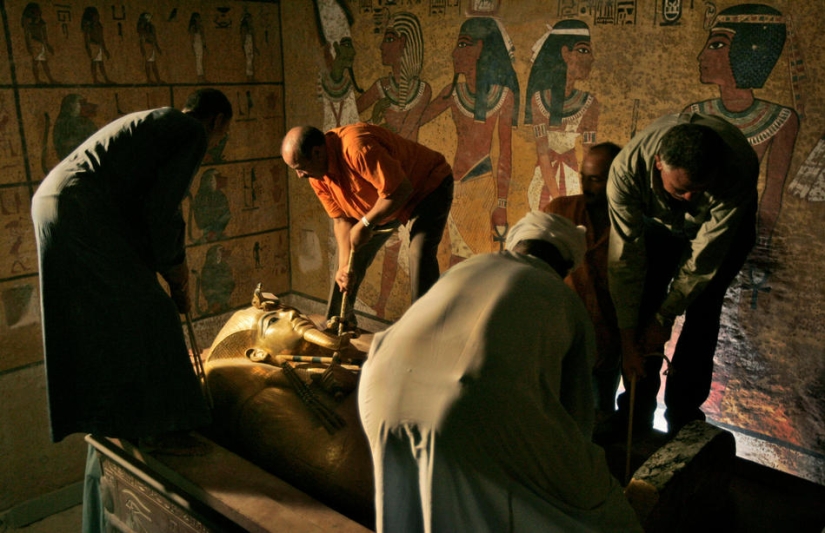 Tutankhamun's sarcophagus is placed back in the underground tomb in the Valley of the Pharaohs on November 4, 2007. The mummy of the 19-year-old pharaoh, whose life and death have interested people for almost a century, was placed in a special glass box with climate control, leaving only the face and legs uncovered. (AP Photo/Ben Curtis)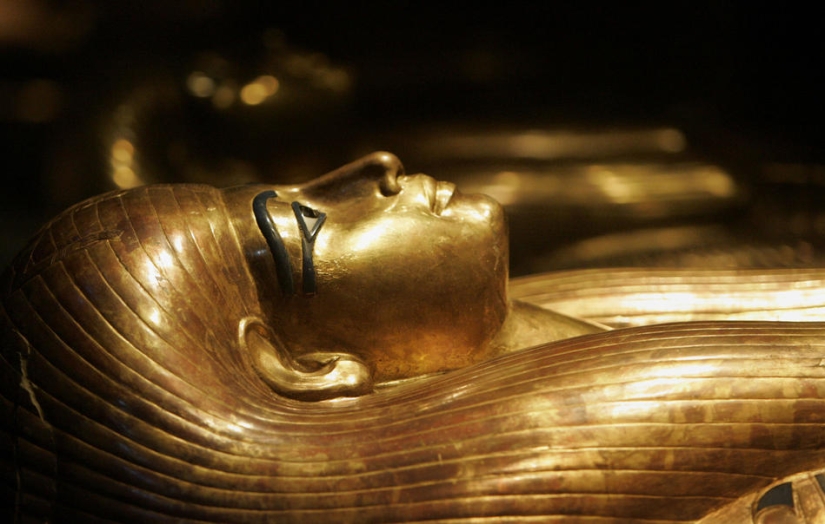 The gilded and exquisitely decorated coffin of Tuya, believed to be Tutankhamun's great-grandmother, is on display at the Museum of Chicago as part of the exhibition"Tutankhamun and the Golden Age of the Pharaohs." The exhibition featured more than 130 treasures from the tombs of the Pharaoh, known as the "boy pharaoh", and other royal tombs. (AP Photo/M. Spencer Green)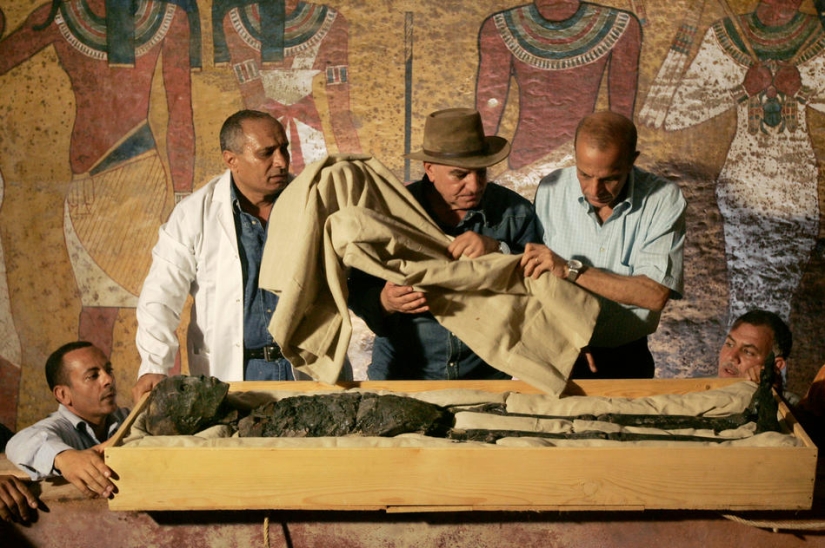 Dr. Zahi Hawass (center) watches the movement of the mummy of Pharaoh Tutankhamun from his stone sarcophagus in the famous Valley of the Pharaohs in Luxor, Egypt, November 4, 2007. (AP Photo/Ben Cur­tis, Pool, File)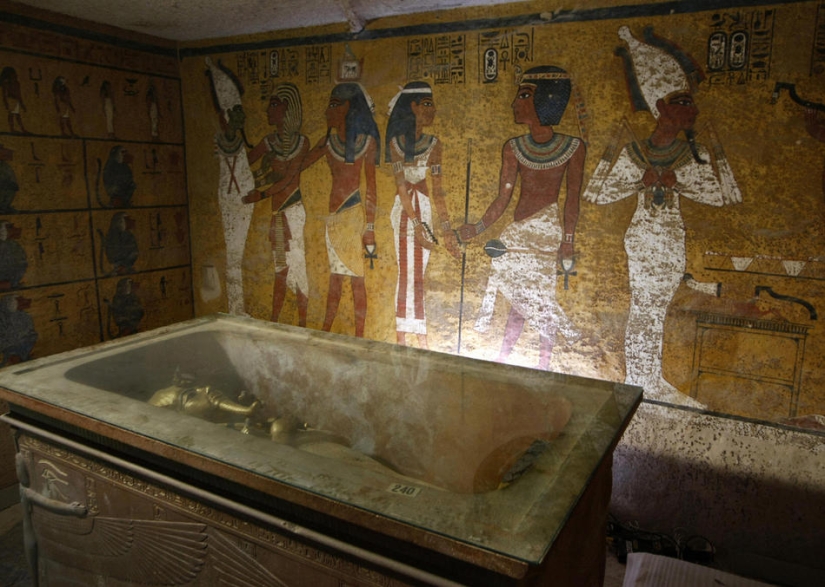 The sarcophagus of Tutankhamun in his tomb after archaeologists removed the mummy of the pharaoh from it. The mummy was protected from the humidity and pollution brought by the constant flow of visitors. On November 11, 2007, the Egyptian authorities restricted access to the tomb of King Tutankhamun to 400 people a day. (CRIS BOURONCLE/AFP/Getty Images)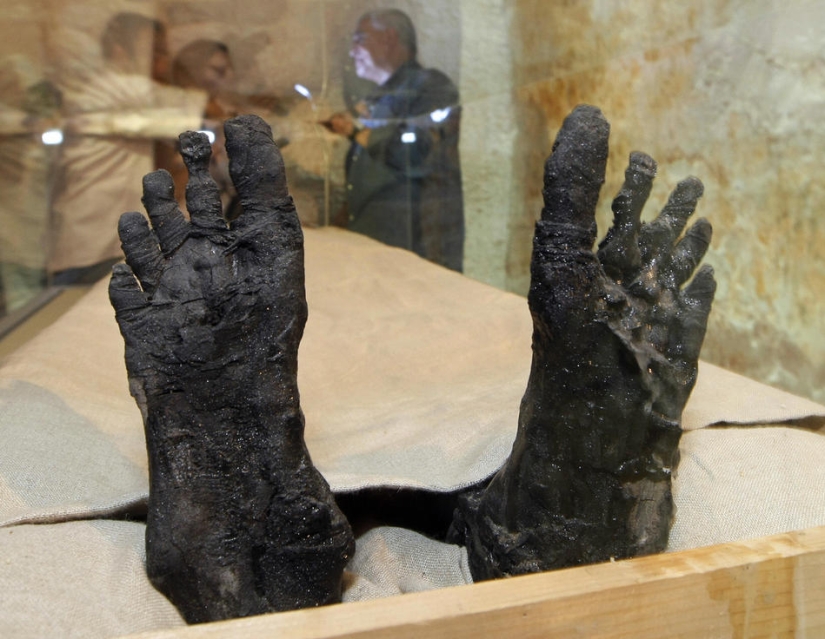 The feet of Pharaoh Tutankhamun in a special glass box with climate control. The real face of the famous Egyptian pharaoh has been unveiled to the public for the first time since his bizarre demise more than 3,000 years ago. The mummy of the pharaoh was moved from the sarcophagus in the tomb, where his discovery in 1922 became a real sensation. (CRIS BOURONCLE/AFP/Getty Images)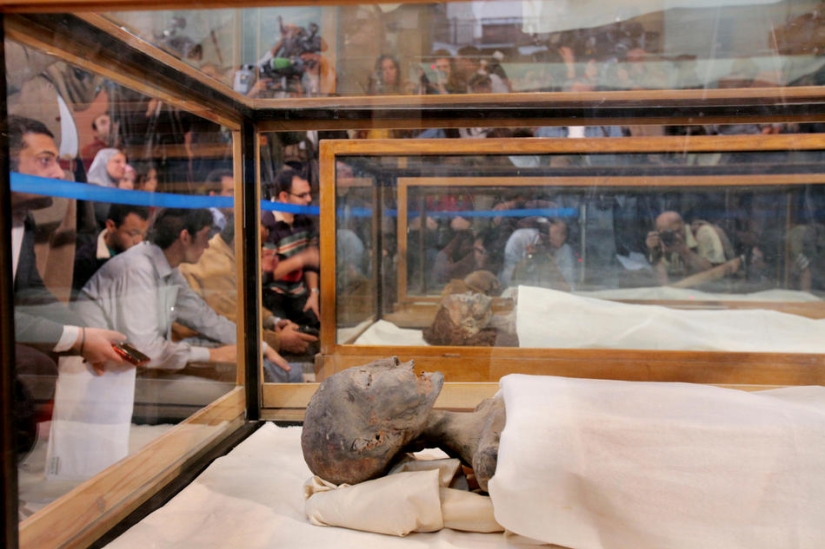 In this Discovery channel image, the mummies of Tutankhamun's mother, Tutankhamun's grandmother, and Tutankhamun's father are shown to reporters at a press conference by archaeologist Zahi Hawass at the Cairo Museum on February 17, 2010. Two years of DNA tests and CT scans of the mummy of Tutankhamun and 15 other pharaohs helped establish the family tree of the royal family, proving that Tutankhamun's father was Pharaoh Akhenaten, and his mother was his own sister. (AP Photo/Discovery Chan­nel, Shawn Baldwin)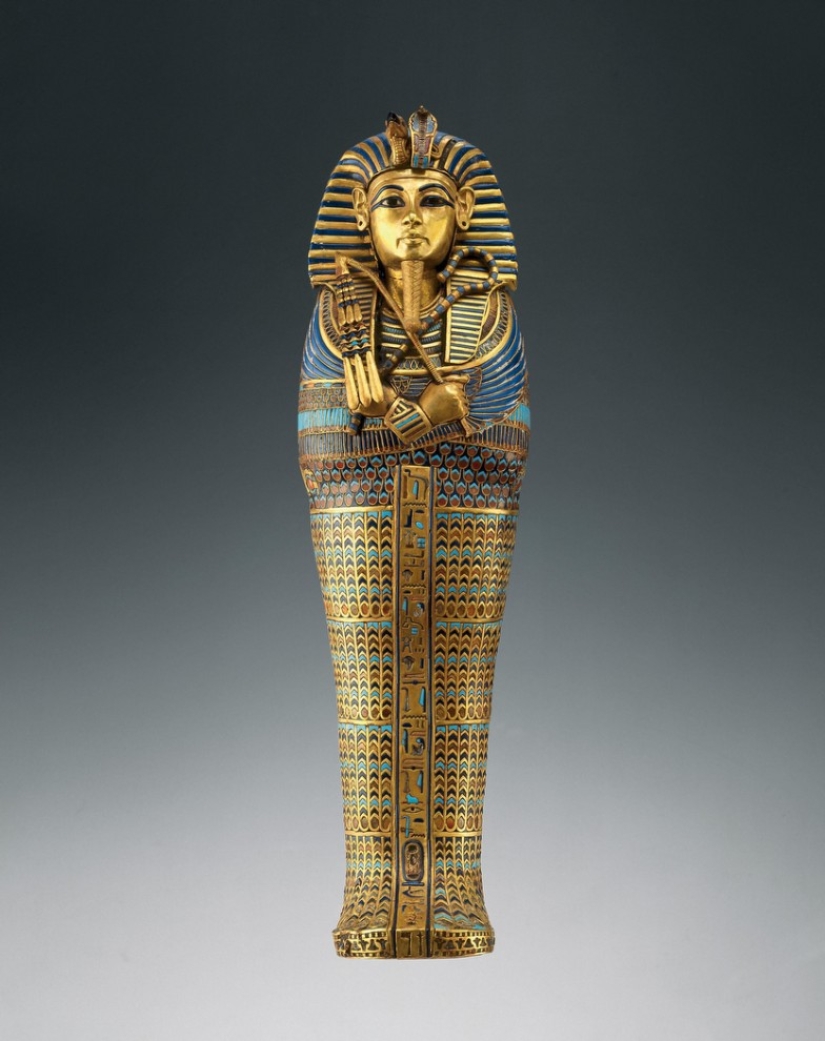 The coffin with the Pharaoh's entrails. Tutankhamun had four miniature coffins made of gold and semi-precious stones and colored glass. Each of them stood separately in a niche. On the line of ancient writings, the names of Imseti, one of the sons of Horus, and the goddesses of Isis, who protected the organs inside (in this case, the liver), were indicated from top to bottom. The ornament around the name of the pharaoh was redesigned and originally bore the name of Tutankhamun's relatives. (AP Photo/Antikenmuseum Basel and Samm­lung Lud­wig, Andreas F. Voegelin)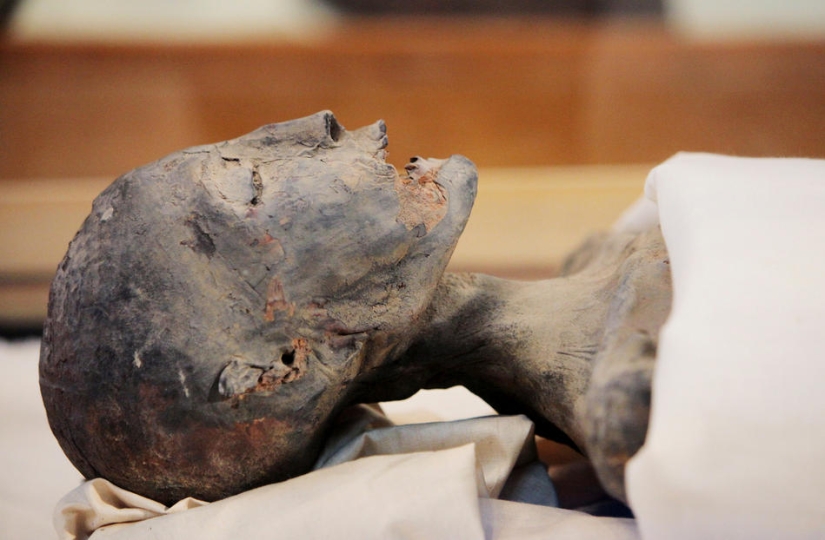 The mummy of Tutankhamun's mother in a glass box during a press conference at the Egyptian Museum on February 17, 2010. (AP Photo/Discovery Chan­nel, Shawn Baldwin)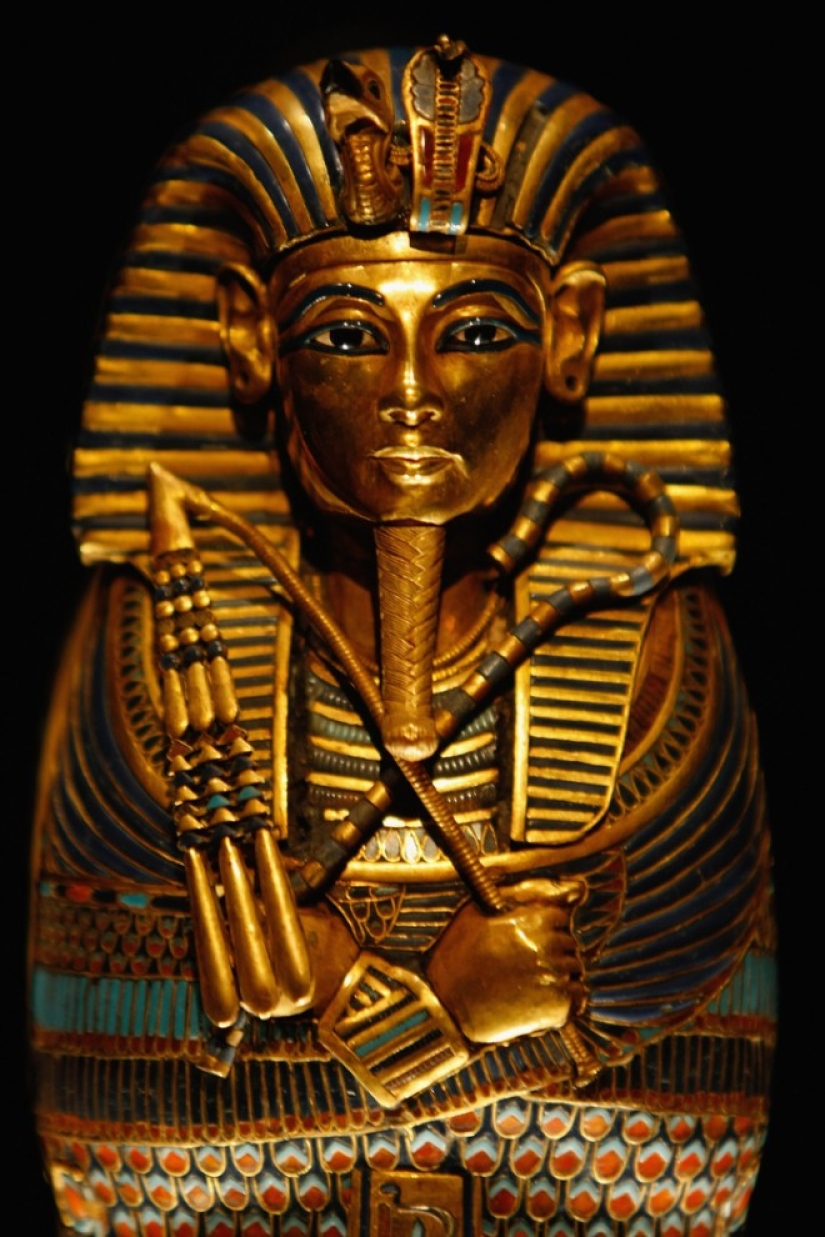 A coffin for Tutankhamun's entrails displayed at a press conference in London on November 13, 2007. (Pho­to by Daniel Berehulak/Getty Images)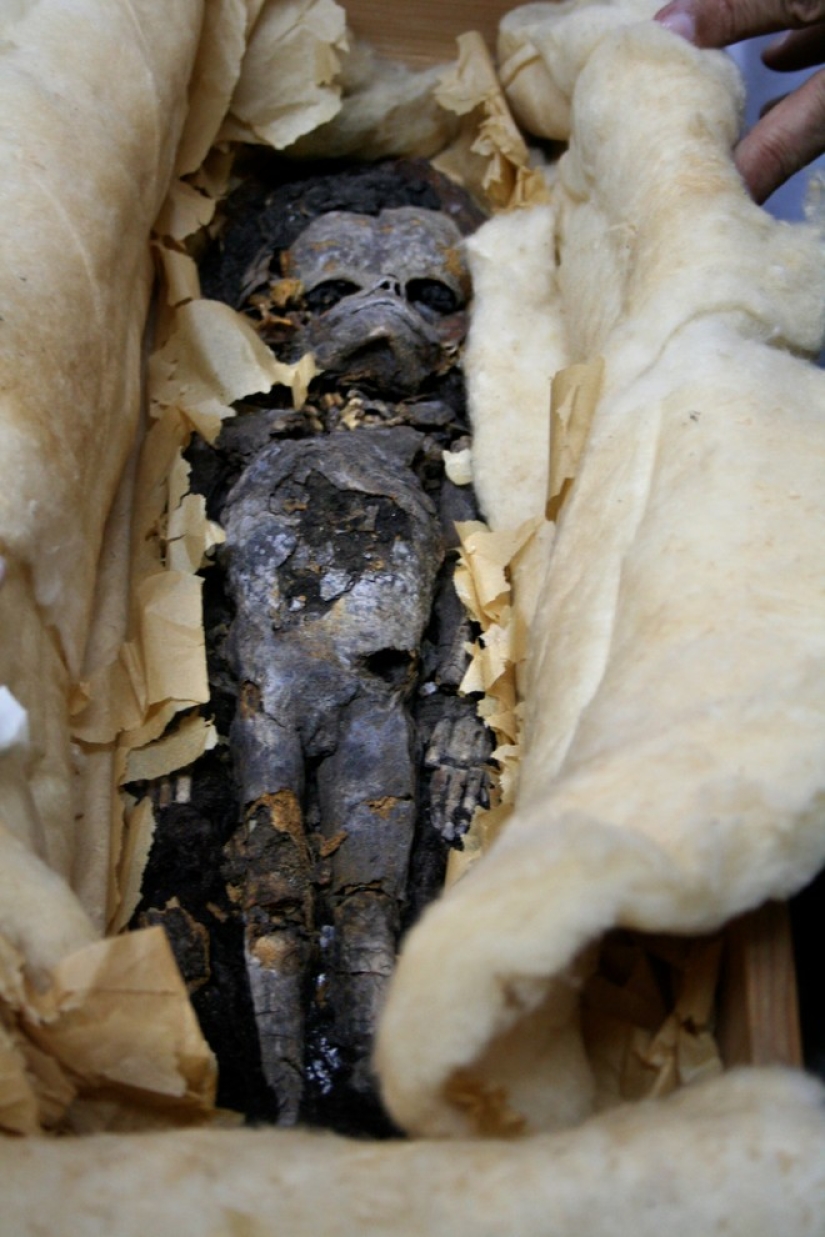 One of two mummified embryos found in the tomb of Pharaoh Tutankhamun in 1922. Egyptian scientists conducted DNA tests to find out if these fetuses were the children of the young pharaoh. (AP Photo/Supreme Coun­cil of Antiquities)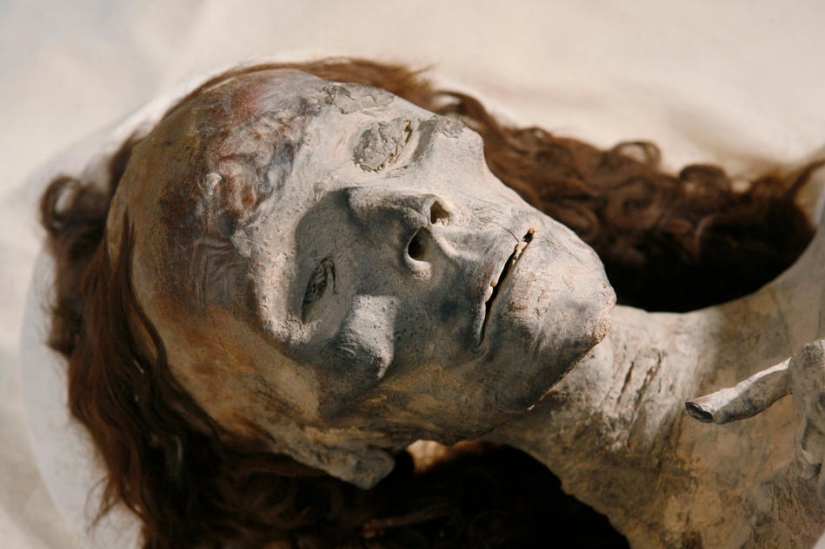 The mummy of Tutankhamun's grandmother in a glass box at the Cairo Museum on February 17, 2010. (AP Photo/Discovery Chan­nel, Shawn Baldwin)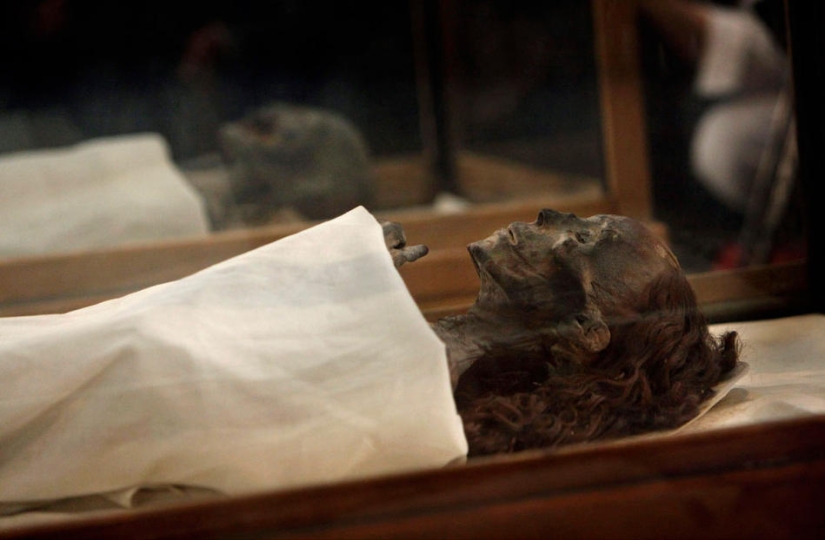 Two mummies – Tutankhamun's grandmother Queen Tui (front), and his mother in glass boxes in the Cairo Museum. (AP Photo/Nasser Nasser)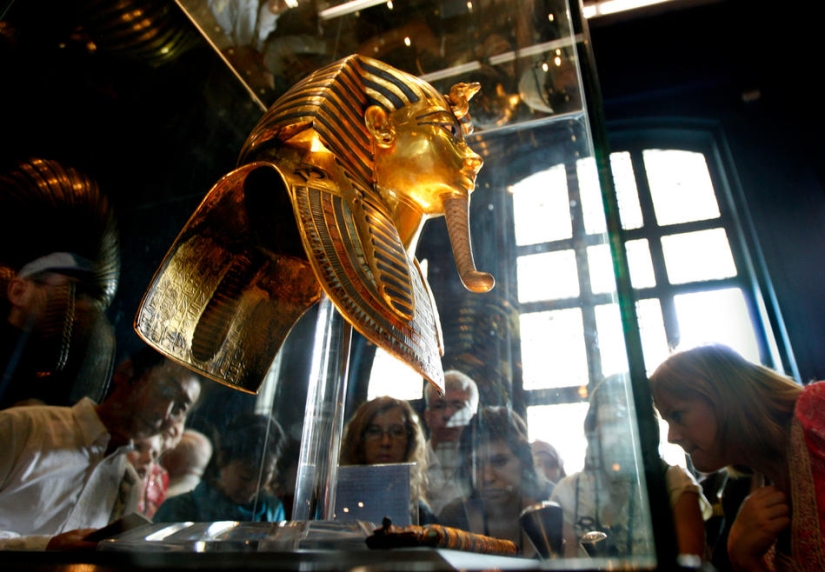 Tourists surround the golden mask of Tutankhamun at the Cairo Museum on February 15, 2010. To maintain the desired temperature, before the start of the exhibition, specialized air conditioners were installed in the room. (AP Photo/Amr Nabil)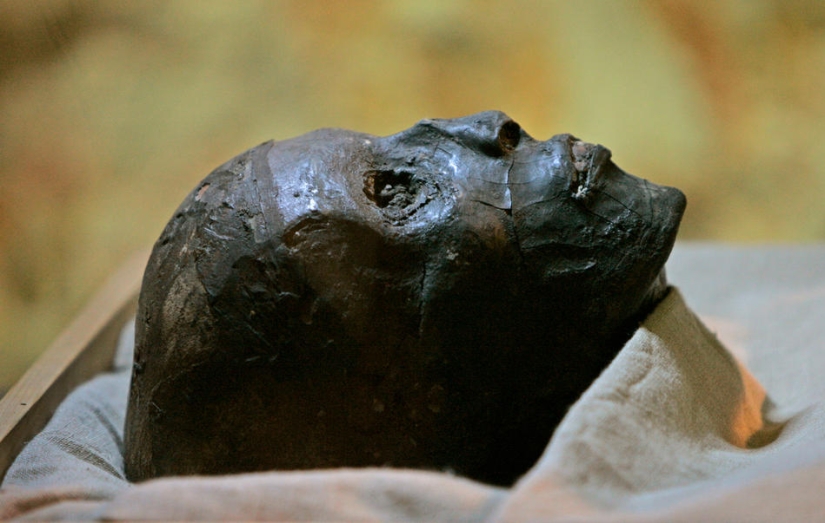 In this photo taken on November 4, 2007, you can see the face of the mummy of Tutankhamun wrapped in a special cloth in a glass sarcophagus in the tomb of the Valley of the Pharaohs. (AP Photo/Ben Cur­tis, File)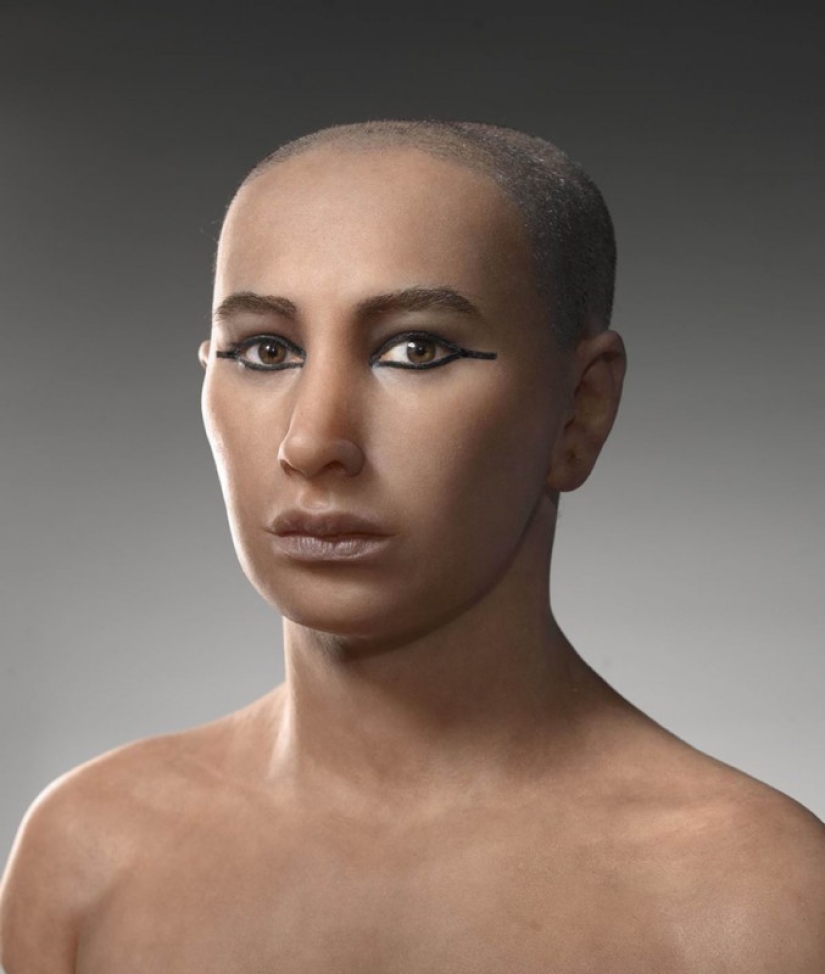 This photo, published on May 10, 2005, shows a model of the Pharaoh Tutankhamun, created by a French team based on facial reconstructions made using computer scans of the pharaoh's mummy. Three teams of artists and scientists from France, the United States and Egypt created models of the young pharaoh's face, based on scanned images of very high resolution. All three teams worked separately from each other. (AP Photo/Supreme Coun­cil of Antiq­ui­ties and the Nation­al Geo­graph­ic Soci­ety, HO)
Keywords: Culture | History | Egypt | Archaeology | Pharaohs | Secrets | Incest