In our view, parrots are loud birds with bright plumage and cheerful disposition. They are found where it is warm and eat fruits. But the New Zealand mountain parrot Kea destroys all stereotypes. He prefers a cool climate, does not shine with colors and is so severe that he can pick up a sheep alone.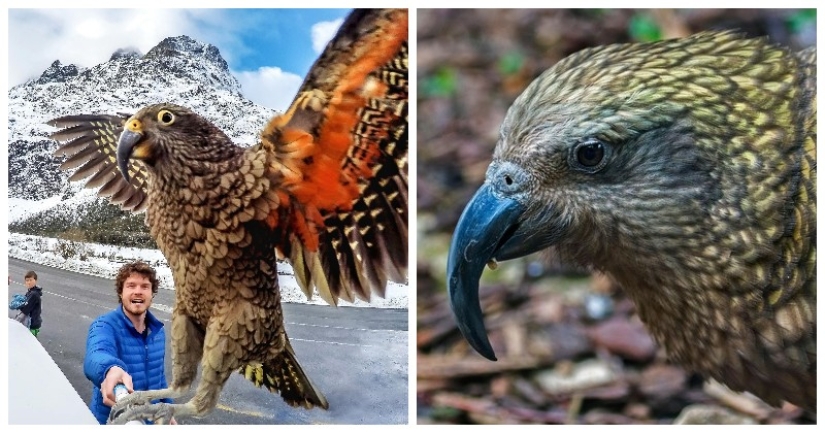 The kea parrot is endemic to New Zealand and is not found anywhere else. It is strikingly different not only from its counterparts from Africa, Asia and the Americas, but also from its New Zealand counterparts. There are a lot of Kea islands, so many people are surprised how this bird ended up in the "Red Book". But in his homeland they like to give the status of rare and endangered species to representatives of flora and fauna, just in case.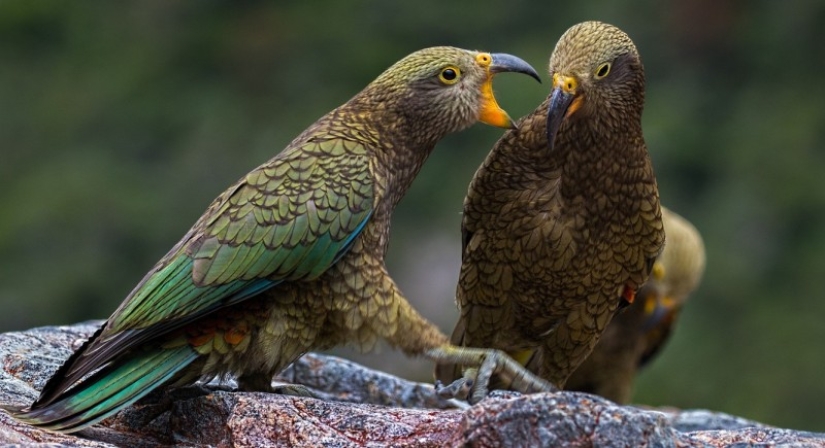 There is still a chance that the kea population will decrease sharply, since the parrot has strained relations with local farmers. Birds are mercilessly shot, considering it a threat to animal husbandry and this is not for nothing. And for some residents of the New Zealand hinterland, kea is something like a snipe or duck, which is not a sin to bake in the oven for lunch.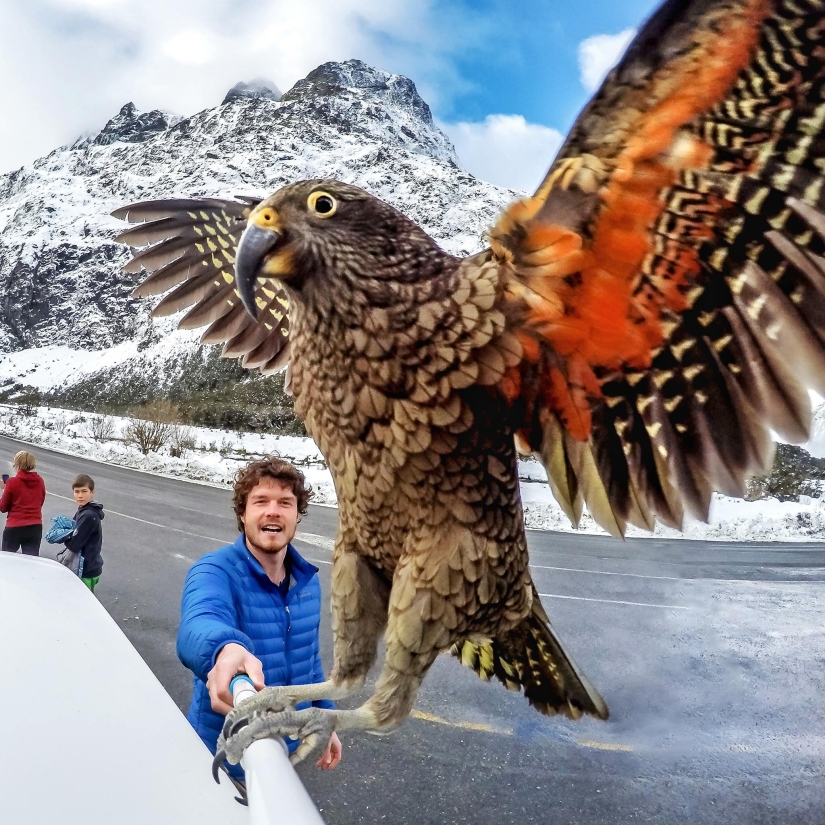 The main difference between kea parrots and their brethren is the absence of bright colors. Their feathers are gray and dull green, and only when the bird is flying, you can see bright orange areas on the lower part of the wings. These parrots are called mountain parrots for a reason. They prefer to live higher up, where the forest strip ends.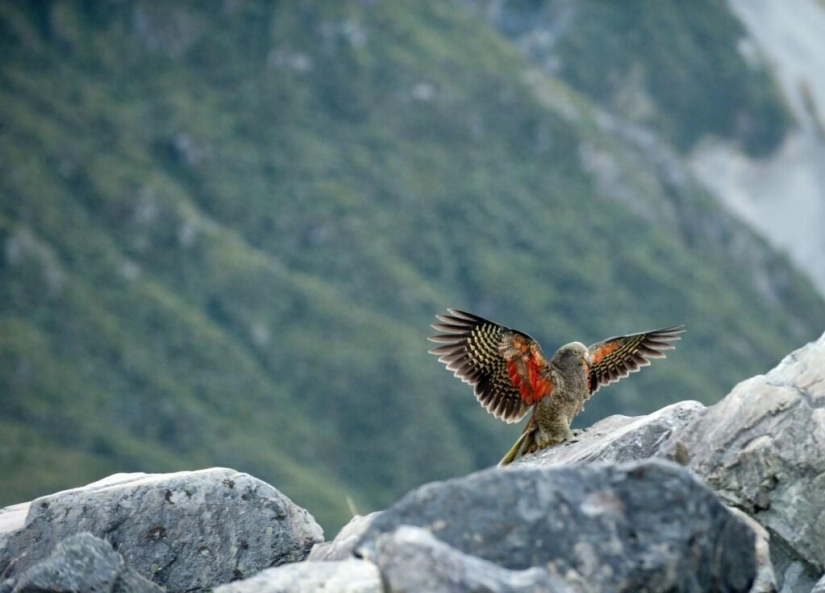 Kea do not build nests, but choose crevices in rocks and ledges for their dwelling. This strange bird hatches chicks in July, at the height of the New Zealand winter. By the way, winters in these parts are quite harsh, and high in the mountains there is snow for months and piercing winds blow.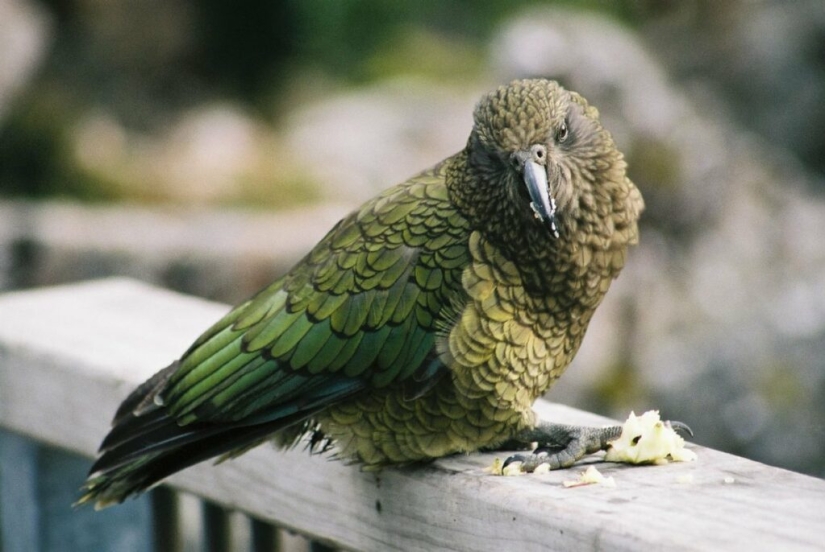 The main food of kea is insects and their larvae, as well as small reptiles and rodents. In the absence of basic food, parrots do not refuse fruits and nuts and even flower nectar. But they have one unpleasant feature that can make them really rare over time. The fact is that kea parrots sometimes hunt sheep.
In New Zealand, sheep farming is the main type of agriculture. 3.5 million inhabitants of the country account for more than 35 million sheep. The damage caused to kea herds is minimal and there are no statistics on it. Nevertheless, no sane farmer will be happy when his sheep is eaten by parrots.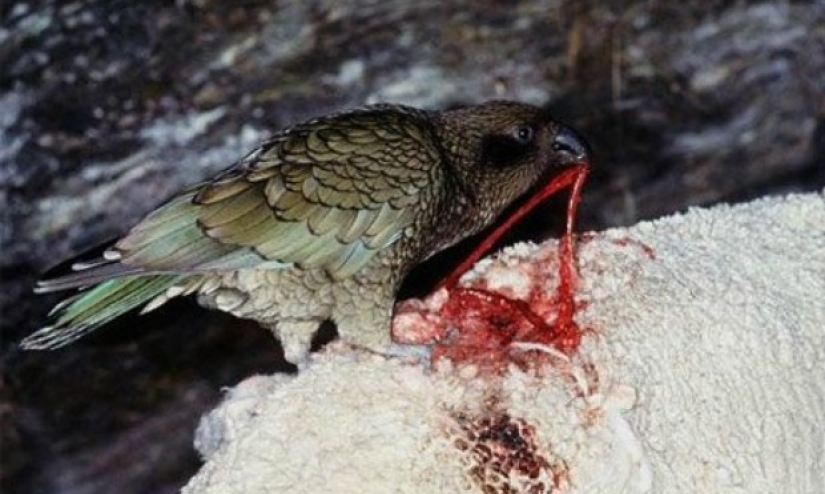 Yes, mountain parrots love mutton, and especially lard. In a direct fight, birds, despite their solid size, cannot win over an animal. Therefore, they resort to an insidious trick. Having chosen a victim, kea sits on her back, firmly digging her powerful claws into the thick fur. The sheep tries its best to get rid of the dangerous rider, and often succeeds. In this case, the attack is repeated until complete success.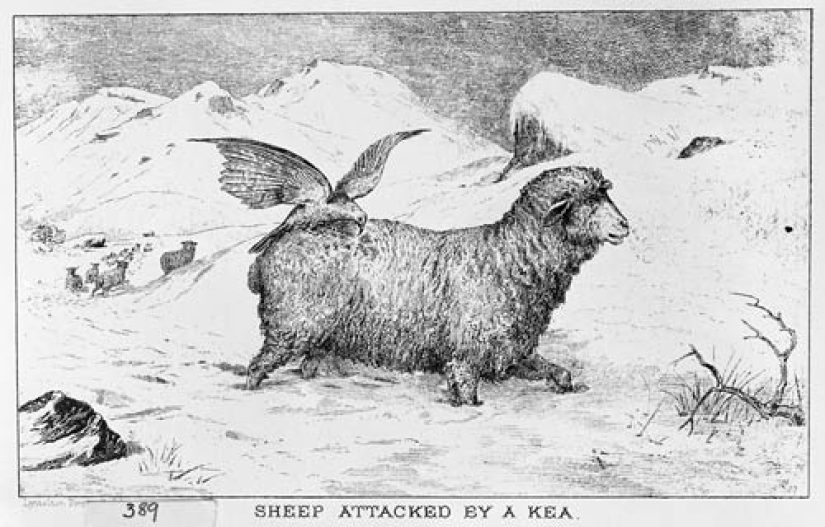 Sitting on the animal's back, kea begins to tear its skin and flesh. The parrot's task is to inflict as deep a wound as possible. After injuring a sheep, the bird leaves it alone, but stays nearby. When the victim weakens from blood loss and falls, the feast begins. Therefore, at the sight of a flock of mountain parrots, any New Zealand cattle breeder instinctively reaches for a shotgun.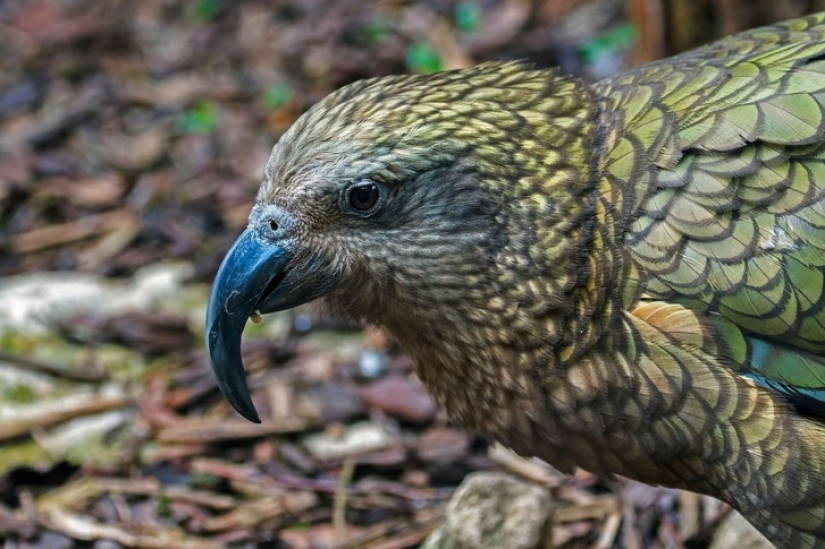 It should be clarified that these parrots became sheep killers through human fault. Once they ate only small animals, and they, in turn, loved to profit from the Maori — the indigenous population of the islands. Kea had famine years every few years due to the vagaries of the climate. In this case, some of the birds died and the population was regulated in a natural way.
When the Europeans colonized New Zealand, they immediately began to breed sheep flocks. Millions of sheep grazing in the valleys prevented the Kea from getting their usual food. But soon the birds adapted. When they became hungry, they began to feed on the corpses of fallen animals. Later they also learned to hunt the living.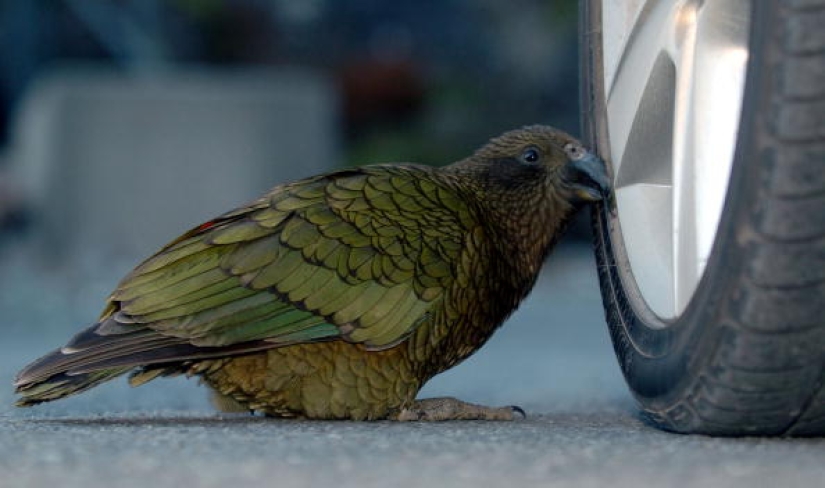 But it's not sheep and their harsh owners who suffer the most from kea. Mountain parrots have become a real scourge for tourists coming to the mountains to admire the local beauties. Birds literally attack people, snatching food and everything that looks like it out of their hands. They are busily tearing backpacks and bags in search of loot and shamelessly sneaking into car salons.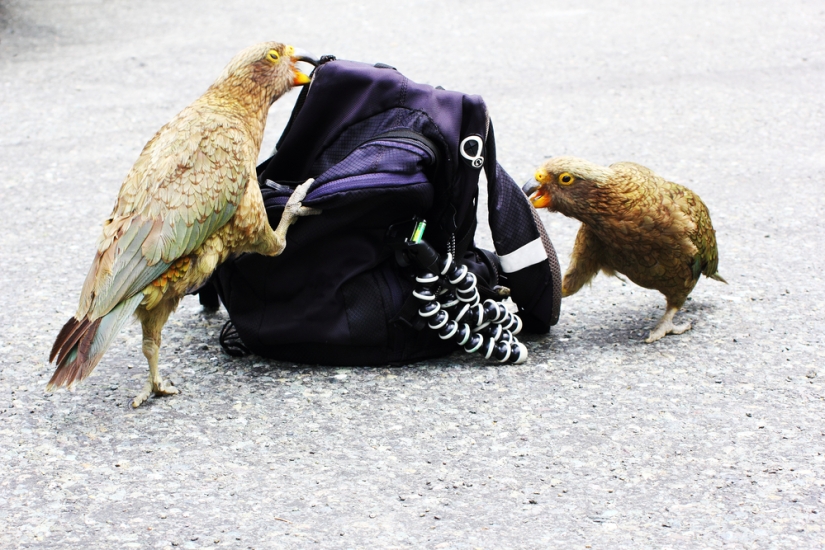 These birds have a special relationship with motorists. For some reason, they love to tear and pull out rubber seals, smash tires and tear off wipers. They do it just like that, "for the love of art." In order to somehow protect the guests of the country from feathered bandits, the authorities are installing signs on mountain roads "Do not feed birds". And this is very serious. If you treat one bird with a piece of bread for the sake of entertainment, then dozens of her brothers will immediately arrive and conduct an audit of your things.