Hollywood's successful stars, rich and famous, see what they looked like when they were kids and now.
20 PHOTOS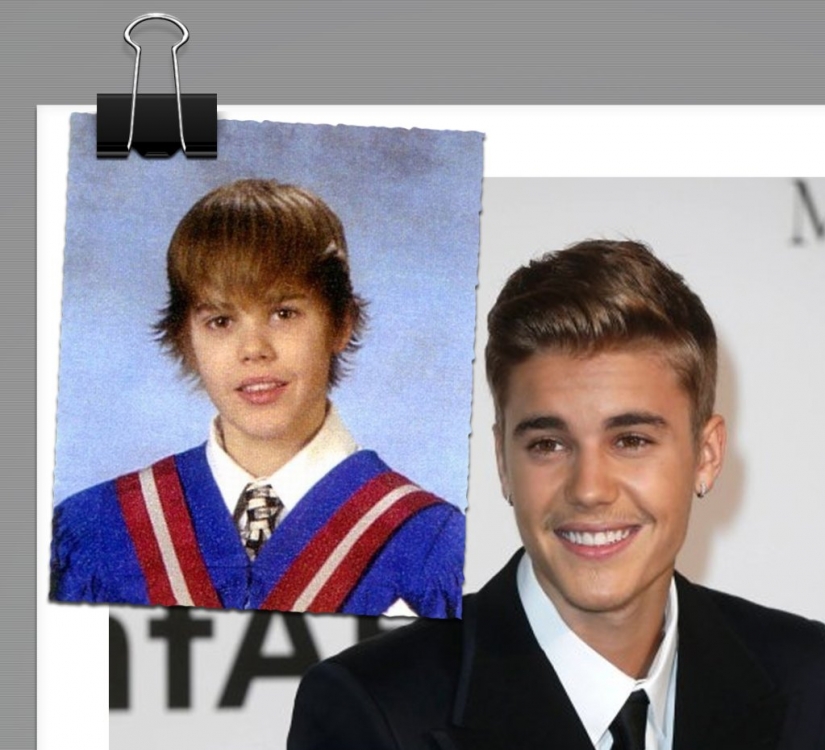 1. Justin Bieber.
Born March 1, 1994, in the Canadian city of London, in the province of Ontario. Bieber's mother, Patricia Lynn Mallett, gave birth to him when she was 19 years old. Little Justin was raised in Stratford by his grandparents, Diana and Bruce. Bieber attended Jeanne Sauvé's bilingual Catholic school, where he taught in English and French. (Photo: REUTERS / BENOIT TESSIER).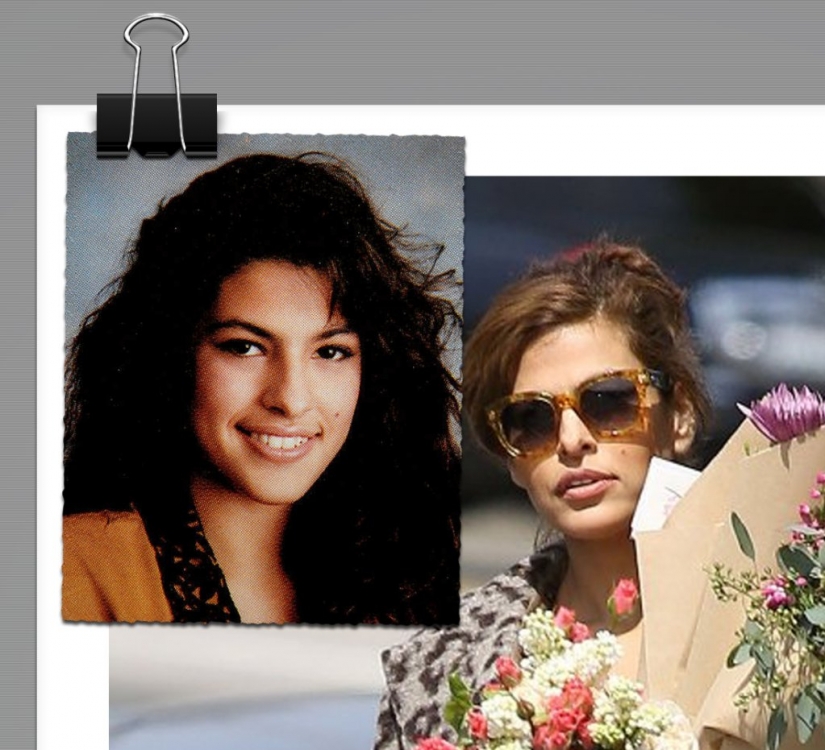 2. Eva Mendes.
Born March 5, 1974, in Miami. She spent her childhood in Los Angeles, where she moved with her mother after her parents divorced. She studied at Hoover High School in Glendale. (Photo: AKM IMAGES / AKM-GSI).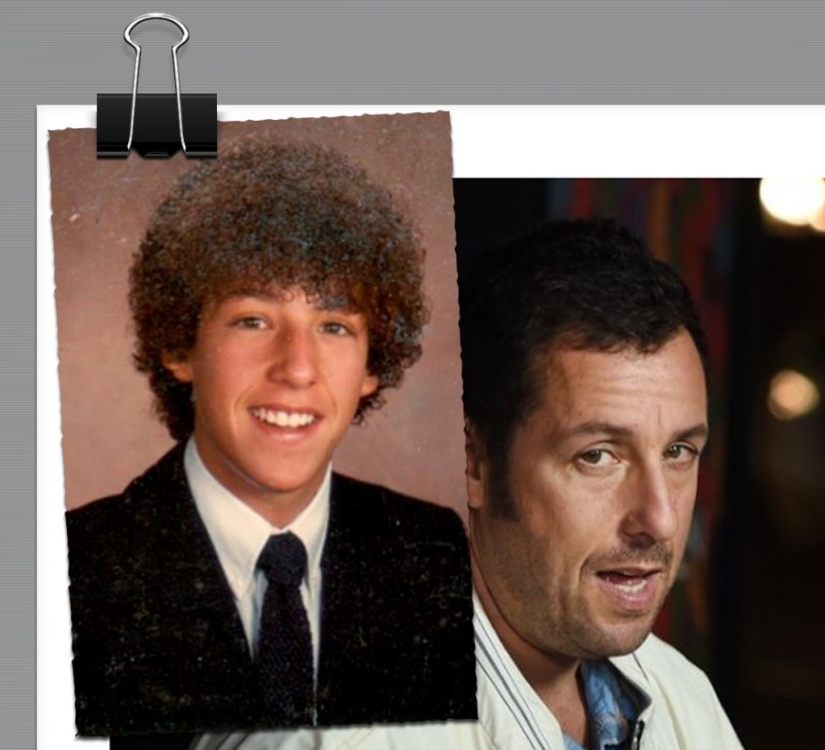 3. Adam Sandler.
Born in Brooklyn. He has three older siblings: Scott, Liz, and Val. Adam grew up in Manchester, New Hampshire, where he attended Manchester Central High School. Before becoming an actor, he worked in a hotel, was a dishwasher, and a gas station worker. (Photo: JD / Splash News / JD / Splash News / EAST NEWS).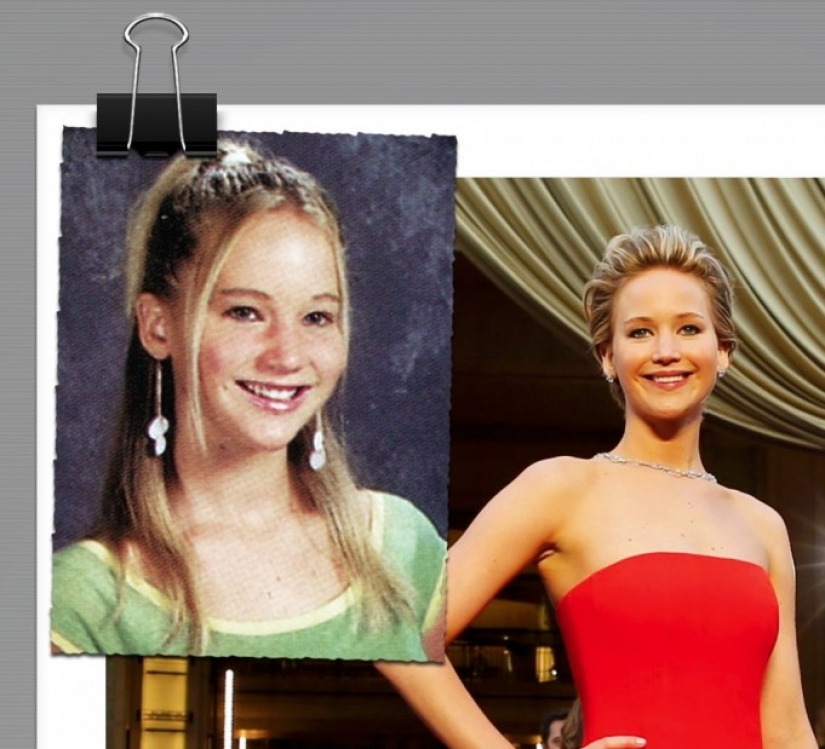 4. Jennifer Lawrence.
Born and raised in Louisville, Kentucky. At the age of 14, she decided to become an actress and persuaded her parents to find her an agent in New York. Despite her lack of experience, Jennifer received high marks while auditioning for one of the acting agencies. Jennifer graduated from high school two years earlier than her peers and then began her professional acting career. (Photo: REUTERS / MIKE BLAKE Seth Poppel / Yearbook Library / EAST NEWS).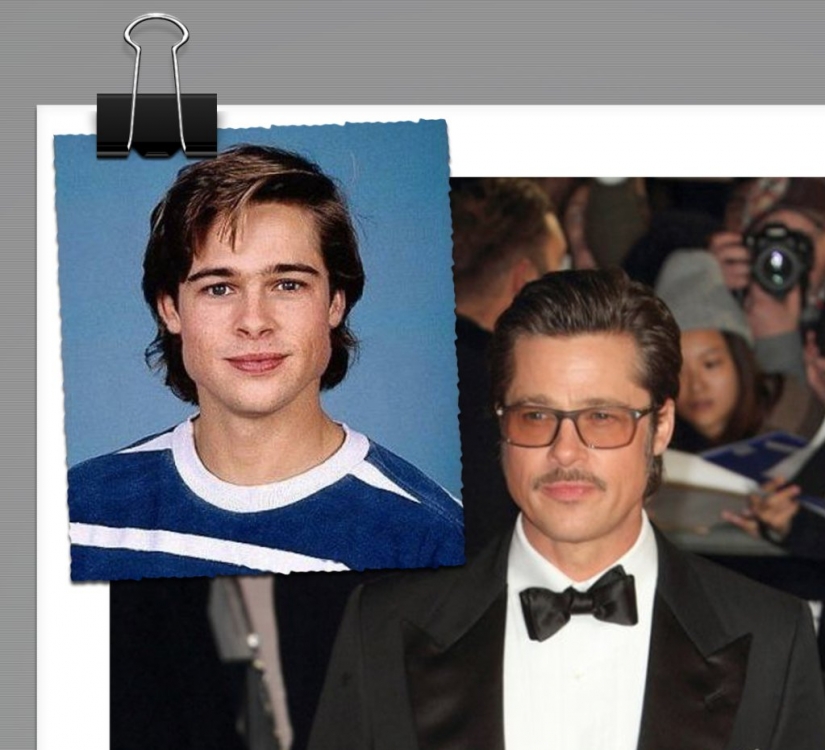 5. Brad Pitt.
Born into a Baptist family. His father, William A. Pitt, was a manager at a trucking company, and his mother, Jane Etta Hillhouse, was a teacher. He has a brother, Doug, and a sister, Julie Neal. He spent his childhood in Springfield, Missouri. Graduated from Kickapoo High School in Springfield in 1982. In 1982-1986, he studied journalism with a specialization in advertising at the Missouri School of Journalism at the University of Missouri-Columbia, but in 1986, shortly before graduation, he decided to leave and try his luck in Hollywood. (Photo: Pr Photos).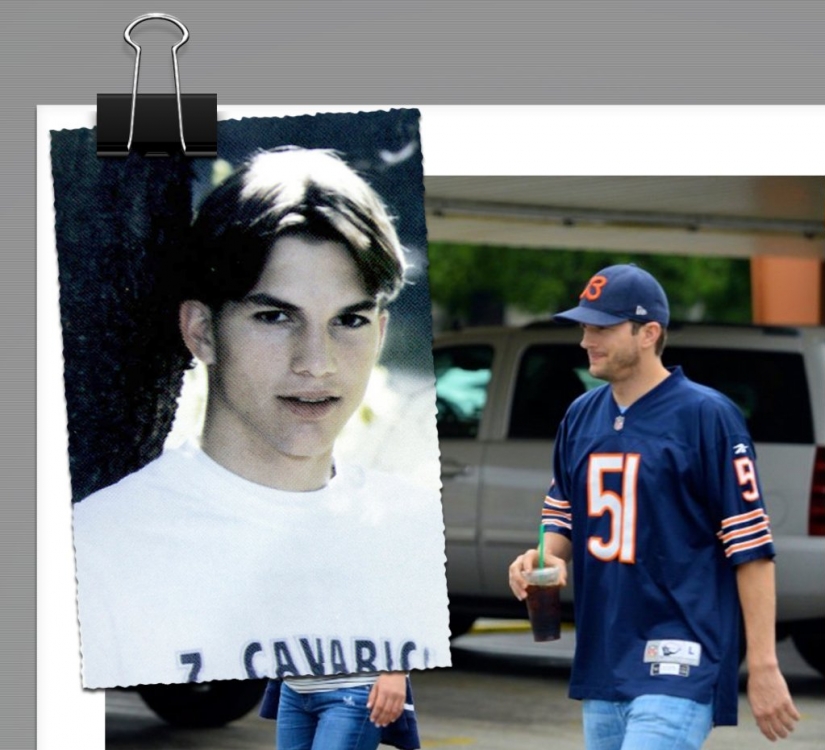 6. Ashton Kutcher.
Born 1978 in Cedar Rapids, Iowa. As a schoolboy, he was interested in wrestling and participated in school plays. Graduated from Clear Creek Amana High School in 1996. In 1997 he began studying biochemical engineering at the University of Iowa. During his student years, he worked part-time by sweeping floors at the local General Millis chips factory, was also a dishwasher and a blood donor. (Photo: EAST NEWS / Dean, MRM, Interstar / National Photo Group).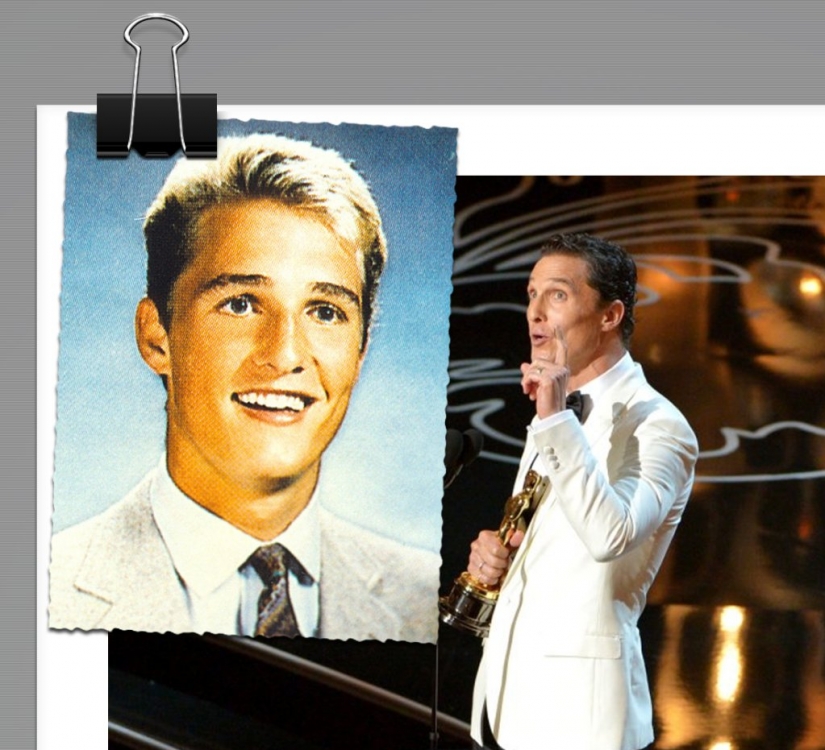 7. Matthew McConaughey.
Born 1969 in Uvalde, Texas. Grew up in the nearby town of Longview. He graduated from a local high school and in 1988 left for Australia on a student exchange organized by the Rotary Foundation, where he worked as a washer and assistant on a farm for a year. After returning to the United States, in 1989, he went to study at the University of Texas at Austin, first at the Faculty of Law, then at the Faculty of Communication and Media. In 1993 he received a bachelor's degree, after which he worked for some time in a law office (Photo: JOHN SHEARER / INVISION / AP / John Shearer).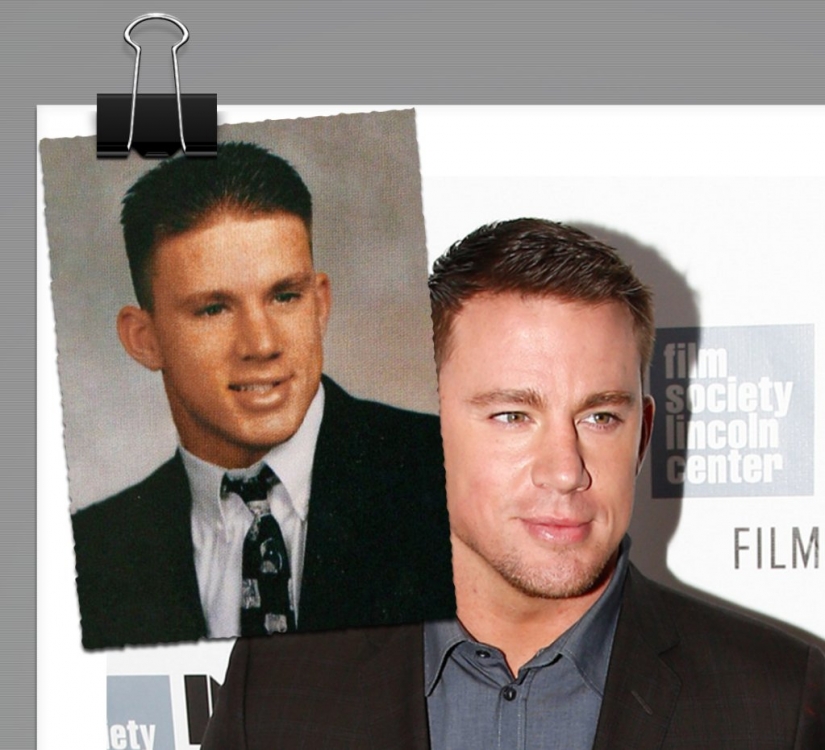 8. Channing Tatum.
Was born in 1980 in Kuhlman, Alabama. When he was six years old, his family moved to Mississippi. He played football and baseball. Graduated from Tampa Catholic High School in 1998. He worked as a roofer and then as a stripper at a local club called Chan Crawford. (Photo: PR Photos).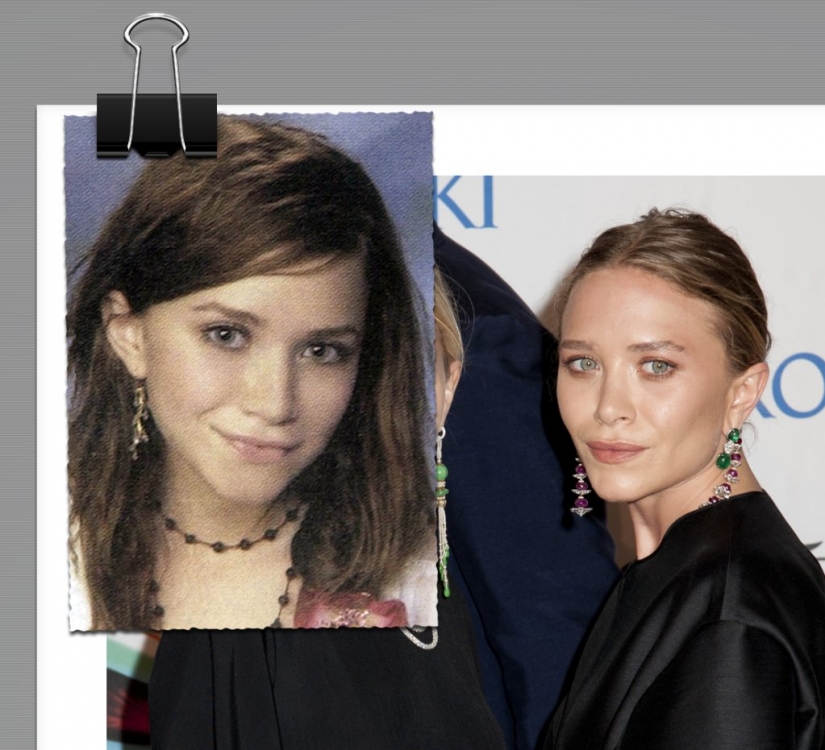 9. Mary Kate Olsen.
Her acting career, like her twin sisters, started very early when they were only 9 months old. They went to elementary school in Los Angeles, then to Campbell Hall School, and studied together at New York University. (Photo: PR Photos).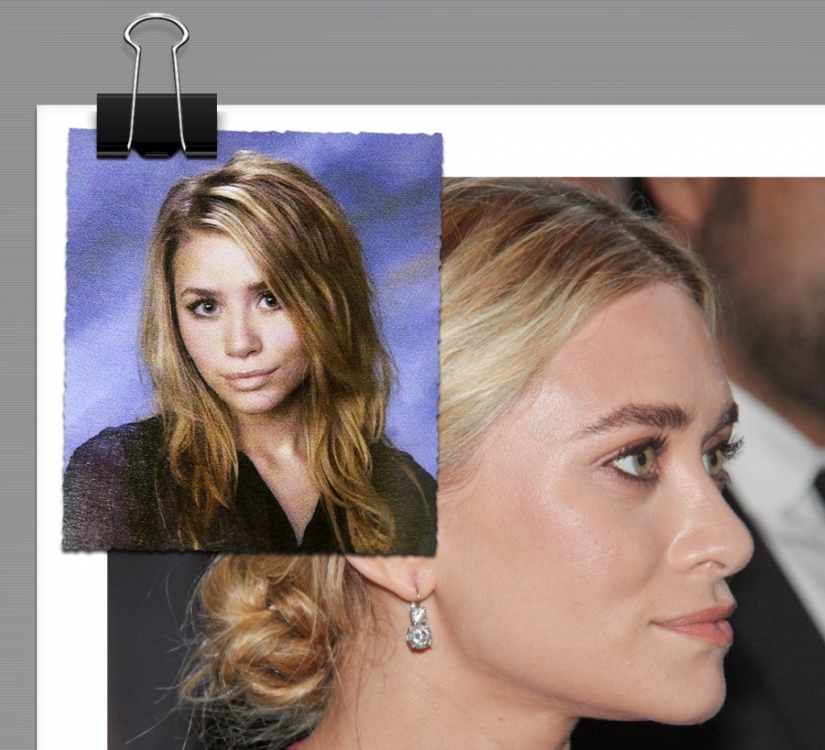 10. Ashley Olsen.
This is what Ashley Olsen looked like when she was in school. (Photo: PR Photos).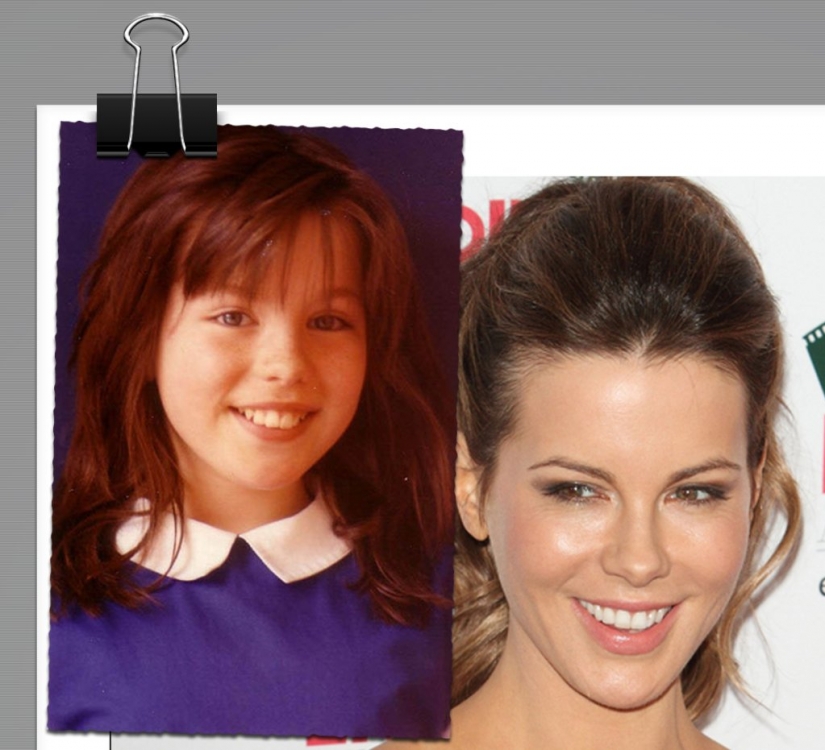 11. Kate Beckinsale.
She was born in 1973 in London, the son of comedian Richard Beckinsale and Judy Law, BBC host, and actress. She attended Godolphin and Latymer School. As a teenager, Kate won twice a literary competition organized by the W.H. bookstore chain, the first for three stories, and the second for a poem. (Photo: PR Photos).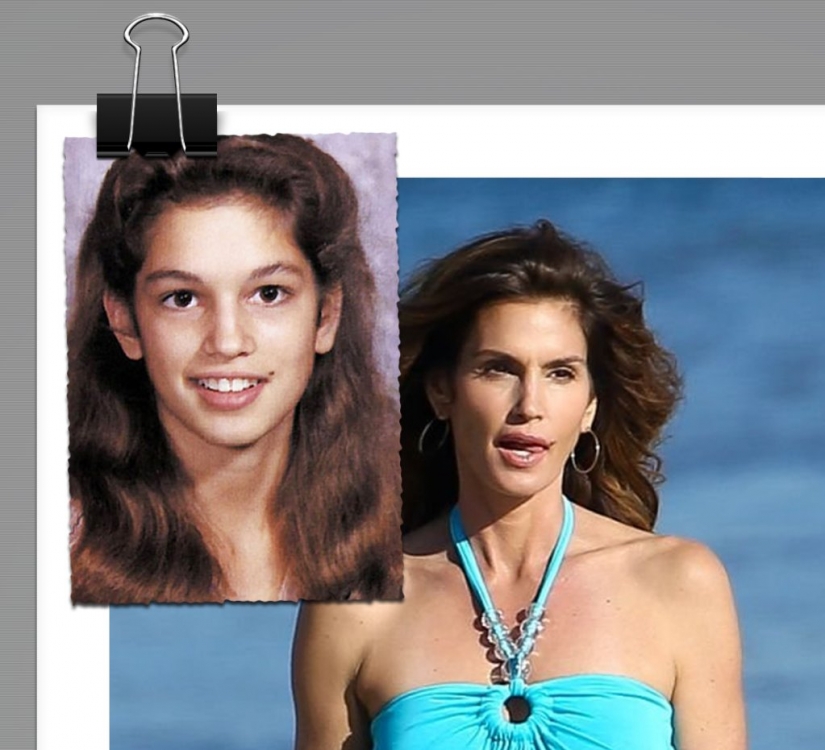 12. Cindy Crawford.

She was born in 1966 and was born in DeKalb, Illinois. Her full name is Cynthia Ann Crawford. She graduated from a local high school in 1984 and received a Fellowship in Chemical Engineering at Northwestern University. But then she dropped out of university to pursue a career in the modeling business. (Photo: Scope Features / Bulls Eastnews).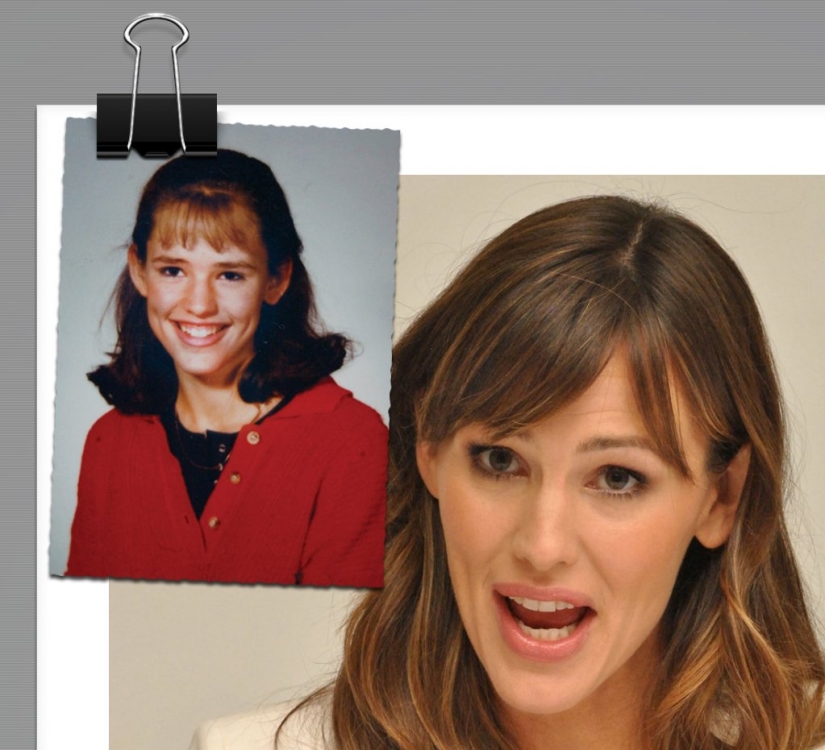 13. Jennifer Garner.
She was born in 1972 in Houston, Texas. After several moves, the entire family settled in Charleston, West Virginia. From the age of three, she attended ballet school. Graduated from George Washington High School in 1990. She received her BA from Denison University in Granville. (Photo: Aaron St-Clair / Splash News / Eastnews / Shooting Star / Shooting Star / Sipa USA / East News).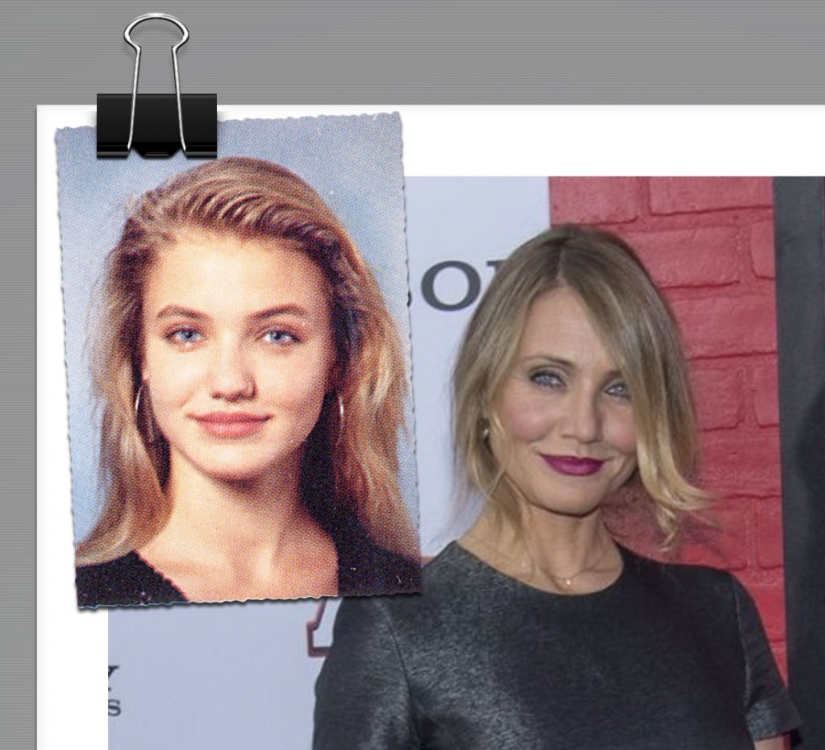 14. Cameron Diaz.
She was born in 1972 in San Diego, California. She attended Long Beach Polytechnic High School. (Photo: MJ Photos / PRPhotos.com).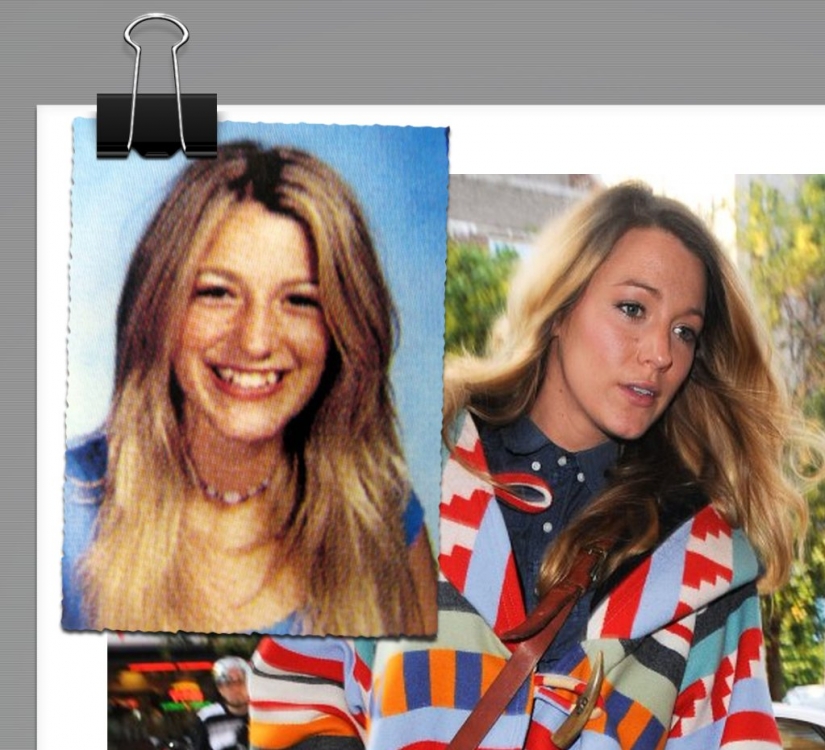 15. Blake Lively.
She was born in 1987 in Los Angeles. Her real name is Blake Ellender Brown. Blake's parents did not want to leave their little daughter with a nanny, so they took her with them to work - to the acting school in which they taught. Blake graduated from Burbank High School. (Photo: Bulls).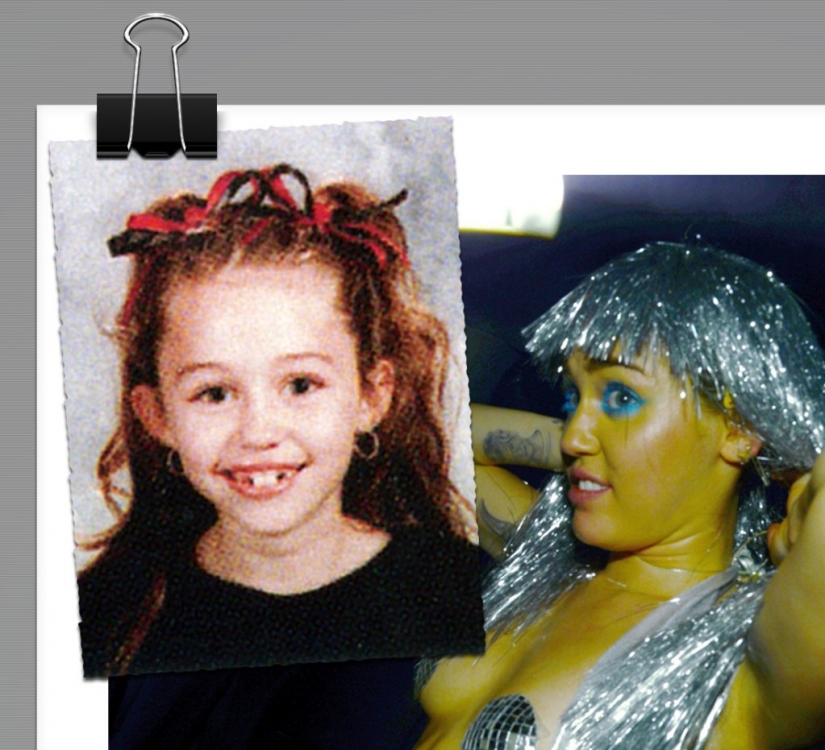 16. Miley Cyrus.
She was born in 1992 in Nashville, Tennessee. Her real name is Destiny Hope, which means "destiny" and "hope". Parents believed that great things awaited their daughter ... Over time, they began to call her "Smiley" (from the word smile - smile), because she was a very smiling child. Then she shortened her name to Miley. She grew up on a small farm in Franklin, Tennessee, and attended Heritage Elementary School. When she was 11 years old, the whole family moved to Toronto, Canada. There she attended the Armstrong Acting Studio. At the age of 13, Miley and her family moved to Hollywood. (Photo: Manuel Munoz, PacificCoastNews / (Manuel Munoz, PacificCoastNews / EAST NEWS).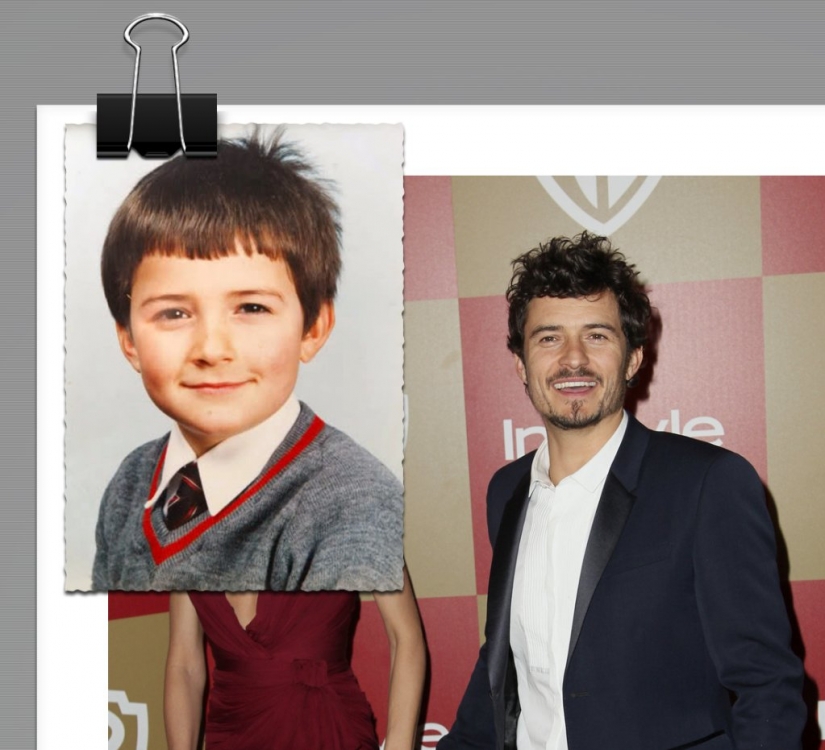 17. Orlando Bloom.
Born 1977 in Canterbury, Kent, UK. He received the name Orlando in honor of the 17th-century English composer Orlando Gibbons. He first studied at Canterbury, studied art and foreign languages, Orlando is fluent in French. He was also engaged in photography and horseback riding. In 1993 he moved to London and received a British American Drama Academy scholarship. He also studied at the Guildhall School of Music and Drama. (Photo: Balkanpix.com / Rex Features / Eastnews / AP).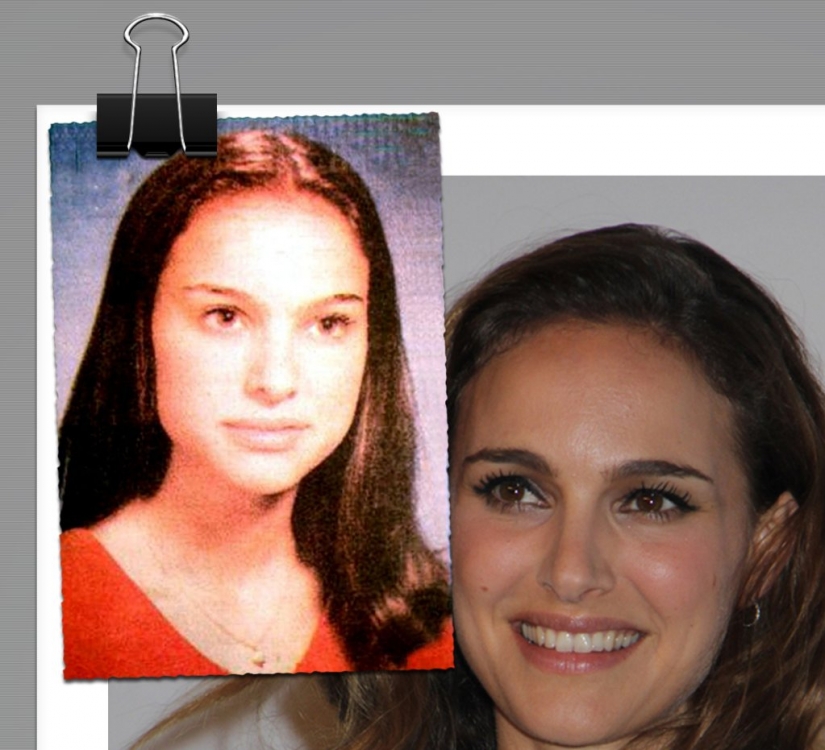 18. Natalie Portman.
She was born in 1981. At the age of three, she moved with her parents from Jerusalem to Washington, where she attended the Charles E. Smith Jewish Day School, where she studied Hebrew. When Natalie was 7 years old, the family moved to Connecticut, and at 9 years old they moved to New York, where the actress lives to this day. In New York, she attended Solomon Schechter Day School. She graduated from Syosset High School on Long Island in 1999 and received her degree in psychology from Harvard University in June 2003. (Photo: Splash NewsEAST NEWS / PR Photos).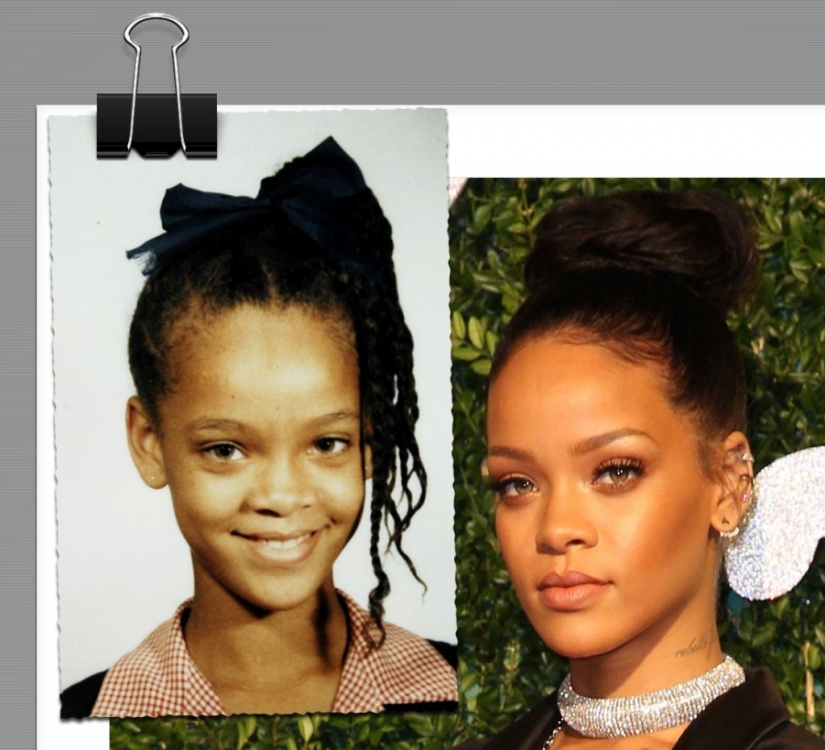 19. Rihanna.
She was born in 1988 in St. Michael, Barbados. Her full name is Robin Rihanna Fenty. Rihanna's mother is Guyanese, and her father has Barbados and Irish roots. She attended Charlesa F. Broome Elementary School in Barbados and then Combermere School, where she and two classmates created a musical trio. Rihanna was a cadet and was trained by the Barbados military. She never finished high school, dropped out to devote herself entirely to singing. (Photo: Stephen Lock / i-Images / Stephen Lock / i-Images).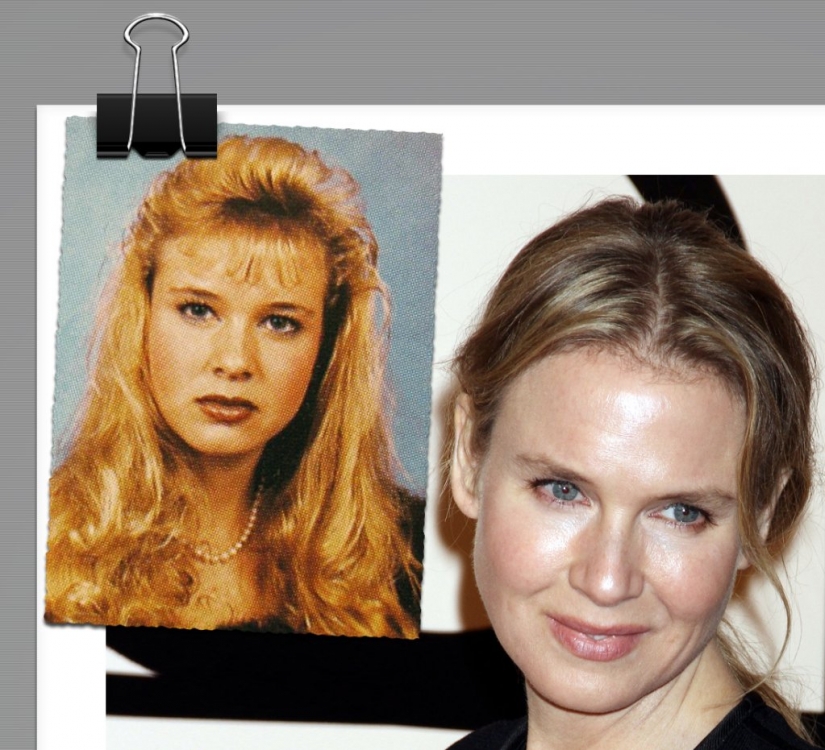 20. Renee Zellweger.
Born in Katy, Texas. Her father, Emil Erich Zellweger, is Swiss by birth, and her mother Kjellfid Irene has Norwegian-Finnish roots. Rene showed an interest in acting in high school, where she began to attend a theater club. And when she studied at the University of Texas at Austin, one of her chosen subjects was acting. (Photo: Splash News / EAST NEWS / EastNews).
Keywords: Hollywood | Hollywood stars | Star | Rich | Childhood | Life | Old | History | Before and after | Cinema | Movie | Film | Celebrities