In 2008, Singapore Airlines introduced the most luxurious flight class available on the market, the Class Suite. On the Airbus A380 aircraft, the airline offers its customers real "heavenly apartments" with sliding doors and a double bed. And that's not all: during the flight, you can enjoy gourmet meals and drink Dom Perignon champagne, while you will be served by a personal flight attendant. Have you already wanted to fly in Suite class? There is only one small nuance - the price of the ticket. For a flight from Singapore to New York, you need to pay 18,400 US dollars. We invite everyone who does not have that kind of money to take a virtual flight with us.
(Total 26 photos)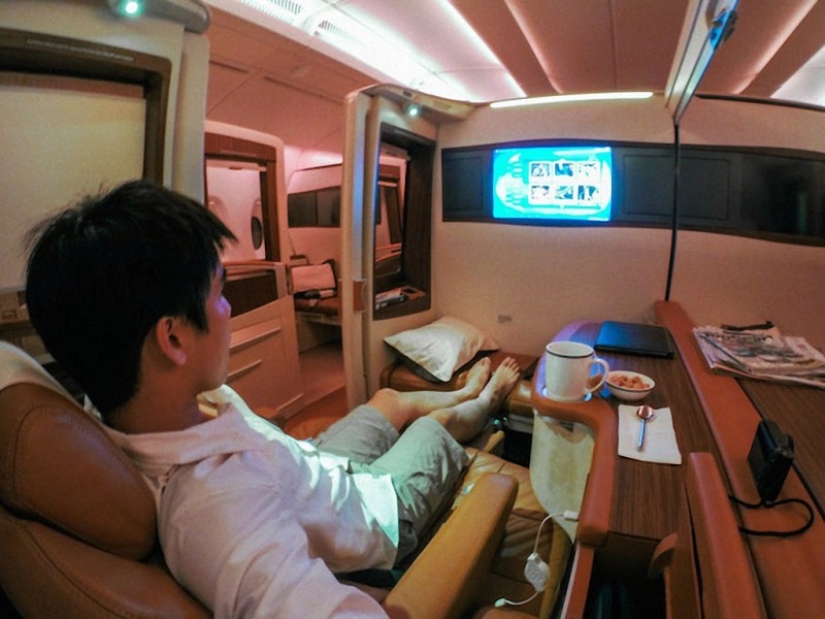 Source: fullpicture.ru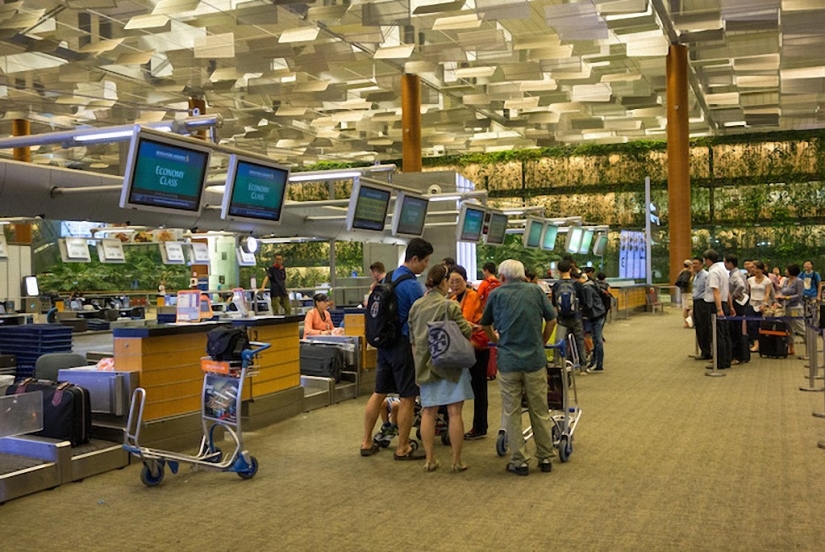 1. Already at Changi Airport in Singapore, having a Class Suite ticket, you will immediately feel special. For First Class and Suite Class customers there is a separate entrance and an exclusive waiting room.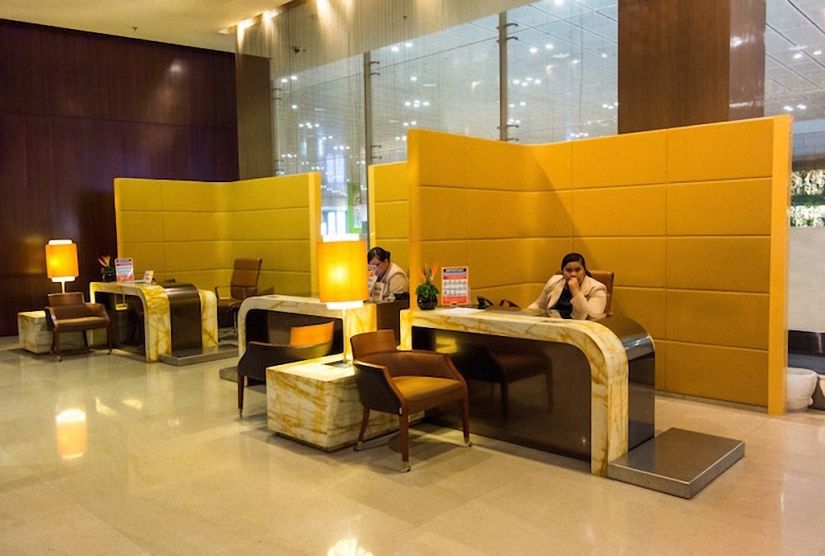 2. The check-in area for Suite passengers looks like the lobby of a luxury hotel. You will not need to think about luggage, it will be taken care of by special staff. After registration, you will be given a "golden" ticket and a "golden" invitation to a luxurious waiting room.
3. A personal assistant will immediately approach you to escort you to the waiting room, where you will be met by another assistant who will be at your service until the flight starts.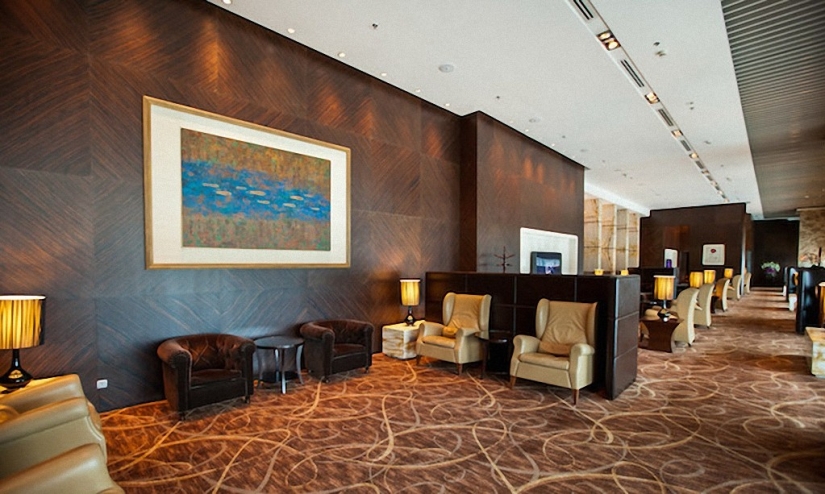 4. This is what the waiting room looks like in the deluxe version. The staff who will meet you already know everything about you and greet you by name and title, which you will enter in your profile when buying a ticket. There you can indicate that you are, for example, a king, prince, lord, doctor, professor, etc. As you call yourself, so you will be addressed during the entire flight. So don't be modest.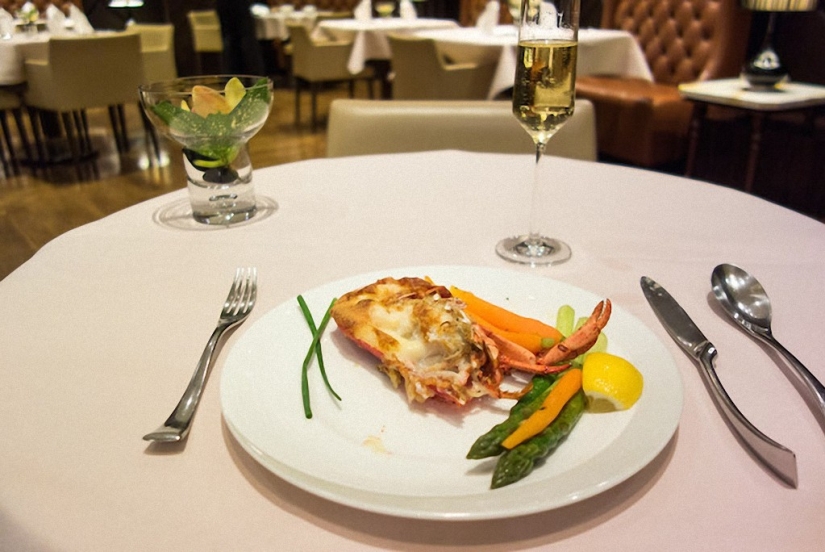 5. Even if you are not hungry, the chic dishes offered by one of the best chefs in the world are worth a try. In the photo: baked lobster with cheeses - gruyère, emmental and cheddar. Well, champagne, of course, is always at your service.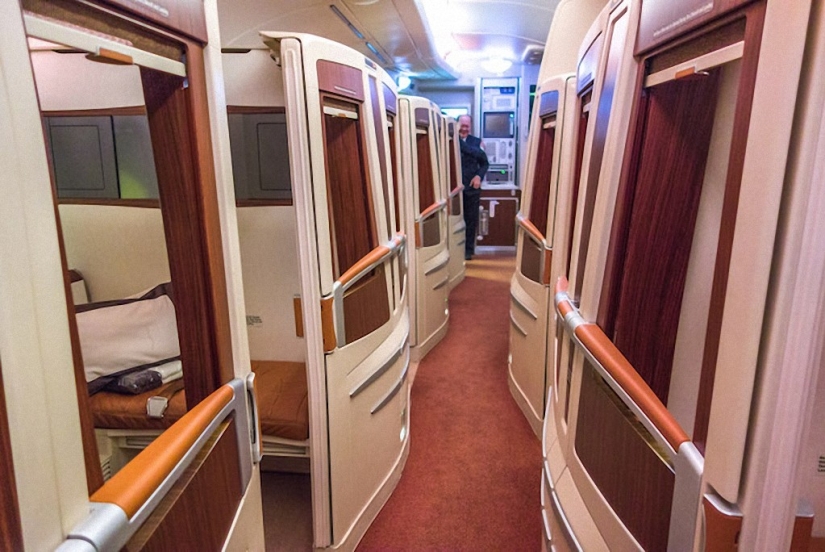 6. When it's time for boarding, you will be escorted on board the aircraft through a separate sleeve, exclusively for Suite passengers, at the end of which you will be met by another assistant and escorted directly to your apartment.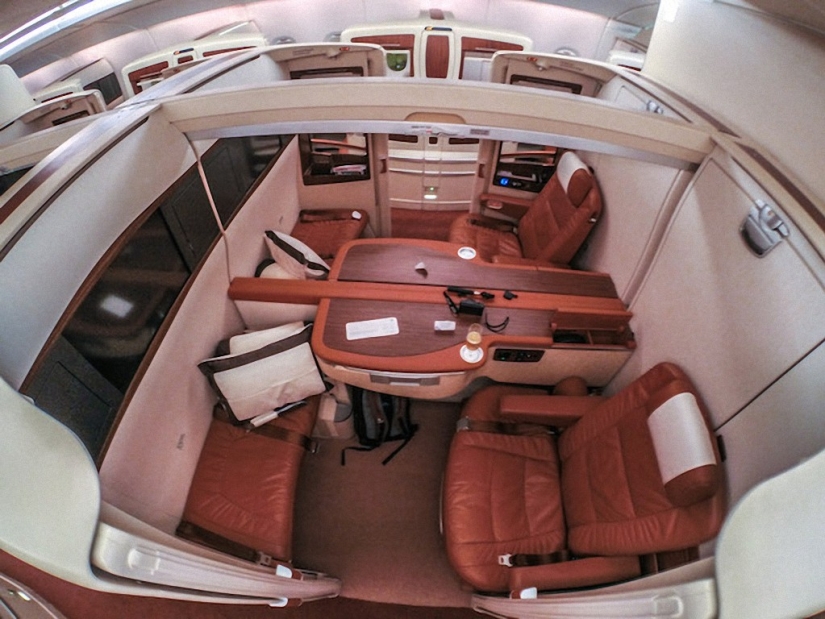 7. This apartment is located in the middle, so it can be connected to the next one, and then you get one big room.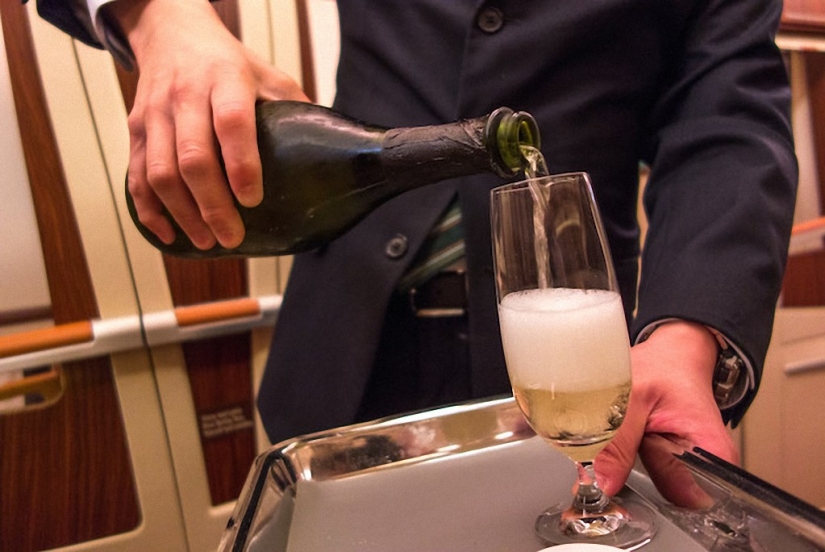 8. As soon as you enter your apartment, you will immediately be offered a glass of very expensive Dom Perignon champagne.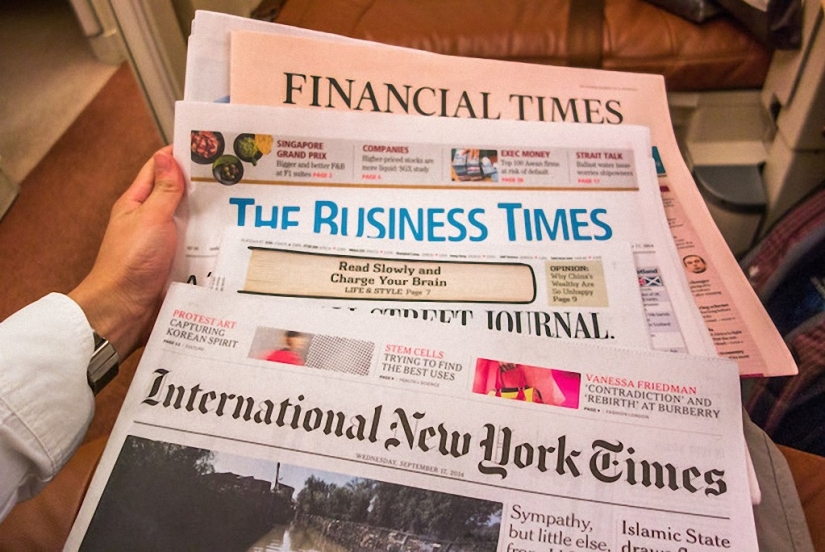 9. For exclusive passengers, there are all the newspapers they can ask for on board the aircraft.
10. As soon as you are settled in your apartment, crew members will come to you to greet and introduce themselves. In the photo you see the chief of stewards - Zafrullah Gullam, who served Leonardo DiCaprio and Morgan Freeman during their Suite flights.
11. If you want to be alone, no problem, there will be no snoring, pushing passengers nearby. And the personal assistant will do everything for you, make the bed, close the doors and once again politely ask if you want anything.
12. And here is the main character who told us about his journey in the Suite class. Meet Derek Low, an engineer from San Francisco who has accumulated a huge number of "flying miles" and decided to use them for the most luxurious flight of his life. In September of this year, he went on a Suite trip from Singapore to New York and described everything on his website.
13. All toiletries for the exclusive passenger from Salvatore Ferragamo.
14. And blankets, pillows, pajamas and slippers from Givenchy.
15. As soon as the plane takes off, you will be prompted to choose another drink. For example, you can order Blue Mountain coffee. This is a very expensive coffee, an ounce (28 grams) of which costs from $120.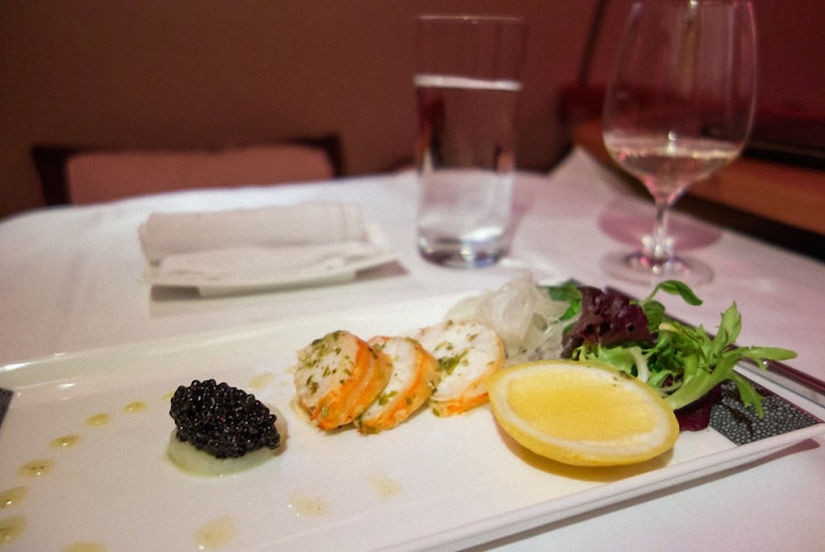 16. Then you will be offered dinner. Dinner consists of 5 courses and appetizers. In the photo: appetizer - caviar, lobster and fennel salad.
17. Foie gras (from duck liver), fennel salad with oranges, beets and Japanese mustard.
18. Hot dish - fish soup with pasta.
19. And of course, dessert - Vanilla Bavarois with raspberry coolies.
20. After dinner, you can also relax culturally - for example, watch a movie.
21. If you want to inspect the plane - no problem, the staff will kindly show you everything you want to see, except for the cockpit - for security reasons.
22. In the meantime, your assistant will make your bed and turn off the light, inviting you to sleep.
23. The bed looks just gorgeous. The interior of the apartments was designed by the famous French luxury yacht designer Jean-Jacques Coste. This is really a double bed with a soft mattress.
24. The bathroom on board the aircraft for Suite passengers is small, but very comfortable.
25. During the flight, assistants will gently ask if you need anything else. The Singapore to New York flight route included a landing during which Suite passengers were ushered into the Lufthansa Lounge, where they had a spa and shower at their disposal. And of course, they were fed a chic dinner. One of the dishes: grilled beef fillet from the famous chef Alfreda Portale.
26. This is how the "heavenly apartment" looks like, from which Derek Low did not want to leave upon arrival in the USA. According to Derek, flying just couldn't be more enjoyable.
Keywords: Airbus | Flight | Luxury | Aircraft | Singapore
Post News Article