The modern world is full of colors and amazing opportunities. And this even applies to costumes for animals! In this selection of the funniest pet outfits, you will surely be able to find one that will resonate with your soul and will definitely fall in love with your little friend. But the most interesting thing is that you can always find and order these costumes on Aliexpress!
12 PHOTOS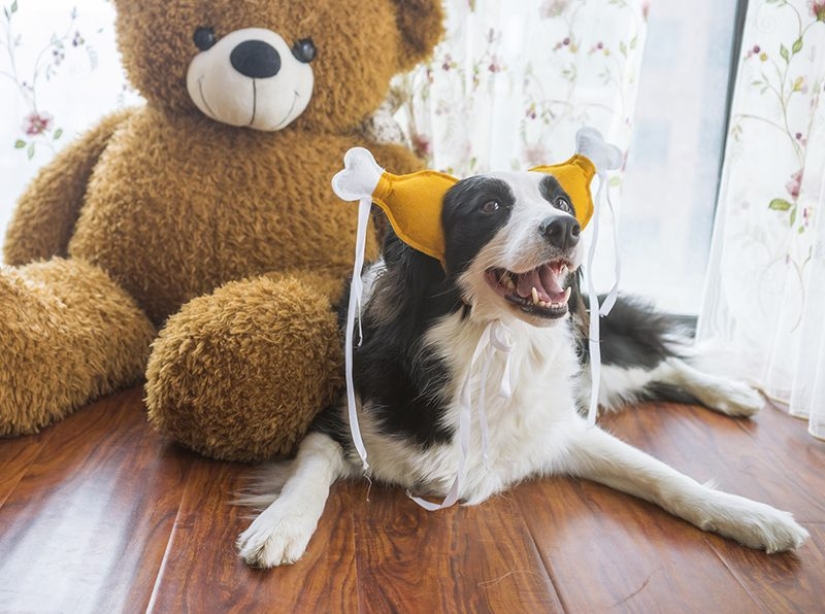 1. Hat with chicken legs
Just look what a fun hat! Its main advantage is that thanks to its universal design, this cap is perfect for both cats and dogs of different sizes because the accessory is easily fixed around the neck with ribbons. You can buy these funny chicken legs on Aliexpress for just a couple of dollars!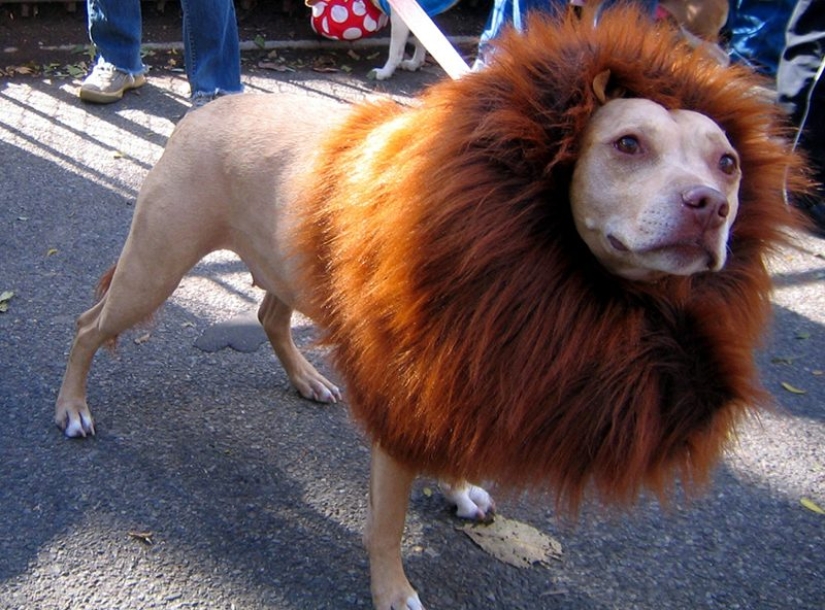 2. lion's mane
Each pet for its owner seems to be a real "king of animals" and wants to feel the same way! With this magnificent lion's mane, your pet will look like a real predator! The costume is fastened with a special adjustable buckle. You can buy such a mane on Aliexpress for about $7.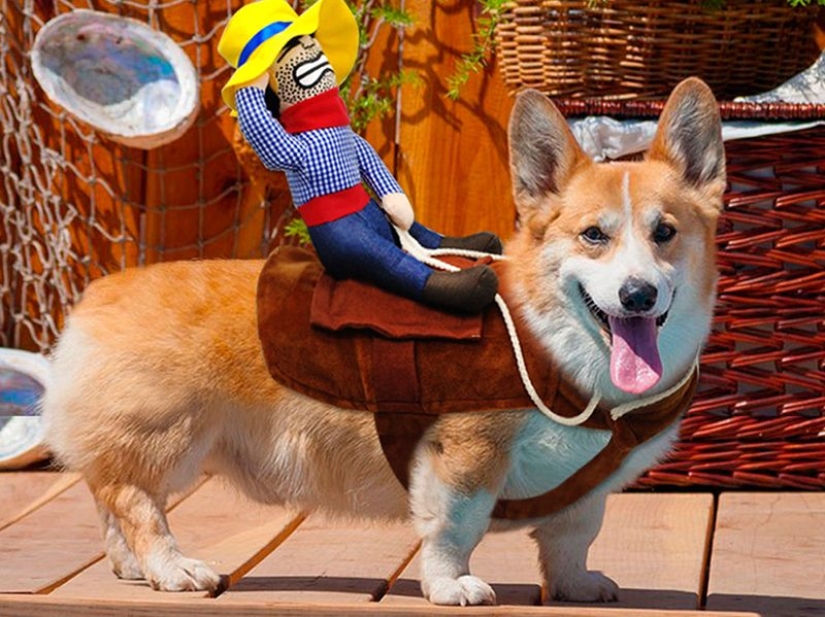 3. cowboy costume
This costume is suitable for both dogs and cats due to its universal properties and light material. Its cost on Aliexpress does not exceed $8, which makes it even more attractive among buyers. By the way, this costume has recently been gaining more and more popularity. Do you want to be in trend? Then it's time to buy your friend a cowboy costume!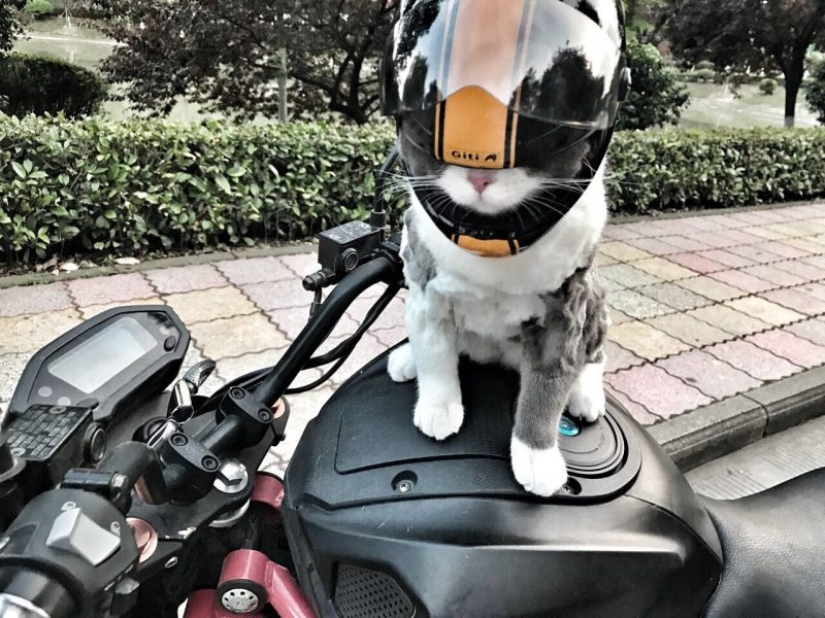 4. mini helmet
If your pet is happy to accompany you on bike or bicycle trips, then it's time to think about his equipment. For example, about the helmet ... And do not think to worry! Your dog (or even cat) will be quite comfortable wearing such an accessory. The edges of the helmet are rubberized, the visor can be opened and closed for the duration of the movement. By the way, in such a helmet, very spectacular photographs are obtained! You can buy a mini helmet on Aliexpress for about $15.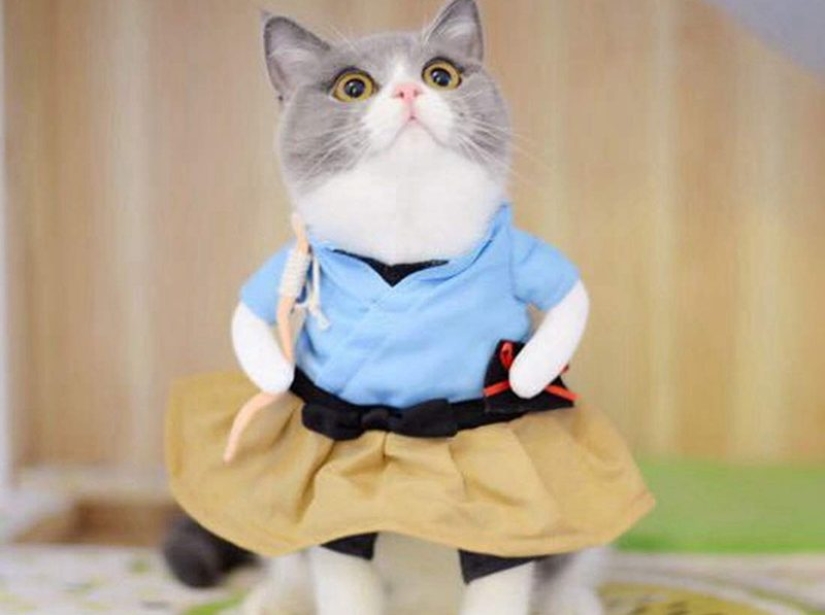 5. Suit-dress
Well, what can look even cuter than a cat in such a beautiful dress? The most important thing is that it will be convenient for a pet to move around in such an apron, and it is also an ideal option for a costume party! You can buy this wonderful dress on Aliexpress for $4.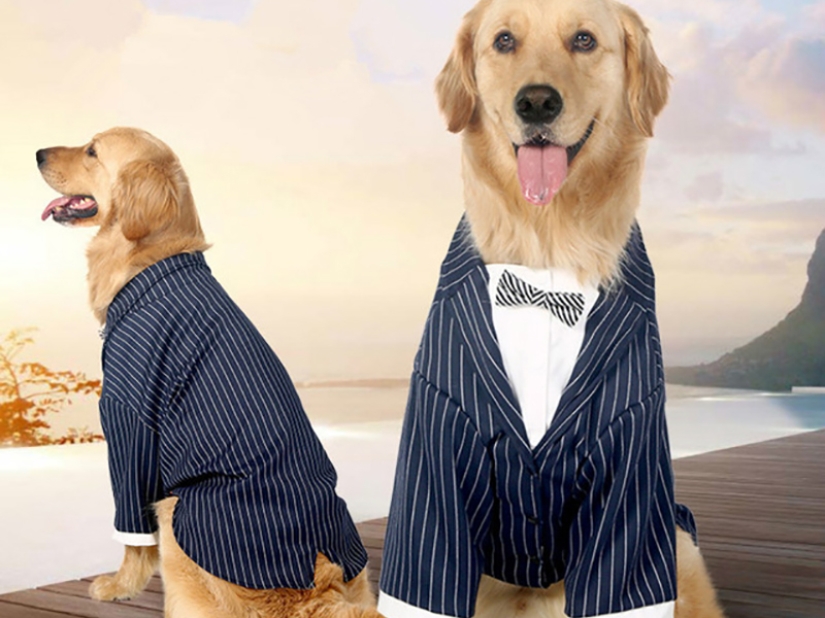 6. Pet Tuxedo
Suit for real gentledogs! With such an elegant escort, any lady will feel like a queen and will undoubtedly collect envious glances from fans. The costume can be bought in completely different sizes, so it is suitable for both large and small dogs. Depending on the size, a tuxedo can be purchased for between $12 and $30.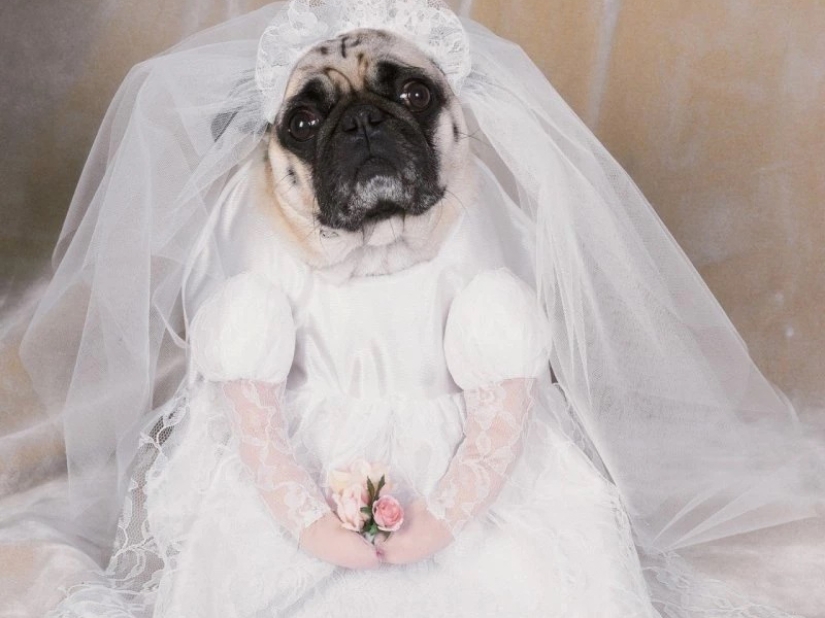 7. Wedding Dress
This costume is perfect for a girl for mating, or you can dress up your girlfriend as a bride for your own garden. It will look very cute and creative! A full-fledged wedding dress for animals will cost only about $ 9, but it will bring much more joy and emotions!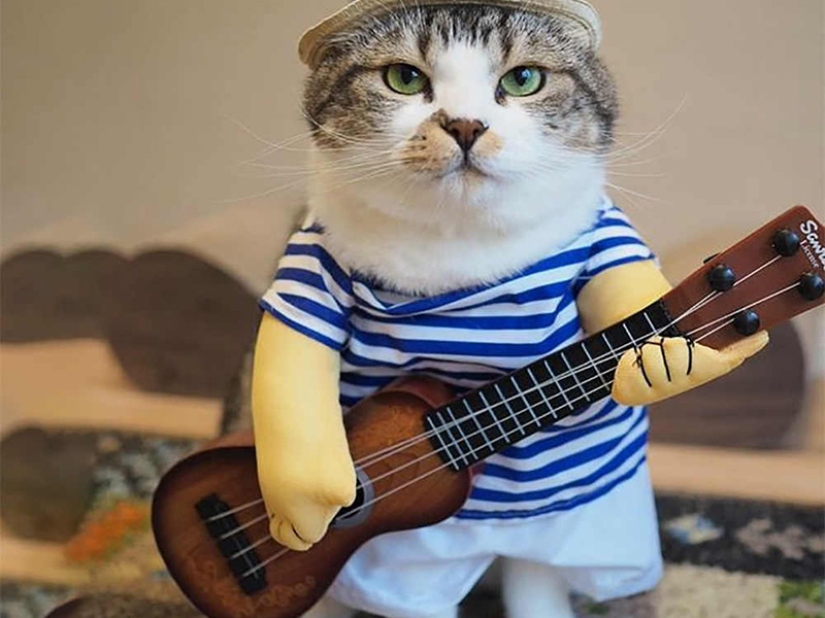 8. Musician costume
The suit consists of a marine vest and a guitar and is perfect for both a small dog and an average cat. Separately for this costume, you can buy a wig with curls or a hat, which will perfectly complement the look. A chic musician costume for photo shoots and just for the mood costs $ 5-12 on Aliexpress.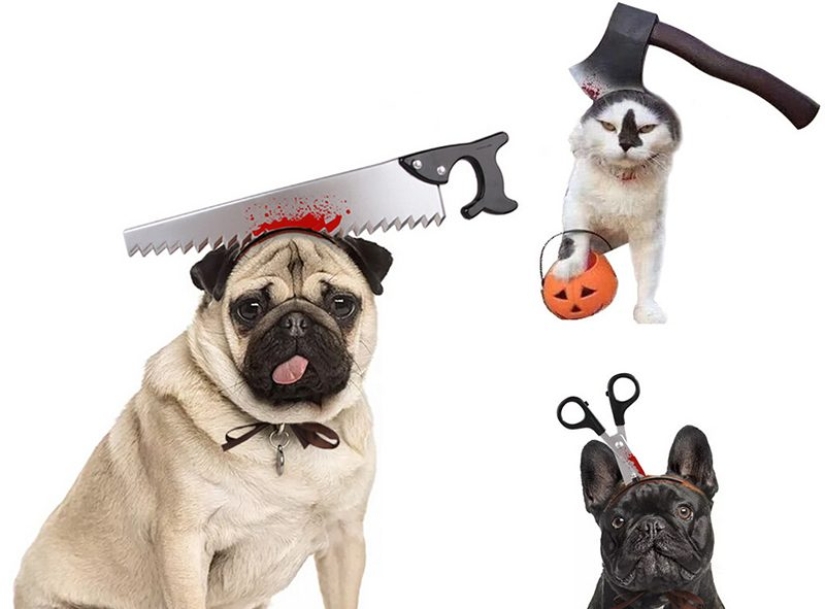 9. Halloween costumes
The beauty of these costumes and hats is that with them you can use them not only for Halloween but also to scare your friends or just play a trick on the neighbors on a normal fine day. You can choose from all kinds of saws, axes, scissors, and many other creepy pet accessories. The cost on Aliexpress is $5.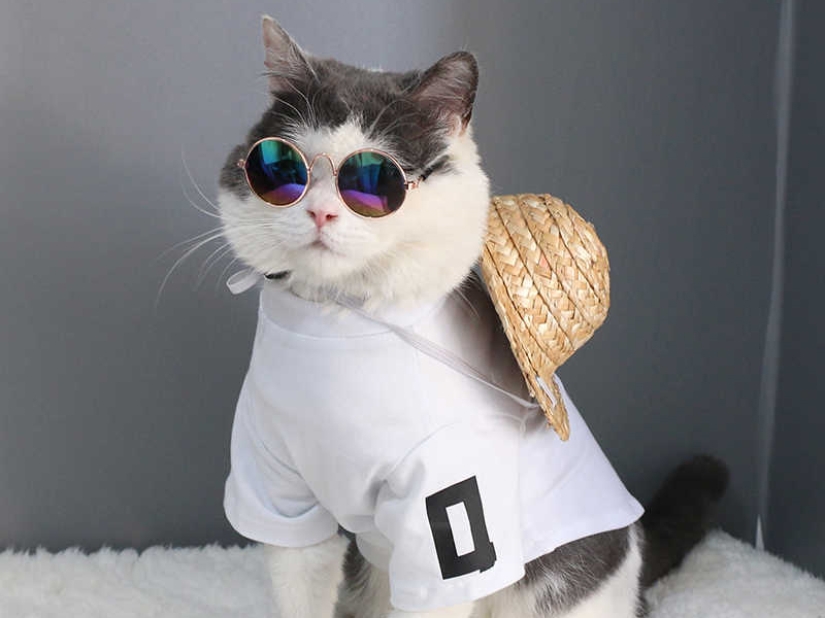 10. fashion glasses
Stylish mirror glasses for your pet. Perfect for a pool party or a vacation you plan to take with your pet. The accessory can be purchased in blue, yellow, light blue, black and green for just a few dollars.
11. Superman costume
This city needs a new hero! And your four-legged friend can easily become it. Such a superman costume can be bought on Aliexpress for $3-8. Its only drawback is that it is only suitable for small breed dogs ... ..well, also for cats.
12. Leather biker jacket
This biker jacket will perfectly emphasize all the severity and restraint, for example, bulldogs. Your pet will definitely like such clothes and will catch the eye of people passing by. You can buy a leather jacket on Aliexpress for $16-25.
Keywords: Funny costumes | Modern world | Animals | Cute animals | Pet costumes | Pets | Pet outfits | Aliexpress