Today, people hardly believe in the stories of people who were poor and suddenly opened their own business and got rich. It is quite obvious that success is achieved only through hard work. The story of 21-year-old Australian Harry Sanders is a great example of the fact that miracles happen, but it is useless to wait for them without a passionate desire and hard work.
Today, programmer Harry Sanders from Melbourne is included in the rating of the most successful young entrepreneurs in Australia. His fortune is estimated at $ 1.5 million, which is approximately 98 million rubles. You can say that this is not so much, but given Harry's recent past, his capital is impressive.
The fact is that just a couple of years ago, Sanders was an ordinary Melbourne homeless man, sleeping under bridges and eating in landfills. The day when he managed to spend the night with one of his former classmates or in a flophouse, the guy considered it successful, and hunger was his constant companion.
Homeless camp under the bridge in Melbourne
Harry found himself on the street unexpectedly and was absolutely not adapted to such an extreme life. Today, as a millionaire and owner of his own business, he remembers with horror his first days as a homeless man.
Sanders had heard many stories about becoming vagrants, but he was sure that he would never live under a bridge. Perhaps he would have continued to be poor, if one sleepless night he did not decide to radically change his hopeless life.
He thought that he could do some work that he knows how to do and nothing else came to his mind except programming. No, Harry was not a professional IT specialist and had only a school education behind him, but once he was the best in the class at programming. Computer science teachers appreciated the talented boy and often sent him to the cybernetics Olympiads, where he invariably won prizes.
Having decided to look for a job in the IT industry, Sanders bought a telephone directory with the last money and began calling all the companies in order. This lasted for several months and everywhere the young homeless man was refused. Sometimes he was even sharply answered, so that he forgot the number and never called it again. But Harry was stubborn and supported by the idea that there were no backup options.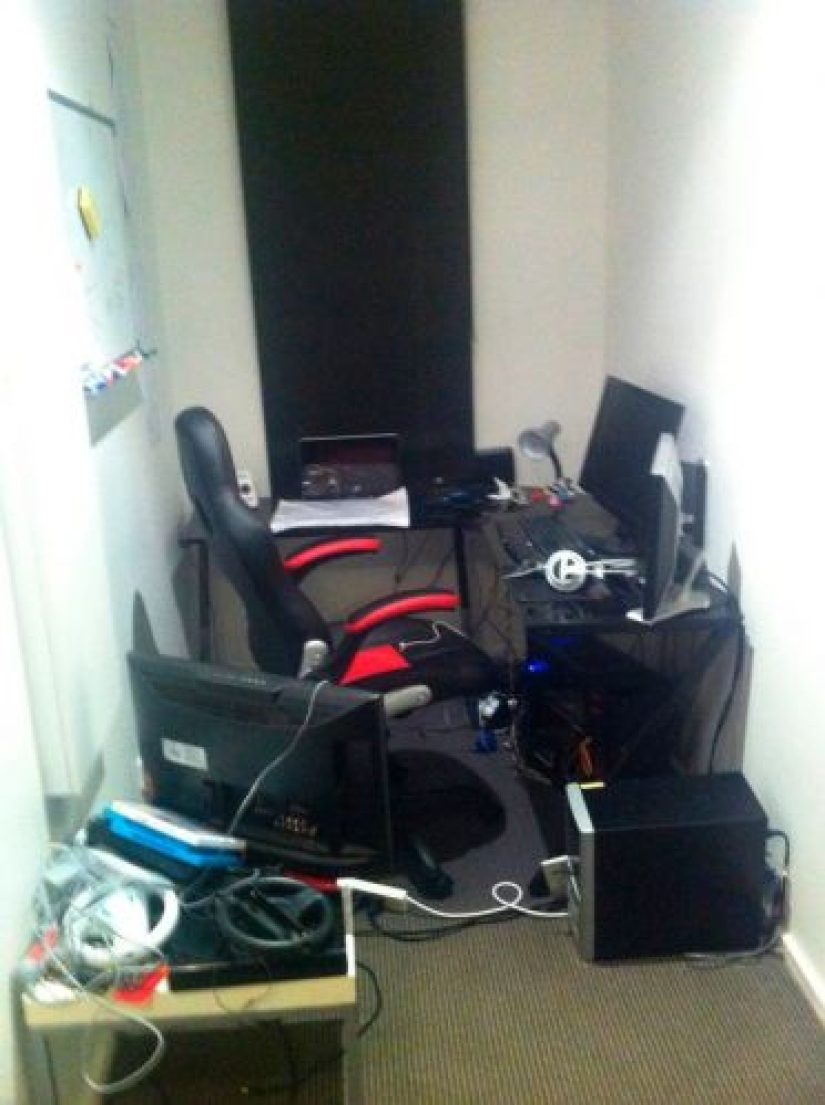 Harry's first workplace
The guy's perseverance was rewarded and he was interested in one of the companies. After the interview, Sanders was hired and even allowed to live in the office until he could rent a place for himself. Soon things began to improve for Harry and he was even able to rent a separate room in the hostel.
The life of a young programmer got better and one day he realized that he could achieve more. In his spare time, the former homeless man began to develop his startup, which turned out to be successful and soon began to generate income.
Today, Harry Sanders is a promising young entrepreneur and millionaire who can afford a lot. The guy lives a busy life — he travels a lot, does sports and creativity, but does not forget about work. He continues to invest time and effort in his own projects, not going to stop there.
In order to start a business, a homeless person does not need to be able to program at all. Mike Momani from Seattle organized his travel startup, relying only on ingenuity.
Keywords: Homeless | Melbourne | Millionaire | Programmers | Startup | Success