Recently, small apartments have been very popular among buyers of housing. This is understandable, given the high price per square meter, an apartment with large footage is simply not affordable for many, so real estate buyers prefer small apartments. However, then the question arises of how to equip it so that there is a place for everything and there is still free space. We offer 10 great ideas for arranging a small apartment.
13 PHOTOS
1. The lucky ones are those who have a small but high apartment. High ceilings allow you to build a mezzanine that will serve as a sleeping place or work area. (Photo: shortstay-apartment.com).
It is best to provide such works to professionals who are engaged in apartment renovation, for example, the Master Home company, which creates residential interiors, from design development to interior decoration or renovation.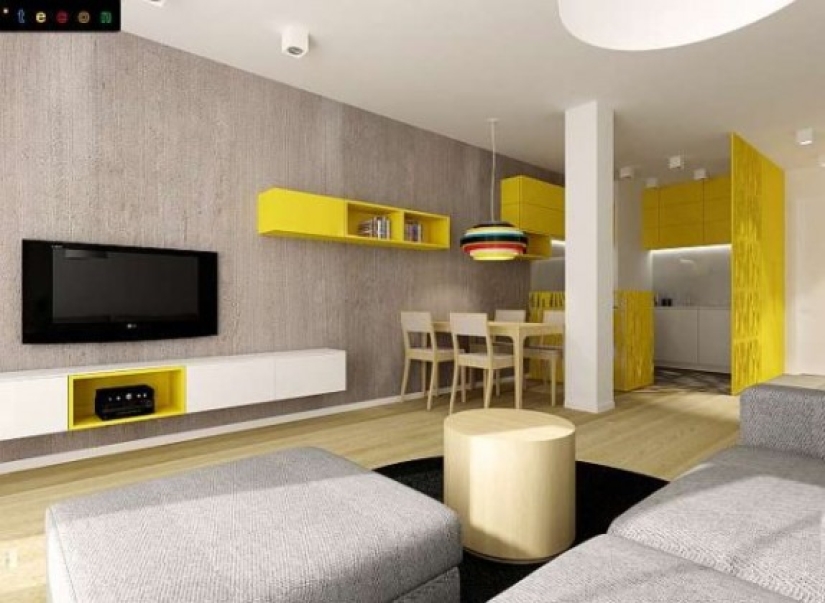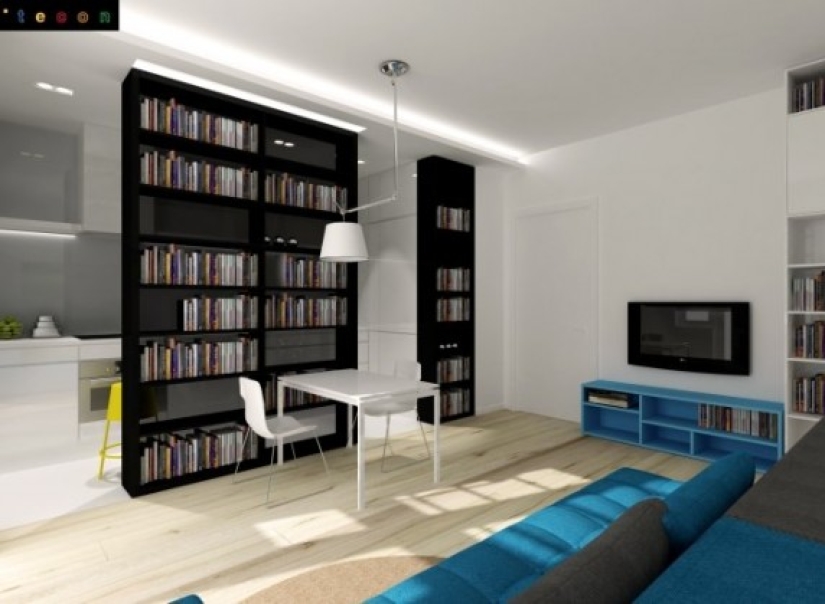 2. Open space is a very effective way to optically expand space. But if you are not a fan of the solution when the living room is combined with the kitchen, you can install glass doors between these two rooms. And for book lovers, instead of doors, a rack or bookcase is perfect. (Photo: Alina Bandora / TECON).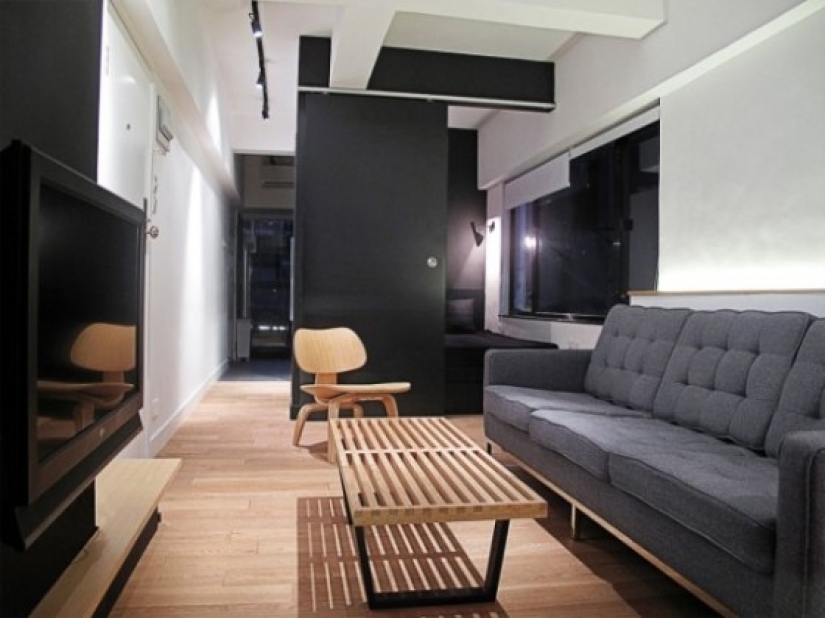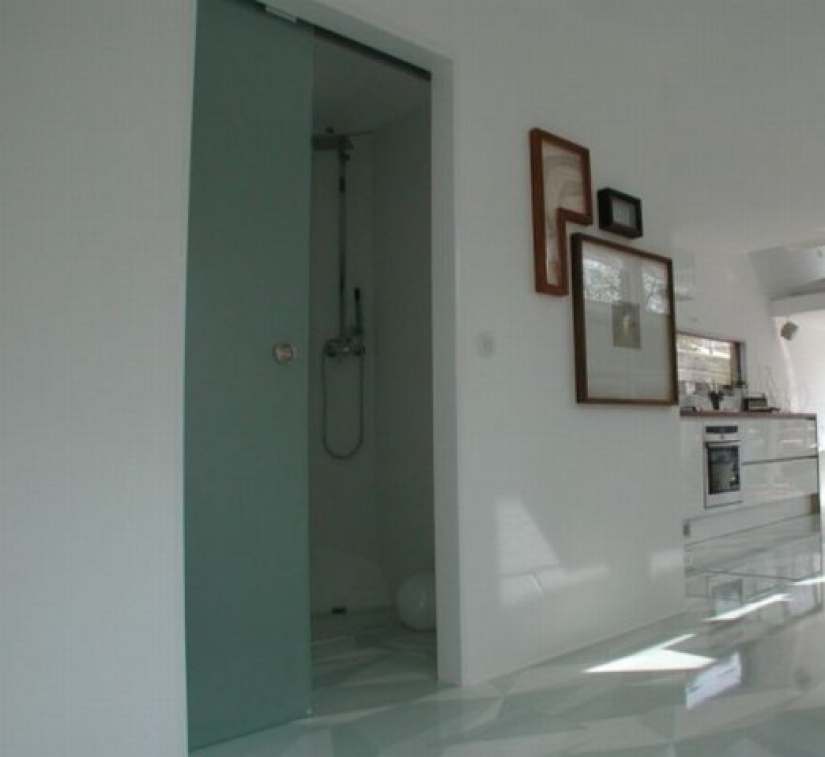 3. Sliding doors are an ideal solution for a small apartment. Ordinary doors, especially when they are open, actually take up a lot of space. It is better to choose such sliding doors that are not striking, preferably in the color of the walls. Glass doors will brighten the dark space. (Photo: onebynine.com/SwimmHausBoot).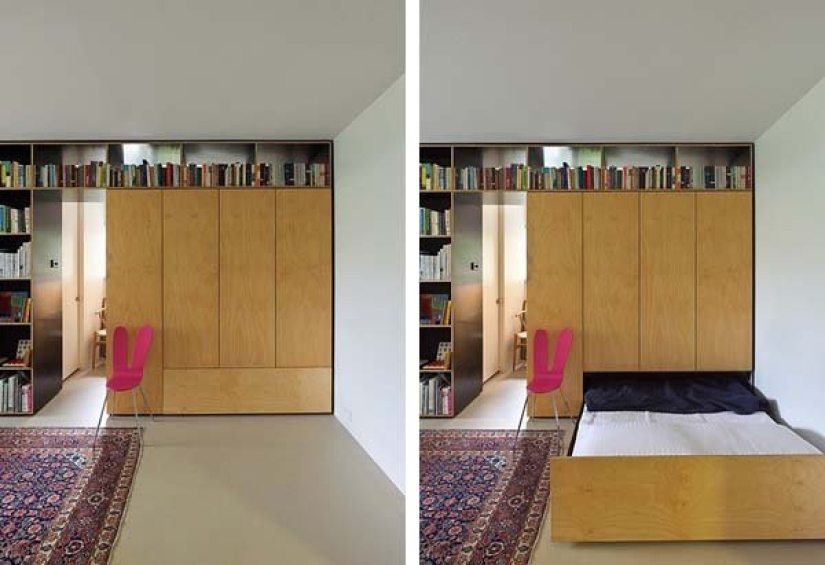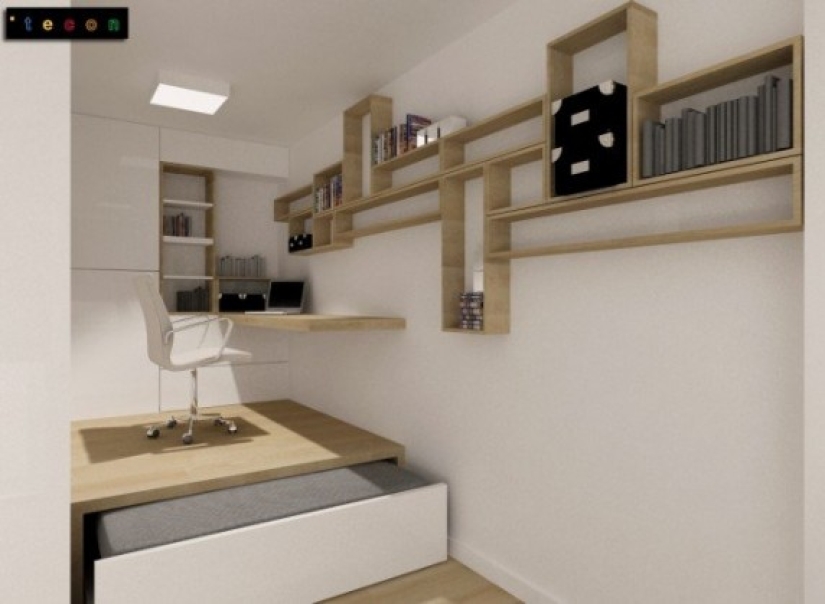 4. A pull-out bed is a rarely used solution, but very practical. Especially for apartments with low ceilings, where there is no possibility of installing a mezzanine. (Photo: gillarchitects.com.au).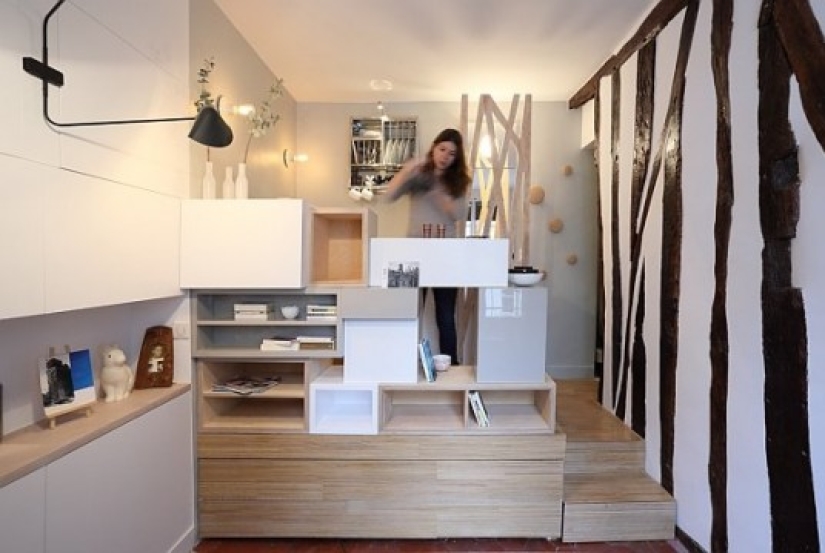 5. In small apartments, you need to skillfully use every centimeter of usable space. For example, to hang with cabinets the entire wall in the kitchen to the very ceiling, to build shelves or other furniture into all the recesses in the apartment, to make drawers under the bed.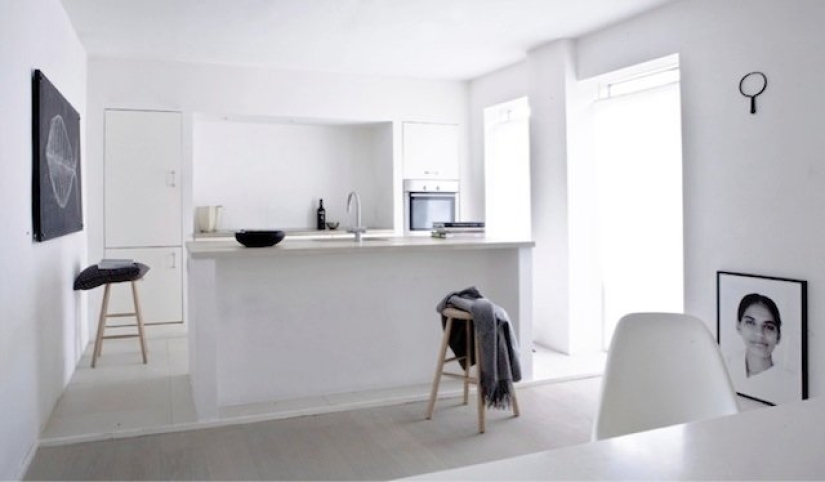 6. Paint the walls white, which brightens and visually expands the space. What's more, white is a versatile color that suits everything, any furniture, and any style. (Photo: normcph.com).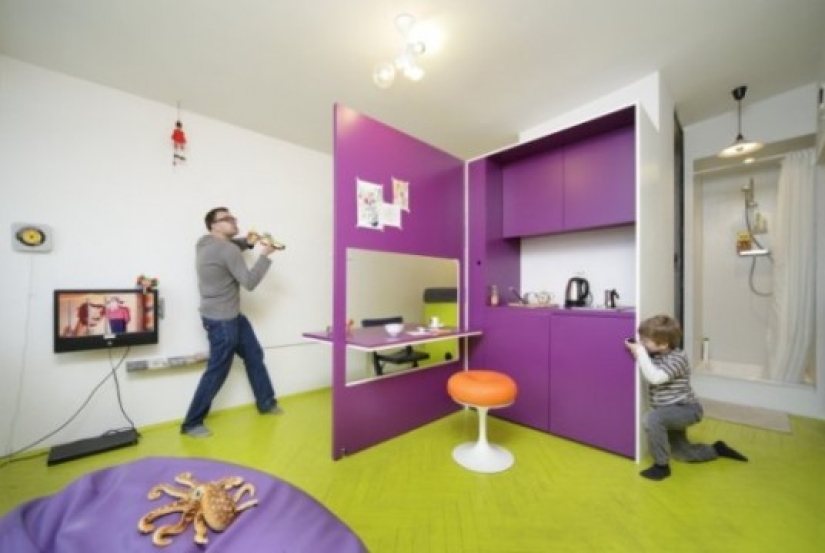 7. Multifunctional furniture will perfectly fit into a small apartment and will significantly save an already small space. In this photo, you can see a fold-out cabinet with a table that also hides the kitchen. (Photo: Radek Wojnar).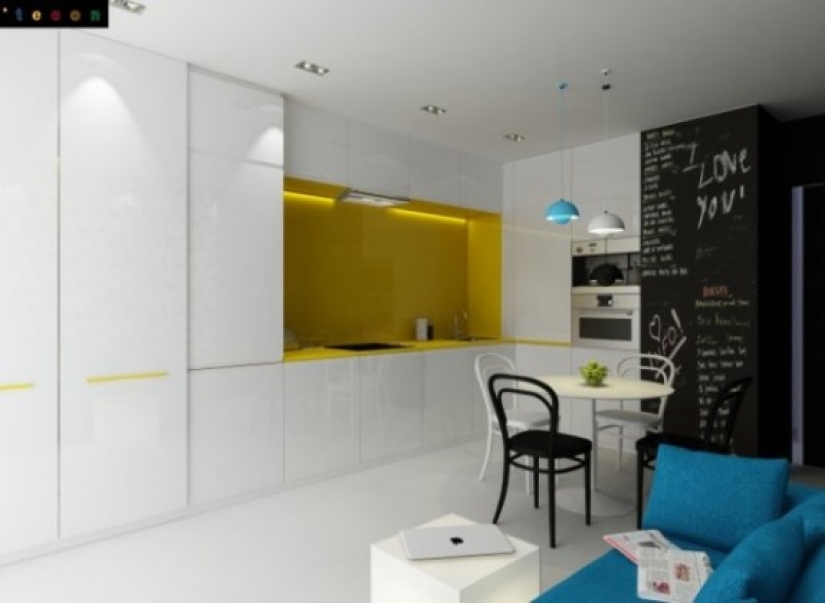 8. Built-in furniture of a simple form, the width of the entire wall, is optically pushed into the background, and it seems as if it is not there. Furniture with a shiny surface that perfectly reflects light is perfect for small apartments. (Photo: Alina Badora).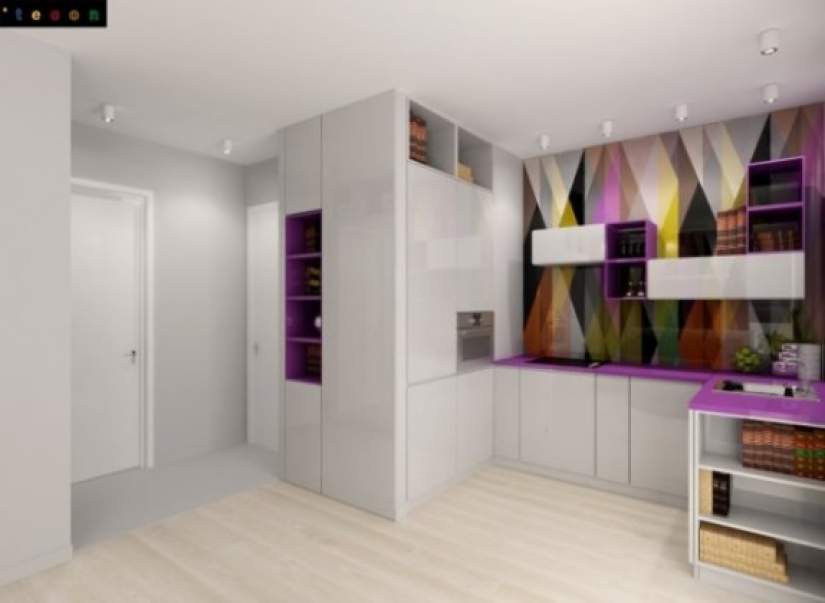 9. Less is more. Minimalism is an ideal solution for a small apartment, the fewer decorations, and knickknacks, the more space, and light. It is better to hide things in one large closet than to leave them in plain sight.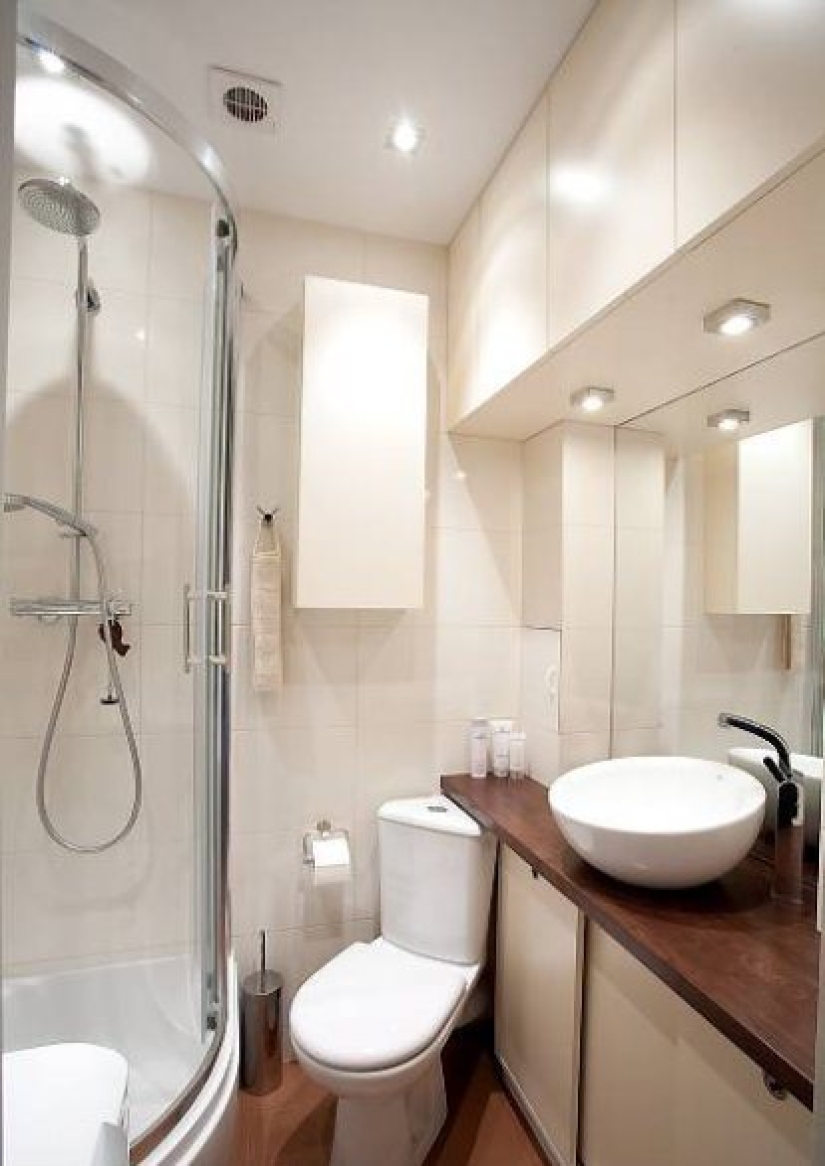 10. A small bathroom should be functional and well thought out. Mirrors, light colors, and simple shapes are ideal here. It is important to use every nook and cranny of it so that you have somewhere to store toiletries and other essential items. A shower cabin instead of a bathtub will significantly save a little space.
Keywords: Creative ideas | Apartments | Decoration | Flat design | Interior design | Society